The Sandman Will Keep You Awake - The Loop
Play Sound
Here is a list of events that have happened in the world, and how they're different in the Johnsonverse to OTL. Some listed changes were incurred by Johnson Industries, while others weren't.
Buildings and locations
Inisfada and Whitemarsh Hall
Both houses were acquired and saved by the Johnsons before they could be demolished, and still stand today.
Ascot Park still hosts dirt racing events.
Chicago Motor Speedway alternates on the NASCAR schedule with Chicagoland Speedway on even-numbered years, with Chicagoland hosting NASCAR events on odd-numbered years. The track that doesn't host NASCAR that year instead hosts IndyCar and ARCA.
Ontario was still taken off the schedule in 1980, but returned to the Winston Cup schedule in 1988.
Riverside is still on the NASCAR schedule to this day.
The track was purchased by Johnson in 2020 out of dissatisfaction with SMI's handling of it (namely its repave, reconfiguration, and use of the PJ1 compound); a new logo was introduced and the speedway was remodeled into a tri-oval with the straightaway as the frontstretch.
Texas World Speedway alternates with Texas Motor Speedway on the schedule every year.
Trump Tower
Johnson Industries beat out Donald Trump's offer to buy Bonwit Teller's flagship store in 1977, with the deal closed in 1979. As a result, it's still used as an administrative building with all its Art Deco details and sculptures intact, while Trump Tower is instead located at the intersection of West and Oak Streets in Brooklyn.
World Trade Center post-9/11
ITTL, Johnson Real Estate, not Larry Silverstein, was put in charge of operating the World Trade Center in Manhattan, New York. As a result, there are many differences; chiefly, it used the plans from the "Twin Towers 2" from OTL, as Sheldon thought that "the Twin Towers rising like a phoenix from the ashes is much more suitable for the site than some out-of-place skyscraper with tacked-on attempts at symbolism" and added that "when we watch Tony Soprano drive out of the Holland Tunnel, both he and us can see the towers through the rearview mirror. To me, they looked strong and proud, and that represents us Americans, no matter what race, gender, nationality, sexuality, or creed we are". For more, see World Trade Center (2001-present) (Johnsonverse).
Companies
7-Eleven
The chain has been owned by Johnson since 1989. There are some changes:
Slurpees and Big Gulps are available in the Japanese states, and Slurpees are also available in Mexico.
During the summer months, Slurpees are sold at Johnson's fast-food chains, including McDonald's, Howard Johnson's, and Kenny Rogers Roasters.
They have made various different promotions, mostly for other properties owned by Johnson.
While Johnson acquired 21st Century Fox IITL, the deal also included the Fox network.
Because of this, 20th Century Fox wasn't renamed to 20th Century Studios, and the 2009 logo is still used (albeit an enhanced version by Picturemill introduced in 2020 with the same appearance as the OTL 20th Century Studios logo, albeit with the old Fox name), while its legal name is still Twentieth Century Fox Film Corporation. Its print logo was redesigned to look more accurate to the film logo.
Other Fox-branded subsidiaries such as Fox Searchlight Pictures, Fox Star Pictures, and 20th Century Fox Television (whose logo was redesigned in 2020 to resemble the 2009 theatrical logo; 20th Television was absorbed into Johnson Domestic Television) still bear the Fox name.
Fox's international channels are still active as well.
21st Century Fox was rebranded to Fox Holdings, initially using the Fox network logo before replacing it in 2020 with a new logo based on the current 20th Century Fox print logo.
Blue Sky Studios did not shut down, with Nimona releasing on January 14, 2022 as planned and other projects in production.
Fox 2000 Pictures is still active, receiving an onscreen logo in 2020.
Fox Television Studios was brought back, replacing Fox 21 Television Studios.
Fox Television Animation still has an onscreen logo introduced in 2021, coming before the 20th Century Fox Television logo; its animation sees the logo being scribbled in black in front of a white paper background.
With Cops back on Fox starting in 2019 (followed by America's Most Wanted in 2021), Fox Television Stations Productions was brought back, using a new logo with animation inspired by the 1988-1993 version.
Lands based off the company as a whole opened at Disney's CineVenture (Land of Fox) and Disney's California Adventure (World of Fox) on March 1, 2022.
A new content hub on Netflix for Fox Holdings-owned content, FoxStar (called Fox+ pre-launch and not to be confused with Fox Star Studios or the former production company Foxstar Productions), launched in August 2020.
Fox Sports was given new graphics starting in 2019; among the changes were a new logo with FS1 and FS2's wordmarks being placed inside the redesigned oval, as well as the addition of one to four-minute bumpers focusing on Cleatus (now voiced by Tim Johnson) in random scenarios themed to sports.
Cleatus also stars in a 4D film called Fox Sports: The Great Football Caper at World of Fox and Land of Fox; he also stars in a dark ride named Cleatus' Foot-Tastic Journey on both areas.
While both Bento Box Entertainment and MarVista Entertainment were acquired by Johnson, they didn't become a part of Fox ITTL.
Fox home media releases
The enhanced 2006-2010 variant of the INTERPOL Attention warning was brought back, while the 2009-2020 warning screen still appears at the end of movies.
Able-2/Sho-Me
Quickly after Johnson acquired Able-2 in 2008, they began providing sirens that sound more like current day Sho-Me sirens in the real world (albeit the yelp and phaser are about a half-step lower) alongside the classic Powercall-style sirens; both types of sirens are still in production today.
Amoco
While the 1970-present canopy logo still exists, it was changed in 2002 so the wordmark is the same one from the main logo.
Busch Entertainment
General
Busch Entertainment never purchased Harcourt Brace Jovanovich Park Group due to Busch Entertainment and owner Anheuser-Busch being purchased by Johnson in 1985.
Busch Gardens
General
The 1975 logo continues to be used.
The Anheuser-Busch beer-sampling program continues at the parks.
Tampa Bay
Williamsburg
Sesame Place
Cartoon Network was founded as a joint venture between Johnson (which owns Hanna-Barbera) and Turner Entertainment Co., and Cartoon Network Studios is still a division of Hanna-Barbera. In 2015, Johnson acquired Turner's shares in Cartoon Network after then-CEO Christina Miller was exposed in a plot to create a new generation of criminals and anarchists using the series Teen Titans Go!, which was canceled and buried by Johnson. Sweeping changes have been made:
On January 1, 2017, the 1992-2004 logo was brought back. Cartoon Network Studios reverted to the 1996 logo.
Chance Rides
Chance saw some changes to their rides following Johnson's acquisition.
Carousels
Small zebras had their tails changed to resemble actual zebra tails as opposed to horse tails (large, Dentzel-styled zebras already had accurate tails). Similarly, all Zebras made post-Johnson had their manes painted black around the outer rim, like the manes of an actual Zebra.
Dentzel-styled Giraffes regained their headcollars (though they can still make Giraffes without them).
More animals were added to their menagerie. These include:

More horses, including several in fixed-position and some with their mouths closed (there still are more with their mouth open, as per tradition)
Several new donkey molds, plus some mule molds, including some fixed-position donkeys/mules, and several with closed mouths.
Dentzel-styled fixed-position zebras
The return of the Dentzel hippocampus, not seen on any carousels by them since the ones at the Great America Parks
Dentzel-styled pigs without large tusks
Jumping giraffes and camels, plus fixed-position versions of several animals that previously only had jumping figures, like the rhinoceros, the elephant, the gorilla, the rooster, and the ostrich
Members of the Bovine family, such as bulls/cows, buffalo, and bison
Antelopes such as impalas and wildebeests
Four moose molds; jumping with antlers, jumping without antlers, fixed-position with antlers, and fixed-position without antlers
Some molds for different kinds of sheep
Molds for brown/grizzly/kodiak bears (growling) and black bears (tame) that look more like adult bears than the Dentzel-styled bear (Johnson also told Chance never to use the Panda mold again for other kinds of bears)
More Feliformia molds, including several with their mouths closed (such a Dentzel-styled cat without a catch in it's mouth, alongside new molds for pumas, cheetahs, lynx, etc.), plus some more Lion molds (most new Lion molds would still have their mouth open)
Molds for various kinds of dogs
More primate figures
Various different North American animals, such as racoons and beavers
Several Australian animals, including a Kangaroo that looks like Dentzel's kangaroo
Some more aquatic animals, including an Axolotl
More dinosaurs other than the Triceratops
Some new fantasy figures

More sizes were added to their Carousel lineup, including:

3-Abreast 50-Foot
4-Abreast 64-Foot
5-Abreast 64-Foot
Double Decker 50-Foot (4-Abreast, with 2-abreast on top floor)

All types of carousels now allow acess to all themes.
The option of LED bulbs with the warm color of older bulbs, alongside other colors.
C.P. Huntington
Upon Chance Rides' acquisition by Johnson, the C.P. Huntington train was discontinued. Tim Johnson called the train "ugly as sin" and "total frauds", echoing his general disdain for steam-outline diesel locomotives, and also announced that all support for existing trains would be cut off. Chance Rides now offers the option for trains designed and built by Continental Rail, including several models of live steam and diesel locomotives, and several models of passenger cars. The original C.P. Huntington ran on a gauge of 24 inches (two feet), while the new trains are built to either 15 inches or 18 inches, both scaled appropriately. Any park or zoo that had acquired a C.P. Huntington is eligible to receive a new train(s) for free, with a lifetime support plan to keep costs under control. Some models in the Chance Rides lineup include:
Live steam (or compressed air) locomotives:

0-4-0 Four-Coupled
2-6-0 Mogul
2-6-2 Prairie
4-2-4 Huntington
4-4-0 American
4-6-0 Ten-Wheeler
4-6-2 Pacific
2-8-0 Consolidation
2-8-2 Mikado
4-8-2 Mountain
4-8-4 Northern
2-8-4 Berkshire

Diesel locomotives:

44 tonner
SW1500
MP15AC
F7
GP9
GP30
GP35
GP40
GP60M
F40PH
SD40-2
SD70ACe
P42DC
SC-44 Charger

Compressed air locomotives with no valve gear
Passenger cars:

Budd streamlined coaches (coach, baggage, RPO, observation)
Pullman heavyweight (coach, combine, baggage, observation)
Superliner (coach, diner, Sightseer's Lounge, sleeper)
Open cars (based on Overfair Railway open cars; comes with optional cover)

Freight cars

Gondola with seats
Flatcar with seats
Boxcar
Tank car (can be directly connected to a steam or diesel locomotive to increase water/fuel capacity)
Caboose
Channel Awesome
Channel Awesome never went downhill, and is still respected to this day. The Not So Awesome document never existed, either. In addition, the Nostalgia Critic series never adopted the skits from the ill-fated Demo Reel (which also never existed), and Malcolm Ray, Tamara Chambers and other cast members are instead involved in a different series.
Cinemassacre
Because Johnson acquired Screenwave Media in 2017, sweeping changes came to Cinemassacre:
Kyle and Bootsy were rehired, and post their own music videos in place of the Rex Viper band, as well as behind-the-scenes work and cameos on the AVGN series. They also receive compensation for their work and DVD/Blu-ray sales.
Mike Matei is still with the company, and James and Mike Mondays is still going on to this day.
The Rental Reviews series consists of James, Mike, Kyle, and Bootsy, with Justin, Tony and Kieran only doing behind-the-scenes work and the occasional guest spot. The Cinemassacre podcast has the same arrangement, and is filmed on the Rental Reviews set, although some episodes may be shot on the Retail Reviews set when needed.
James Rolfe signed a multi-picture contract with Johnson Studios to direct movies, starting with a horror film and an untitled video game film (not an AVGN movie sequel). He also writes most AVGN episodes, and has input on whatever episodes he doesn't write.
The modern AVGN episodes don't overuse toilet humor, modern gaming references, or green screen effects and gags involving the Nerd living out scenarios from the games, and have the Nerd alternate between screaming rage and tired frustration, instead of going at full volume 100% of the time.
A new AVGN opening sequence has been in use since 2020, showing Guitar Guy playing his guitar behind the Nerd in various angles, with arrangements of clips that change yearly being shown on the TV screen in the Nerd Room, ending with a title card (which is used as a thumbnail instead of the clickbait-style, uniform ones IOTL); new title cards are also used as thumbnails for 2011-2018 episodes that lacked them.
The videos' current titles use the show's name, the game title, and the episode number (for example, "The Angry Video Game Nerd - Dr. Jekyll and Mr. Hyde (Episode 2)").
The Nerd still wears his pre-2020 shirt.
The You Know What's Bullshit? series is still called that instead of You Know What's BS? or YKWBS due to YouTube not changing its rules.
An AVGN movie sequel is in production.
Continental Hotels brands
In 1983, the company gained a new logo, though it's different from the one in OTL; the yellow and orange seven-pointed "star" symbol is replaced by a five-pointed orange star like those seen on the Great Signs (the wordmark is the same as the 1983 logo in the real world); this logo is still in use to this day.
Great Signs are still being made, currently with the 1983 wordmark, with the two small stars being removed; modern ones are either plastic, with the Star being plastic or LED, both in orange (though the Star, alongside the text, could change color for the LED version); the sign size depends on city sign codes and how much room there'd be for a sign. Older 1952-1983 signs are still commonplace as well.

Several locations have at least one other sign (either plastic or LED like the Great Sign for the location it accompanies) that more or less resembles the signs for locations of Holiday Inn Express and Select; sometimes for these locations, the Great Sign is further from the hotel, occasionally as a way of directing travelers off of a major road to the road in which the hotel is located on.
Modern signs have black/dark gray pedestals instead of orange and yellow ones; the pedestal isn't lit in the plastic version, while it's lit off of the sides of the LED version (somewhat reminiscent of the signs in the real world).
The arrows on modern Great Signs don't have chasing lights.
Also, modern Great Signs don't have the streaks of light surrounding the star; the LED version somewhat makes up for this by having both the Star and the text be able to change color.
Holiday Inn Express
The logo, still with blue replacing green, gives the orange star a yellow tail trailing behind it from the left (a la the 1991 logo IOTL).
Disney
With Johnson's acquisition of Disney in 2013, many, many significant changes were made.
Branding and names
The corporate font switched to Garamond Bold, and many instances of the Disney script switched to the 2007 Walt Disney Animation Studios version, though the 1956 script is still used as its main logo.
Walt Disney Studios Motion Pictures was rebranded back to

Buena Vista Pictures Distribution

.
Walt Disney Studios Home Entertainment rebranded back to

Walt Disney Home Video

.

Buena Vista Home Entertainment

was revived as a distributor.
Disney-ABC Domestic Television rebranded back to Buena Vista Television.
Walt Disney Television was brought back as a production company for Disney shows. The division of the same name was rebranded as Walt Disney Television Group.
ABC Signature still exists, but is instead a revival of

Touchstone Television

.
Disney Interactive Studios was rebranded back to simply

Disney Interactive

.
Characters
Oswald the Lucky Rabbit and Ortensia Cat were officially introduced into the core Disney character lineup (now called the Exceptional Eight instead of Sensational Six) as one of Tim's first acts after acquiring Disney, with Frank Welker and Audrey Wasilewski reprising their respective roles from the Epic Mickey games. They use modernized designs inspired by their classic appearances. Oswald and Ortensia appear in Picnic Problems (Oswald's first starring role in animation since 1943), Mickey and the Roadster Racers/Mickey Mouse MIxed-Up Adventures (Oswald's car number, 27, references his debut year; Ortensia is the fourth member of the Happy Helpers alongside Minnie, Daisy, and Cuckoo-Loca), Mickey Mouse Funhouse, the Paul Rudish Mickey Mouse series, the Oswald the Lucky Rabbit television series (which wasn't cancelled ITTL and debuted in 2021), Kingdom Hearts III, and the revived House of Mouse. They were also introduced to all the Disney parks from 2014 onward, with completely new costume designs better resembling the other characters. Finally, a comic continuity featuring Oswald called the Rabbit Universe was launched.
Disney+
With Johnson owning both Disney and Netflix, Disney+ is a hub for all Disney content on Netflix, similar to what Star is for adult content on Disney+ IOTL, and was started in 2015 as DisneyLife (the name of Disney's former streaming service in the UK and Philippines) before rebranding as Disney+ in 2019. Also, after Johnson bought Fox, the Star name and 2020 logo have been used for international channels, as well as Fox Star Studios and the FoxStar content hub for Netflix. Because of this, the Star+ streaming service for Latin America does not exist.
Also, after Johnson bought Disney and later 21st Century Fox, their respective stakes in Hulu were divested, with Comcast taking full ownership of it in 2019 after AT&T divested its stake inherited from what was then called WarnerMedia. Because of this, Peacock doesn't exist.
Disney home media releases
The DVD case style was reverted back to using a white case with rounded corners for the label.
The disc content was not simplified in the 2010s, meaning a greater variety of bonus features and trailers, along with animated menus featuring easter eggs.
The 1999-2006 "Coming Soon" bumper style was brought back in 2014, with new narrations recorded by Brian Cummings and remastered in widescreen. Here is an idea of what the "Coming Soon to Theaters" bumper looks like.
The Disney DVD and Disney Blu-ray logos are still shown before the warning screens.
FastPlay was retooled so the film immediately plays once the "FastPlay" option is selected, with the trailers playing after the film rather than before.
Disney Live-Action Remakes
The live-action remakes are much different from OTL: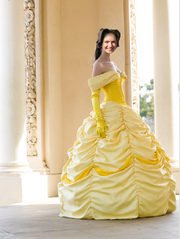 Cinderella, Maleficent, The Jungle Book, Alice in Wonderland, Alice Through the Looking Glass, Christopher Robin and Lady and the Tramp are the same as IOTL; the failure of Alice Through the Looking Glass saw Tim Johnson take over almost the entire creative process of the remakes.
Beauty and the Beast has Belle Armstrong as Belle (said to be her dream role) instead of Emma Watson, Tim Johnson as the Beast/Prince Adam (wearing full makeup instead of motion-capture) instead of Dan Stevens (Tim also directed the film), Belle's iconic ballgown is identical to its animated counterpart, the final battle and Gaston's death are also identical to the animated film, the opening song is much more lively and busy, and instead of singing "Evermore" after Belle leaves to find her father, the Beast instead sings "If I Can't Love Her" from the Broadway adaptation; Tim explained in an interview that "Evermore" had been written by Alan Menken, but he felt "If I Can't Love Her" was flat-out superior; Tim's performance of the song was critically-acclaimed, as was the entire film in general, cementing his status as a top-class director with an eye for detail and talent. In addition, none of the songs use auto-tune (which was criticized as "cheating"), LeFou behaves like his original counterpart, the songs "Be Our Guest" and "Gaston" are in the original key, and the film has less similarities to the original, with a darker tone (this is consistent with live-action remakes Tim directs). Finally, although Lumiere is still voiced by Ewan McGregor, his singing voice is archived audio of the late Jerry Orbach.
Dumbo is mostly the same, except the film takes place in the Spring of 1941, and there are extended scenes with the circus train. These scenes were created by a separate unit headed up by Tim Johnson, and involve Continental Rail's screen locomotive, Baldwin 2-8-0 #1472 (also used in Tales from the Rails and numerous other Johnson productions), and their crew trying to prove that Consolidations are still relevant in the age of duplex and articulated locomotives, which they successfully do when they lug the entire circus train over Pacheco Pass without a helper. The destruction of Dreamland is also done using models.
Aladdin is somewhat the same, except Robin Williams reprises his role as the Genie (as he is still alive in the Johnsonverse), with many of Williams' ad-libs cut from the original being reused, and Gilbert Gottfried reprises Iago, with Adam Jacobs reprising his role as Aladdin from the original Broadway cast, plus Jonathan Freeman reprising Jafar from the original film and the original Broadway cast. Dalia and Prince Anders don't exist, and Iago is still a snarky talking loudmouth. All the songs are from the original, the songs "Proud of Your Boy" and "Why Me?" were reinstated, as were "Somebody's Got Your Back" and "High Adventure" (and by extension the characters of Babkak, Omar, and Kassim, meaning Abu was removed), and there are key differences in the story to distance it from the original.
The idea of a remake of The Lion King was shot down by Tim, as he felt it wouldn't count as a live-action remake if 99% of it were computer-animated. Instead, The Lion King III was released, and is centered on Kiara and Kovu years after The Lion King II: Simba's Pride.
Maleficent: Mistress of Evil is directed by Tim Johnson, and the film is made part of the Nirn Anthology (a multimedia franchise created by Johnson in 2013 consisting of The Elder Scrolls, The Legend of Zelda, Moesia, Wakfu, Mount & Blade, Frozen, and Tangled). As a result, the militaries of Hyrule and Moesia show up during the final battle.
The Hunchback of Notre Dame will be directed by Tim, who has already lined up Michael Arden to reprise his Broadway and World Masterpiece Theater role as Quasimodo.
Mulan is almost entirely different: characters like Mushu and Li Shang are not cut due to the #MeToo movement (with Eddie Murphy reprising his role as Mushu), it has several elements from the original movie that were missing IOTL, the missing characters from the OTL film are included here, the characters are more fleshed-out, the musical cues are present, the pacing is more consistent, the words "Loyal Brave True" are not on Mulan's sword (it instead uses her name in Mandarin on the sword), Xian Lang and Chi don't exist, Mulan and her family don't live in a tulou (as they didn't exist when the original play it was based on was written), the phoenix is European instead of Western, the choreography is better, CGI is not overused, the morals aren't forced, there aren't any unrealistic scenes, and the dialogue is much better. It was directed by Chloe Johnson, and also didn't film in the Uighur internment camps in the Xinjiang province of North China (which Chloe criticized), nor is the North Chinese government thanked in the credits. It also doesn't have Communist propaganda, as Johnson has an anti-communist and anti-North China stance, even pulling out of the North China market in 2015. There are also more Asian people involved behind-the-scenes.
Disney parks
The parks have all seen a multitude of changes, with several new parks being added by Johnson and Disneyland Paris being changed to Disney's Fantasy Adventure (a French version of Disney's California Adventure) due to another Disneyland being built in the UK. Also, DisneyQuest was brought back. Here are the following pages for the existing parks' changes and the new parks opened by Johnson:
Disneyland North (Johnsonverse)

Northwestern Magic Kingdom (Johnsonverse)

Terre de Disney Quebec (Johnsonverse)
Disney Princess
The Disney Princess franchise was abolished, with Tim citing Roy E. Disney's statement that "Cinderella and Snow White could never be seen together because their stories take place in different times and places"; merchandise of all its characters continue to be made under the Disney Heroines label.
DisneyToon Studios
DisneyToon Studios is still in operation, albeit restructured so that, instead of producing direct-to-video films, it produces 2D theatrical or streaming films not falling into Walt Disney Animation Studios such as films based on the Exceptional Eight and spin-offs focusing on other Disney characters.
Disney Vault
The Disney Vault was abolished as well; Tim considered it a "cheap way to artificially raise the price of Disney home video releases". A video was made in which Tim removes all film reels from the vault before symbolically loading it with dynamite and blowing it up.
Disney video games
Disney Interactive Studios is still in operation; it was renamed back to Disney Interactive in 2015 with the 1995 logo also being reinstated. Video games based on both Disney and Pixar films are also still being made.
Disneyland Adventures' 2017 remaster (referred to as Disneyland Adventures 2017) added new content to reflect the remodels made to the park by Johnson. Also, characters from other franchises such as Star Wars and Frozen were added. Further games based on the Disney parks have been made every year.
Logos
The Walt Disney Company's logo was refreshed, now saying "The Walt Disney Co." and accompanied by a silhouette of Mickey on a steering wheel from his first released cartoon, Steamboat Willie. The logomark is from the 2007-present Walt Disney Animation Studios logo. This refreshed logo was to make it feel "less corporate" and more welcoming and friendlier, as well as drawing on the Disney brand's heritage.
All onscreen logos for The Walt Disney Company's divisions are now accompanied with the Johnson byline.
Logo plastering with modern logos came to an end; all modern releases of older films preserve their original logos.
Walt Disney Pictures' print logo reverted to the 1985-2007 version, albeit with "Pictures" in ITC Lubalin Graph instead of Times New Roman.
The 2006 logo reverted to saying "Walt Disney Pictures" instead of just "Disney", with the addition of a Johnson byline; Frozen was the first film since 2011 to use this version. The 2002 variant of the 1985-2006 logo was also brought back for all animated films. In all cases, the Johnson byline appears with the word "Pictures". The "Disney" variant is still used for other purposes. Also, its sound design was redone in 2014 to be clearer and more realistic than several alternate sound mixes; the new sound mix debuted in Big Hero 6.
The 1985-2006 logo was reintroduced for all 2D animated films, and the custom 1995-2007 logo was reintroduced for Pixar films.
The Walt Disney Home Video logo reverted back to the 1986-2001 version, though remastered and reanimated in widescreen with the Mickey illustration reappearing at the end, and the Johnson byline appearing with a flash when the music ends. Here is an idea of what it looks like.
The revived Walt Disney Television uses a new logo based on the current theatrical logo with the 1987 fanfare for live-action series (here is an idea of what it looks like), while a remastered version of the 1985-2005 logo with the 1987 fanfare is used for animated series, as well as Buena Vista International Television. A remastered version of the 1986-2000 logo is used for the revived Disney Afternoon.
All Buena Vista logos use the 1953 wordmark, in order to strengthen its brand identity by giving it an iconic wordmark a la Disney.
Buena Vista Pictures Distribution has an animated logo after the credits of all the films it distributes. In front of a black background with a blue glow, a white dot draws the Buena Vista text in blue, and fairy dust makes the "Distributed By" and "Pictures Distribution" text and Johnson byline appear in a lighter shade. All of the action is accompanied by pencil and fairy dust sounds.
Buena Vista Television uses a new logo with a new, more triumphant-sounding arrangement of the fanfare, also composed by Sam Winans. The animation starts off like in prior Buena Vista Television logos with improved CGI, before it zooms out to reveal the name (with the words "Buena Vista" using the same script from Buena Vista Pictures Distribution) and byline in front of the Disney-ABC cloud backdrop as the star animation fades to the print logo.
Disney Interactive's 1996-2005 logo was revived, albeit remastered in widescreen with a 60fps frame rate, as well as the Johnson byline appearing with the last flash.
Releases of Luca and Turning Red
Both films weren't shafted to Disney+ due to COVID-19, with Luca and Turning Red releasing in theaters as planned, going to Disney+ after 45 days; Tim cited the vaccine rollouts and the COVID-19 pandemic subsiding when rejecting proposals to put them on DIsney+ instead. This also affected Lightyear's box office performance, as moviegoers wouldn't see future Pixar films as disposable streaming fare.
As an aside, Disney allowed Pixar to add more overtly LGBT content in Turning Red due to Bob Chapek being fired once Johnson acquired the company.
Television channels/blocks
Disney Channel
Disney Channel has much less live-action content post-buyout.
Disney Junior
Several Disney Junior shows are mostly the same as in OTL, one difference being that shows in which episodes' titles are read still have the titles of the episodes appearing onscreen as they're said.
Also, some shows weren't picked up; this includes any French/Canadian export picked up by the channel/block IOTL since 2015 such as PJ Masks.
Mickey Mouse Mixed-Up Adventures is still in production alongside Mickey Mouse Funhouse; its fourth season started airing in late 2021, and Tony Anselmo returned to the role of Donald as in Funhouse, with Daniel Ross continuing to voice minor characters.
All Mickey and the Roadster Racers episodes retain the original name instead of being retroactively renamed to Mickey Mouse Roadster Racers.
In Roadster Racers, Grandpa Beagle acts very much like he does in the comics, as well as wearing his mask.
Jake and the Never Land Pirates still airs today.
Bluey was still picked up by Disney Junior, with a difference being that there's less gags cut than in OTL (only the horse defecating onscreen was cut, for obvious reasons); when the BBC released their versions of episodes (less risqué than the original), Johnson chose not to air them, favoring the original Australian versions.
Disney XD
After Johnson fully purchased Cartoon Network in 2015, all of Disney XD's animated series were moved to a new block called Toon Disney. Disney XD switched to airing mostly live-action series.
Fuzzy Door
Fuzzy Door still uses its pre-2020 logo, albeit with animation beginning in 2020 (it involves the door slowly opening and the text appearing), and its music was still introduced in the third season of The Orville (subtitled The New Horizons).
Founded by Johnson in association with Sony, the network has seen many massive changes, especially after Johnson acquired Sony's shares in 2008, bringing it under full Johnson control:
The schedule goes as follows: about 35% is from the 1950s to the 2000s, 35% is from the 2010s and onward, and the remaining 30% is original content from throughout the network's lifespan.
The 1997 logo remained until 2008, when the 2008-15 logo from OTL was introduced. It was altered in 2015 to remove the gloss, but aside from that, was unchanged.
The infamous "credit crunch" and speedups don't exist.
The Game Show Awards was handled much better and is held yearly. Its trophy is a gold statuette of "Winnie", the stylized person from the 1994–97 logo.
Franchises created under Hanna-Barbera in the late 1990s such as Dexter's Laboratory, The Powerpuff Girls, and Johnny Bravo are considered part of the Hanna-Barbera family.
Its legal name is still Hanna-Barbera Productions, Inc., and it's still based in its pre-1998 headquarters in Los Angeles (with a satellite studio at the Sherman Oaks Galleria).
A recreation of the 1979-1986 "swirling star" logo has been used since 2001, albeit with improved effects, the use of the modern H-B wordmark (which writes itself as the star is swirling) with a Johnson byline, and a shining effect for both the logo and wordmark once they're in place. The Hoyt Curtin-composed theme is also used.
The Jim Henson Company is still called Jim Henson Productions.
Johnson acquired Henson in 2015, making it a wholly-owned subsidiary of Disney and reuniting them with the Muppets franchise.
Jim Henson Pictures was revived after Johnson's acquisition of Henson.
Johnson Foods brands
Every restaurant chain and food brand acquired by Johnson has seen major changes from OTL:
Arby's
Aunt Jemima
Aunt Jemima was rebranded as simply Jemima, with a flat 2D version of its wordmark and a stylized depiction of Jemima replacing the realistic illustration. Tim was quoted as saying that removing the character entirely would "remove diversity from the breakfast table, not add any", pointing to the Quaker Oats, Mr. Clean and Grandma's logos as examples of Caucasian characters being allowed without backlash; also inscribed on the packaging are one of many women who played Jemima over the years (with the packaging varying between each product sold), including Nancy Green, Agnes Moody, Lillian Richard, Anna Robinson, Rosa Washington Riles, Anna Short Harrington, Edith Wilson, Ethel Ernestine Harper, Rosie Lee Moore Hall, and Aylene Lewis, with all of their surviving relatives and/or historians receiving financial compensation for every Jemima product sold. Commercials depict a more independent Jemima played by Angela Bassett.[1]
Chef Boyardee
Chef Boyardee still retains the original recipes.
Chuck E. Cheese's
Chuck E. Cheese's has seen a vast number of changes; for more, see the Chuck E. Cheese's page.
The Coca-Cola Company
The corporate logo in the Coca-Cola font is still used.
Mr. Pibb is still available (with Pibb Xtra as a variation), as is Tab.
Surge was never discontinued; it was given a rebrand in 2005 that somewhat resembles Vault's branding in the real world. (Vault never existed due to being too similar) Both Surge and Mello Yello were put on the Coca Cola Freestyle around the same time (since its debut) and both remain to this day.
In 2017, as Coca-Cola introduced a new zero-sugar version of Coca-Cola that tastes more like classic Coca-Cola, Coca-Cola Zero (which several notable workers for Johnson claim to like the taste of) became a separate beverage called "Zero" (stylized as zer0). The new Zero Sugar version of Coca-Cola has a black-on-red aesthetic, while Zero kept Coca-Cola Zero's red-on-black aesthetic. The 2021 recipe change for Coca-Cola Zero Sugar still happened ITTL. (Also, before 2017, the colors for "Coca-Cola" and "Zero" on cans never swapped places, meaning that "Coca-Cola" stayed red and "Zero" stayed white.)
Sprite is still available in green bottles.
Most modern Coca-Cola ads in general tend to be more creative than those from OTL (recent commercials with the Polar Bears, etc. are just about the same as their counterparts from OTL; same goes for a majority of Super Bowl ads)
Also, more "Happiness Factory" commercials are made for Coca-Cola.
Dairy Queen
The 1960 and 2001 logos are still used to this day.
The "Brazier" branding is still used instead of "Grill & Chill".
Many vintage signs at older locations are still preserved, either remaining at that location, moving to another one, or being sold/donated, depending on local sign codes.
Denny's
The 1973 logo is kept intact internationally.
The menu and the quality of the food could overall be described as better than in OTL.
Dunkin' Donuts
Dunkin' Donuts still rebranded to just Dunkin', though the change happened in 2003.
Frito-Lay
Johnson beat PepsiCo in a bid to buy Frito-Lay in 1965.
The restaurant/lodging chain, which was acquired in 1967, also saw a number of changes (notably, the apostrophe-S is still present)
Keebler & Company
With Johnson's acquisition, the Keebler Company was renamed Keebler & Company to avoid confusion into believing that Sunshine Biscuits and the President Baking Company were a part of the main Keebler brand (despite neither having ever had ads featuring elves making the products inside hollow trees). Sunshine Biscuits and the President Baking Company have never separated from Keebler & Company, though they continue to remain separate from the main Keebler brand.
Johnson helped Keebler & Company's brands expand outside of the US.
Keebler
The Rainbow Chips Deluxe Cookies have had M&M's in them from Johnson's acquisition onward, due to Johnson owning Mars.
Florence Keebler has always had dark skin, with no inconsistencies with skin tone (it is unknown how much Johnson affected this).
To this day, Keebler has continued to make crackers, salty snacks, and other foods alongside cookies.
Usage of the Keebler Elves and the Hollow Tree in commercials isn't limited to mostly just cookie commercials post-acquisition.
Current cookie packages don't use just yellow backgrounds.
The elves (and other characters) continue to be animated traditionally, whilst the CGI continues to only be used for the hollow tree, its surroundings, and various different objects.
Products containing Keebler fudge (Fudge Stripes, Grasshoppers, etc.) still go under the Keebler Fudge Shoppe name to this day.
Frank Welker has been the voice of Ernie Keebler since 2007 and continues to do so to this day.
The currently-used logo is a flat, simplified version of the 2006 logo, not having a "wooden sign" look, and also with red outlines instead of black ones; unlike the current logo in the real world, leaves aren't traditionally shown.
The classic Keebler jingle from the late 60s is still used from time to time, more often than not in some variation (usually instrumental).
It is confirmed that most of the elves who work in the hollow tree don't actually have the surname "Keebler", with the only reason why they're referred to with such surname is because being a part of the crew makes them an "honorary Keebler". (Ernie Keebler himself is one of the exceptions to this)
President Baking Company
Famous Amos
The classic recipe continues to be used to this day, with the "Wonders from the World" products being sold separately.
Plantation
Controversial name (and likely also controversial origins) aside, the Plantation Brownie still continues to be made.
The chain still has locations in the United States thanks to Johnson purchasing the brand in 1998, and has become a viable, well-known competitor to KFC. Kenny Rogers continued appearing in commercials until his 2020 death.
Kraft Foods Group
Planters
Robert Downey Jr. remains as Mr. Peanut's voice to this day rather than being replaced by Bill Hader in 2013 and Keith Ferguson in 2020.
Most of the ads from 2010 onwards are completely stop-motion (Mr. Peanut most likely didn't have a pep-talk phase, nor were there any ads featuring him in a "sexual" manner).
Mr. Peanut currently has a reworked version of his pre-2010 design on packaging.
Mr. Peanut's mascot suit still resembles the 2010 design, but a new, less-uncanny one with a different expression (one that resembles the pre-2010 design, but with a closed mouth) was introduced after Johnson bought Kraft Foods Group.
Mr. Peanut never died, meaning Baby Nut never came to be; this was rejected by Tim, who considered such a move "a blatant attempt at emulating Baby Yoda", referencing Grogu from The Mandalorian (popularly referred to as "Baby Yoda" by fans).
The 2022 Super Bowl "Feed the Debate" ad still happened, except differently in that Mr. Peanut watches the news coverage of the debate on his TV.
Mars, Inc.
Johnson has worked harder than a lot of other notable companies to ensure that that their cacao did NOT come from child slavery/labor or any other form of slavery or forced labor for products such as Mars' Chocolate portfolio; they've also made several successful efforts towards reducing the amount of various forms of slavery and child labor, with hopes to eventually completely abolish them both. (They don't lie and say their chocolate is 100% slave/child labor-free when it isn't, but Johnson is very much against any form of slavery or child labor if their efforts, alongside the fact that various notable people working for the company spoke out against them, are to prove)
The company will remain with both Joe Gibbs Racing and NASCAR after 2022, continuing to sponsor Kyle Busch (despite Tim's personal hatred of him).
Dove Chocolate is now sold as Galaxy internationally, including in the US (this is mostly to avoid confusion with Unilever's personal care brand)
M&M's
The tan M&M is still present alongside the blue M&M, and the purple one was made permanent in 2002 after winning the Global Color Vote.
In the commercials, Tan (who debuted in 2010, and is voiced by Tom Kenny) is a pretzel M&M who is portrayed as boorish and lazy, while Purple (who debuted in 2011, and is voiced by Alanna Ubach) is a dark chocolate M&M and a multi-genre singer who likes lifting spirits and supporting others, particularly other women (somewhat reminiscent of (Ms.) Green's post-redesign personality in the real world).
Crispy M&M's never stopped being made in the US (or any other place where they were discontinued). Kyle Busch only ran Crispy M&M's paint schemes in a few NASCAR races in the 2015 season, using the same paint scheme he used in the second half of 2016.
Pretzel is represented with the color light brown instead of blue (due to it remaining Crispy's color).
The US had hazelnut M&M's released in 2016 (not to be confused with the 2019 hazelnut spread variety).
The only notable change to the 2022 redesign for the spokescandies was the flesh changing to a lighter version of the shell color. Also, (Ms.) Green still acts less flirtatious after being redesigned, though it's still somewhat a part of her personality ITTL, with the heels even being kept.
Also in 2022, Pink and Aqua (the two other choices from the 2002 Global Color Vote) were added to the color lineup, complete with representative spokescandies; Pink (voiced by Thomas F. Wilson) is a tough milk chocolate M&M and a manly man who is more often than not somewhat stoic (and sometimes getting in verbal fights, most often with Ms. Brown), and Aqua (voiced by Kristen Wiig) is a young, ditzy, and somewhat clumsy female peanut M&M who is a close friend of Yellow's.
At least one of the Johnsonverse-exclusive spokescandies might make appearances in real world commercials, sometimes taking the place of another if it suits their character better.
At least in the US, all Fudge Brownie M&M's are brown with rainbow spots (including Pink and Aqua, which weren't made a part of the main color lineup until 2022).
Also, since Tim and Chloe successfully stopped the food mascot ban in Mexico, the characters are still featured in said country.
Many new elements were brought to the ads, including Tan becoming a part-time superhero named the MVenger (with Pretzel Guy becoming his sidekick, Pretzel Boy, later on, mainly because Tan isn't good at being a hero). Also, a select portion of Minis turned into new Cherry Mutant M&M's in 2001 (as a way of advertising the new Mutant M&M's line, which eventually added Strawberry, Orange, Coconut, Dark Chocolate-Raspberry, and Birthday Cake Flavors); the original mutant Minis were eventually defeated by Red with his laser shooters. Aside from the mutant variety, M&M's introduced a larger, soft-shelled line called Soft M&M's in 2015. There was also a series of Mexican commercials titled Global Candy Guidings, in which Red and Yellow travel around Latin America to get their eyes on what makes said region special (which are shown in both Mexican markets, as well as borders from California and Mexico). Under Johnson, it was established that the spokescandies live near a laboratory-factory hybrid called the SnackLab, which features Kellogg's characters, Chester Cheetah, and other Johnson mascots, as well as tests and robotic M&M's called MBots. There's also an action figure line called MAction.
Speaking of which, M&M's World has become much more of a theme park over the years, with I Lost My M In Vegas getting a follow up attraction titled M&M's 3D: Chocolate Escape, using the same ride system as the Hulk attraction at IMG Worlds of Adventure, with newer M&M's Worlds featuring this ride in place of its precursor, with the Shanghai version being the first to open.
The first location (in San Bernardino, California) still stands to this day, and the McDonald brothers, Richard and Maurice, gave it to their founding employees as planned; the building and sign were restored in 1983 and 2008.
The brothers themselves were also granted a 1% share in the annual profits, as were their descendants. They're also fully acknowledged as the founders of the McDonald's chain with Ray Kroc listed as the founder of the McDonald's Corporation.
The 1969-2006 mansard roof architecture is still used (albeit with earth tones and updated interiors) instead of a brown/dark gray box, and many Golden Arches-era buildings were preserved starting in 1975; some (including the original San Bernardino location and the ninth location in Des Plaines) were used for production on The Founder, along with a replica of the McDonalds' hexagonal structure that opened across the street on December 12, 1983, exactly 35 years to the day when the original barbecue stand was transformed into a fast-food restaurant; it's situated at the lot where Ray Kroc's McDonald's restaurant opened IOTL. In addition, the ninth McDonald's, the first location opened by Kroc, was restored (rather than being demolished and replaced with a replica) to its 1955 state in 1984 and 1985 due to its historical significance (namely, it was noted by the company as "the beginning of (the chain's) expansion outside of the West Coast", since this was the second location opened outside of California). There are currently around 68 classic Golden Arches buildings in existence. Here's also a list of surviving 1953-63 Speedee signs and 1961-63 crest signs on public display (not counting modern reproductions):

Phoenix, Arizona (built 1953)
San Bernardino, California (built 1953; replaced earlier Speedee sign)
Pomona, California (built 1954)
Azusa, California (built 1954)
Des Plaines, Illinois (built 1955)
Fresno, California (built 1955)
Los Angeles, California (built 1956)
Green Bay, Wisconsin (built 1958)
Manitowoc, Wisconsin (built 1958)
Crestwood, Missouri (built 1958)
Muncie, Indiana (built 1958)
Davenport, Iowa (built 1958)
Lebanon, Indiana (built 1958; originally at Lafayette, Indiana)
Moline, Illinois (built 1958-60)
Southgate, Michigan (built 1958-60; Speedee removed sometime after but restored in 1986)
Mason City, Iowa (built 1958-60; top half replaced with "M" sometime in the 1960s)
Holts Summit, Missouri (built 1959; originally at Jefferson City, Missouri)
Jackson, Mississippi (built 1959)
Downey, California (built 1959; unique sign, replaced earlier Speedee sign)
Topeka, Kansas (built 1961)
Magnolia, Virginia (built 1961; moved to current location in 1996)
Sioux Falls, South Dakota (built 1961; now situated on a pole)
Independence, Missouri (built 1961-63)
Warren, Michigan (built 1961-63)
Springfield, Illinois (built 1961-63)
Akron, Ohio (built 1961-63; crests replaced with modern McDonald's logos)
Hazelwood, Missouri (built 1961-62)
St. Clare Shores, Michigan (built 1961-62)
McLean, Virginia (built 1961-63; crests replaced with modern McDonald's logos, top panel now blank, and middle panel now says "McDonald's")
Lancaster, Pennsylvania (built 1962)
Pine Bluff, Arkansas (built 1962; moved to current location in 2007)
Biloxi, Mississippi (built 1962)
Belleville, Illinois (built 1962-63; lower panel changed to "We Value Belleville" in 1970s or 1980s)
Winter Haven, Florida (built 1963)
Lakeland, Florida (built 1963)

Since 1993, McDonald's has brought back the old walk-up stand design in a concept called "McClassic" (not to be confused with McDonald's Classic, a short-lived double drive-thru concept with a 1950s-inspired appearance), using original blueprints to recreate the "Golden Arches" architecture, resembling what the Des Plaines, Illinois replica did IOTL (though with four windows as in the earliest locations instead of two, as well as having a drive-thru window). The sign (inspired by the old Speedee signs) looks like the ones in Lapier and Dearborn Heights, Michigan, with a McDonald's logo on the sign Speedee carries (speaking of the latter, the 1950s-inspired building was not remodeled ITTL, nor was the neon sign replaced with a plastic version).
Fresh ingredients are still used for many products such as burgers and French fries rather than frozen ones.
All locations still serve fried apple pies, with baked ones as an option.
Ice cream machines are maintained regularly.
The McDonaldland ad campaign still runs to this day, though in 2001, it switched to traditional animation from Rough Draft Studios. The voice cast are is as follows:

David Hussey continued to voice Ronald, before being replaced by Brad Lennon in 2014.
Russi Taylor continued voicing Birdie; Kari Wahlgren took over the role after Taylor's 2019 death.
Bill Fagerbakke replaced Frank Welker as Grimace.
Howard Morris stayed as the Hamburglar until his 2005 death; Charlie Adler (his voice actor in The Wacky Adventures of Ronald McDonald and a 1984 commercial) returned to the role.
The McNugget Buddies are voiced by Pamela Adlon, Charlie Adler and Lisa Raggio.
Kath Soucie, Paul Greenberg, and Nika Futterman continued their roles as the Fry Kids.
Ronald's dog, Sundae, was also introduced to the commercials, with Dee Bradley Baker reprising his role.
Recurring characters include Mayor McCheese (voiced by Bob Joles, impersonating Ed Wynn), Captain Crook (voiced by Tom Kenny, using his Patchy the Pirate voice), Officer Big Mac (voiced by Clancy Brown, impersonating Ted Cassidy), the Professor (voiced by Maurice LaMarche), CosMc (voiced by Kevin Michael Richardson), the Happy Meal Gang (with Hamburger voiced by Jim Cummings, French Fries voiced by Bob Bergen, Soft Drink voiced by Summer, Cookies voiced by Rob Paulsen, Toy voiced by Billy West, and Happy Meal Box voiced by Eric Bauza), Uncle O'Grimacey (also voiced by Fagerbakke), the Wastebaskets (also voiced by LaMarche), Iam Hungry (voiced by Jeff Lupetin), Mac Tonight (voiced by Roger Behr until his 2018 death, his voice thereafter being recreated using VoxMutatio with LaMarche doing his raw performance), the Griddler (voiced by Tom Wilson), and Speedee (voiced by Seth MacFarlane).

In 2011, to commemorate the 40th anniversary of McDonaldland, there was a television special in which the McDonaldland gang meets their older counterparts. Hussey, Taylor, and Adler voiced Ronald, Birdie, and Hamburglar's old counterparts (as Hamburglar's former voice actor, Howard Morris, died in 2005), while Frank Welker returned to voice Grimace's counterpart.
Since 2015, a television series called Ronald McDonald & Friends has aired on Netflix, using the artstyle from the animated commercials. It uses live-action segments to bookend the episodes.
The claymation "Willy Munchwright" commercials are also still being made, and Happy (the sentient Happy Meal box created in 2009) exists, but with a less uncanny valley design and traditionally animated, and the Funky Farm ads still air to this day. The last live-action McDonaldland commercial aired in 2003, after which the live-action commercials and designs were phased out completely, though the old designs are still seen in some locations, and new live-action Ronald McDonald commercials air to this day.
The 1962 neon sign in Biloxi, Mississippi survived Hurricane Katrina and still stands today; it was restored in 2009 with an LED message board.
The sign in Holts Summit, Missouri is still there; it was completely restored in 2013 with Speedee himself being restored to how he originally appeared when the sign was erected in 1959, while the vertical tubes behind him were restored as well. The sign in Lebanon, Indiana was moved with the location prior to 2000 as well. Ditto for the crest signs in Springfield, Illinois, Lancaster, Pennsylvania, and Akron, Ohio.
Subway
Jared Fogle's reign as Subway spokesman ended in 2003, when he was replaced by fireman Clay Henry; the reason behind Fogle's firing was later explained in a 2005 interview, in which Fogle's history of pedophilia was revealed.
Taco Bell
The 1984-94 logo is still in use to this day, as is the classic mission-style building.
The formulas used for the menu items weren't changed due to budget cuts.
Johnson Motor Company brands
King World Productions
The 2006-2007 logo is still used.
Marvel
While the Marvel Cinematic Universe still exists, Ultimate Spider-Man is still going on with Christopher Yost becoming the head writer of the show, and the 2017 Spider-Man show doesn't exist and was rejected by Tim,. It has also been established that Ultimate Spider-Man is a sequel to the aforementioned Spectacular Spider-Man; Avengers Assemble is also still going on (with some of the crew on EMH being hired as well) and the EMH Falcon and Assemble Falcon are father and son, and Season 5 is completely different and uses the Season 1-4 art style.
Merv Griffin Enterprises/Entertainment
Metro-Goldwyn-Mayer
MGM is still a major studio, part of the "Big Seven" with Johnson, Sony, Warner Bros., Paramount, Universal, and RKO.
Motorola never split into two divisions.
The five different siren tones of the now-discontinued Spectra Series (Wail, Yelp, Hi-Lo, Manual, and Air Horn) were preserved by Johnson Signal.
Mozilla Firefox
Though not owned directly by Johnson (still being a non-profit organization as in OTL), Mozilla is largely sustained by Firefox being the default browser on Johnson's Mandatum computers. As a result, Firefox is still the most popular browser. Chrome failed massively and was discontinued by 2011, with Johnson executives allegedly threatening Google with a hostile takeover if Chrome overtook Firefox in market share. Mozilla never tried as hard to imitate Chrome, meaning that the classic extensions and themes still work in newer Firefox versions, and Pale Moon and Waterfox never exist (as they have no reason to exist).
MTV's programming is still mostly music videos and animated series; all of its reality shows such as Jersey Shore and Teen Mom instead air on a separate channel called WBC Reality.
MySpace
MySpace was acquired by Johnson in 2004 and is currently one of the "Big Three" social media platforms alongside Facebook and Twitter.
Its current design is similar to OTL's Spacehey, but with an HTML5-era aesthetic; this includes retaining the profile customization.
Logo-wise, the 2003-10 version is still used, except that MySpace ditched the wordmark in 2013.
Netflix was bought out by Johnson in 2004.
The company was bought by Johnson in 1995 and remains a viable competitor to Microsoft Edge, Google Chrome and Mozilla Firefox.
Here is an idea of what the current design of Netscape looks like.
Nintendo
Due to Japan being part of the USA, the original Famicom was released on both sides of the Pacific in 1983, with the NES being sold as a lower-cost version. At first, it didn't do well due to the Video Game Crash, before the NES model revived the industry. This also means the FDS was released worldwide, not just in Japan.

The Famicom model was targeted towards a slightly older age group than the NES model, which means OTL regional censorship differences still exist as Famicom/NES differences.

The SNES used the US/EU name and Japanese/EU design worldwide.
SMB2J was released on both sides of the Pacific (and Atlantic); Doki Doki Panic was only released as a promotional release in the state of Kanto, but SMB2US (known as Super Mario Bros. 3 ITTL) was released to "fill the gap" between SMB2 and our SMB3. This means our SMB3 is known as Super Mario Bros. 4.
Super Mario World is titled as Super Mario Bros. 5 worldwide.
Super Mario Bros.: The Great Mission to Rescue Princess Peach was released outside of the state of Kantō. Despite that, the live-action Super Mario Bros. movie still exists.
Rather than having Bowser be the main villain in most mainline Mario games post-Johnson, other original villains are made for them (while returning ones like Wart and Tatanga make their appearances in them). That can also apply for some spin-off games.
While Laura Faye Smith remains as the current voice of Rosalina, under Johnson, she gives off a vocal performance more faithful to her predecessors. Also, the reverb effect is added back to her voice.
The Onion and satire news sites in general
Since The Onion has been owned by Johnson since 2008, there are some changes:
The "Onion News Network" sketches are still made and posted on YouTube, often adapting archival material from The Onion's print and online stories.
ClickHole is a subdomain of The Onion, remaining under Onion ownership (instead of being sold to Cards Against Humanity), but still got a new writing team.
Due to Johnson not knowing exactly what to do with AV Club, it was still sold to Univision (and later Gawker/Gizmodo).
The StatShot feature is still in use today.
Several other satire news sites, like Babylon Bee, Reductress, Hard Times, and Hard Drive, are part of the Johnson group of companies, and are subdomains of The Onion.

The Babylon Bee still focuses on Christian-themed satire, instead of trying to be a right-wing version of The Onion. This means they never called Rachel Levine a man, which means they aren't suspended from Twitter. Due to the presence of OTL Babylon Bee writers, this means The Onion makes fun of the right and left equally; despite the Johnson parent company being largely left-wing, The Onion and its related sites are more centrist in tone.
Reductress is largely unchanged, focusing on parodying women's magazines and female-interest sites.
Hard Times is dedicated to music-themed satire as in OTL, and Hard Drive is a hybrid of OTL's Hard Drive and The Onion's OGN; mostly gaming-themed satire, with some general "geek culture" satire thrown in.

The Beaverton doesn't exist; in its place is a Canadian version of The Onion, theonion.ca, launched in 2009.
Orion Pictures
Orion was purchased by Johnson in 1991. It still changed to a new logo in 1996 and was updated again in 2005 and 2013; the latter version uses the 1990-98 Orion Home Video version of the 1982 fanfare. Here is a rough idea of the 2013-present logo's animation.
Palisades Toys
Because Palisades was acquired by Johnson in 2005, they're still in operation to this day. New Muppet action figures and playsets are still being made, along with Sesame Street, Fraggle Rock, Muppet Babies and other Muppet/Henson properties (including all the figures that were never released before the company went under IOTL). Here is a list of product waves for each lineup:
The Muppets
| Wave | Products | Variants | Accessories (if applicable) |
| --- | --- | --- | --- |
| | | | |
Sesame Street
| Wave | Products | Variants | Accessories (if applicable) |
| --- | --- | --- | --- |
| | | | |
Fraggle Rock
| Wave | Products | Variants | Accessories (if applicable) |
| --- | --- | --- | --- |
| | | | |
Paws Incorporated
The Garfield website was not shut down but was instead updated.
Before Johnson acquired Paws, a 2D-animated feature film was released by Johnson in 2018 simply titled Garfield. Also, various Garfield and U.S. Acres specials have aired on WBC since 2016.
Once Johnson acquired the RCA brand and record label in 2005, the RCA Corporation was revived, returning to manufacturing its own consumer electronics instead of licensing the RCA name to other companies. A new ad campaign starring Nipper and Chipper conceived and directed by Timothy Hill began airing that year, portrayed by actual dogs and voiced by Steve Carell and Bill Hader, respectively. It has sponsored the IndyCar Series since 2014, and the Brickyard 400 since 2021.
Also, 30 Rockefeller Plaza (which was acquired by Johnson in 2000) houses the revived RCA's headquarters (and was renamed back to the RCA Building in January 2006), though NBC still occupies floors 2 through 16 as IOTL.
RKO Pictures
RKO is still a major studio, still using the 1996-2015 logo.
Rockstar Games
Thanks to Johnson's ownership of Rockstar, there are a lot of differences:
Michael Hollick was paid $10 million for his role as Niko Bellic in Grand Theft Auto IV, and as a result, he reprised his role in VI, and is the announcer of the game show.
Speaking of IV, there are several differences, including Kate giving Niko a bulletproof lowrider that belonged to her deceased cousin who was killed in the war, the friendship system is more streamlined (for example, Roman doesn't constantly hound Niko to go bowling), the decisions change the course of the the story, and Games for Windows - Live was patched out after the service was discontinued.
Johnson Games handled the mobile ports, and as a result, they're much better, also fixing inaccuracies such as subtitles (including replacing the subtitles for the Yardies with new ones that transcribe their Jamaican slang) and models, as well as restoring some missions (for example, the mission "Under Surveillance" in III is restored to its original premise: the Mafia, not the FBI, is spying on Claude, and all the Cuban and Haitian censorship in Vice City was undone), and retaining all of the original music. Also, a port of Grand Theft Auto: Vice City Stories was released on October 25, 2016, and a mobile port of Grand Theft Auto IV will be released in 2023, with the 10th Anniversary remaster released on eighth-generation consoles on October 30, 2018.
Liberty City Stories and Vice City Stories were ported to PC in 2006 and 2007, respectively, their release dates falling on the same day as the PS2 versions, which use Renderware as the in-game engine as well.

San Andreas Stories

was released on October 30, 2007 for PSP, October 7, 2008 for PS2 and PC, and October 31, 2017 for mobile, and is split into three games, set in Los Santos, San Fierro, and Las Venturas (the PS2 version combines them in a single disc). All take place in 1987, and the protagonists of the three games cross over in the Las Venturas game's mission "Sindaccos v. Forellis".

Los Santos: It follows Leroy Carson "Little Weasel" Williams (Darreck D. Burns), a lowlife Grove Street Families member who defects to C.R.A.S.H. and the Ballas due to Sweet's poor leadership in the gang, and shows the death of Brian Johnson; it also hints at Big Smoke's eventual betrayal to the Ballas. Pulaski is voiced by Ned Luke (who later portrayed Michael De Santa in V) due to the 2006 death of original actor Chris Penn, while Beverly Johnson (Cicely Tyson), Brian Johnson (Gregory Johnson), Anthony "Tony" Puente (Juvenile), Andrew "Little Devil" Reed (Big Boi), and Christopher "Big Devil" Henry (C-Bo) are all present, while it is mentioned that CJ, Sweet, Kendl, and Brian's father, Steve Johnson, was killed by a crackhead Balla in a drive-by shooting in 1983.
San Fierro: This part follows Wu Zi Mu attempting to gain his place in the Red Gecko Tong.
Las Venturas: Ricardo "Rocky" Alessandri (Rocco Rosanio), a Sindacco capo seen in The Introduction burying a fellow mobster in the desert, must protect his crime family from its sworn enemies, the Leones and Forellis.

Agent was released in 2011.
Grand Theft Auto V's physics and AI are more in line with realism. Also, 100% completion in missions starts when the character is controlled rather than at the cutscene and, most notably, the map is larger and includes Las Venturas and San Fierro, as well as San Joseph, a stand-in for San Jose.

Bully II

was released in 2014. Set in an expanded Bullworth, it follows New Coventry student Daisy Adams, a 16-year-old girl who wants to make it big in the school.
The original version of Grand Theft Auto: Online never went downhill.

Grand Theft Auto: Anywhere City

was released in 2015. Set in the 3D Universe, it follows 20-year-old Kazuki Kasen, who worked for the Leston Yakuza until moving to Liberty City with his wife Toshiko and siblings Asuka and Kenji in 1981. The game takes place in 1975.
2015 was followed with Manhunt 3.
In 2016, Rockstar released
The 20th anniversary of the Grand Theft Auto franchise in 2017 was celebrated with the Definitive Editions, though they are completely different from the ones released in 2021 IOTL; they were developed by Rockstar North instead of War Drum Studios/Grove Street Games, which was deemed "too incompetent to be trusted with Rockstar's legacy".

About the only things the Johnson Definitive Editions have with OTL are minor changes such as the perspective radar (with the original top-down perspective available as an option) and the weapon wheel, both of which were introduced in V, as well as improved physics.
The Definitive Editions include III, Vice City, San Andreas, the three Stories games, and Anywhere City, use HD Universe graphics and physics, and contain new missions, new features, and some previously cut content, as well as some voices being redubbed to match other games (such as Gary Busey dubbing over Hunter Platin and an unknown voice actor as Phil Cassidy in III and Liberty City Stories, respectively, while Dorian T. Missick replaced Armando Riesco as Vic Vance in Vice City; Vic is also redesigned to resemble his VCS appearance, though he wears the same outfit). They also incorporate many elements from fan mods designed to improve the experience.
The graphics are changed to a much more realistic style.
III and Liberty City Stories have a slightly larger map with the addition of restaurants such as Burger Shot and Cluckin' Bell in locations that aren't substitutes for any building, as well as incorporating Ghost Town and Upstate Liberty into the hills.
Also in III, Catalina has her appearance from the Xbox and mobile versions instead of the original PS2 release.
In San Andreas, Ryder remains loyal to the Families, being exiled along with CJ, and rejoining the Grove when CJ and Sweet retake various hoods from the Ballas and Vagos. Also, in the cutscene for "Los Desperados", CJ calls out Sweet for his behavior and his hypocrisy; in the opening cutscene for a new mission, Sweet gives CJ an apology for the way he's acted and how much of a hypocrite he's been (for reference on Ryder's expanded role, see this fanfic). The biggest change is to the mission "OG Loc". CJ is reminded by Sweet that the hood is now with the Ballas after they took it from the Vagos, and it is changed to CJ following Loc running against Freddy.
In Vice City, the Cuban gang is now referred to as Los Cabrones (their name in Vice City Stories), and the Haitian gang is referred to as the Tigres (short for Poison des Tigres, or Poison of the Tigers).
Also in Vice City, Phil's shirt isn't censored, and still depicts a Confederate battle flag with an eagle on it instead of a skull.
Some infamous missions were altered: for example, "Cop Land" increases the bomb's timer to ten seconds and the AI for the cops and Lance is changed, while in "The Driver", Tommy has to get a fast car before racing Hilary, and "Demolition Man" and "Supply Lines" changed the controls to, as Tim Johnson called it, "something that doesn't make you go full Angry Video Game Nerd".
In the Liberty City Stories mission "Morgue Party Resurrection", Avery's cameo is expanded, now being killed by Toni in a shootout. In this scene, Burt Reynolds (Avery's original actor) was called back to reprise his role from Vice City. Also, Avery uses his appearance from the mobile version.
All interiors are now part of the game map.
In III, Claude can fully explore his safehouses and change clothes; the Portland safehouse interior is more detailed.
Asuka's briefing in "Under Surveillance" is changed back to the PS2 version, referencing the Mafia instead of the FBI.
Catalina's line in "The Exchange" is changed back to "Throw over the cash, and you can have this overused puta back!".
All three games now have the ability to replay missions and cutscenes.
The Colombian Cartel and SPANKed-up madmen have additional voice clips.
All songs from the original games are intact due to Johnson clearing up the licensing issues.
Abilities introduced in later games were added to earlier games and Liberty City Stories, such as swimming and crouching; aircraft is also added in III (whose original version only had a clipped plane called the Dodo) and LCS.
Many bugs/oddities were fixed; for example, in "Messing With the Man", the pedestrian glitch was fixed, with a female waitress now showing up in the background.
Many unused content from the games was reinstated, such as Mercedes becoming Tommy's girlfriend in Vice City and Big Bear's larger role in San Andreas.
Ray's pager message in III is retconned to mention Vice City instead of Miami (its real-world inspiration).

Grand Theft Auto VI was released in 2019; the full details can be read on its own page. A new Grand Theft Auto Online was released, replacing the GTA V version.
Bully III was released in 2020.
"R" Us International
The "R" Us International name has been in use since 2007.
General
All logos for the brands of "R" Us International have a gold, backwards R with a star inside (like the 2007 Toys "R" Us and Babies "R" Us logos in OTL, but in gold; it was chosen over yellow, mainly for the fact that it made the backwards R easier to see on a light background), followed by the word "US" in monochrome (the "R" Us International logo has it in black or white, the Toys "R" Us logo has it in blue, the Kids "R" Us Logo has it in red, and the Babies "R" Us logo has it in purple).
Toys "R" Us
The current logo resembles the 2007 logo in the real world, but alongside the above differences, the word "TOYS" keeps the colors from the 1986 version of the logo.
Geoffrey got a different redesign in 2007 that resembles his pre-2001 counterparts more, albeit still with star spots; his personality became more mature and less childish (while still keeping the wisecracks of the 2001 version and a small streak of childishness), and his family (Gigi, Baby Gee, Junior) were brought back, albeit with the children aged up. Jim Hanks is kept as the voice of Geoffrey. With these changes, he was officially no longer portrayed as a child, although he technically hasn't been one since 2001 (before Johnson purchased them).
Kids "R" Us
Kids "R" Us never went out of business.
The current logo, alongside the above gold backwards R and "US" in red as described above, has the word "KIDS" retain its colors from the 1985 version of the logo (the word "US" is in a somewhat darker shade of red than the K in "KIDS").
Babies "R" Us

The current logo, as with Toys "R" Us, resembles the 2007 logo in the real world, but alongside the above differences, the word "BABIES" keeps the colors from the 1996 version of the logo (the word "US" is in a less blue shade of purple than the I in "BABIES")
The company was acquired by Johnson in 1998.
The 1994 logo is still used.
In 2000, Sears re-acquired the Sears Tower in Chicago and relocated its headquarters back there, meaning the building never got renamed to "Willis Tower" ITTL.
Spotify
Post-acquisition, the logo's symbol changed to more of a lime-ish green, and the text changed back to black/white, a la the 2013 logo.
After having found out about Joe Rogan's misinformation regarding vaccines and COVID-19, his podcast was pulled from the platform. As a result, Neil Young's music wasn't removed, nor was that of any artist who followed suit in the real world.
TikTok
All text to speech voices were made for TikTok; the default US one is a monotone female, not unlike the voice used from TTS' debut on TikTok up until May 2021 in OTL; the more excited-sounding female voice that became the default in May 2021 for OTL still exists ITTL, but it's always been an option rather than the default voice.
Unilever
Unilever was acquired by Johnson in 2002, resulting in a few changes to its brands.
Among the things Johnson did affect was Breyers' status; Breyers became the official Heartbrand brand of the US and Canada, while Good Humor became a subbrand of Breyers. The plant in Hagerstown, Maryland that manufactures various products for Breyers and other frozen dessert companies remains open to this day. Various products, whether or not a part of Breyers, like Good Humor's Candy Center Crunch bar and Klondike's Choco Taco continue to be made (with the latter still served at Taco Bell).
Wachovia
Due to Johnson keeping Wachovia separate from First Union, the 1986 logo is still used.
Warner Bros
ITTL, the company never sold off the AOL or Time assets, and outbid both Gray Television and IAC to acquire both parts of Meredith. The corporate name is still "Warner Communications" (being changed back to this in 2011), and the Discovery merger went the other way around, with Jason Kilar remaining in charge, and David Zaslav being unceremoniously fired.
Water Country USA
The logo currently used in the Johnsonverse is a cleaner, simplified version of the 1984 logo.
Yahoo! still uses its 2009 logo, except it's still red instead of purple.
YouTube
Johnson beat out Google in a bidding war for YouTube in 2006.
Susan Wojcicki was never made CEO. Jawed Karim is still in charge.
YouTube's copyright system is much better.
The infamous YouTube/Mondo collaboration "YouTube Copyright School" does not exist.
Users do not need Google accounts for YouTube.
There is no monetization program; instead, there is a sister site

WBCi

for creators who wish to make money from their content, with less strict guidelines.
Instead of a "for kids/not for kids" system, a rating system similar to the ESRB was created exclusively for YouTube and its sister site: 0-3, all ages, for 7+ and up, for 10+ and up, 13+, and 16+. An 18+ rating was not made due to concerns that it would be used to upload pornographic content onto YouTube.
Ratings are not assigned to videos by bots; the uploader has to set the rating themselves.
The ratings also do not determine whether the comments can be disabled or not, as the comments can only be disabled if the uploader wants to disable them.
Any video can be saved to a playlist, played on the miniplayer, and commented on (unless the uploader has manually disabled comments) regardless of their age rating.
Annotations are still present.
Dislikes continue to remain visible, as do comment dislikes.
The crackdown on Elsagate videos has been much more successful.
YouTube Rewinds have been made since 2007 ITTL (not having been cancelled in 2020 like in OTL), and they can be seen as much more tolerable compared to their counterpart from OTL, not overemphasizing on music (specifically not just on one of the most popular dance songs of the year, ala 2012-2015 (also 2017 to a lesser extent, though "Shape of You" isn't really a dance song) IOTL; note that all of Johnson's "Golden Four", particularly Tim, find all of the songs YouTube emphasized on for their 2012-2015 (and 2017) Rewinds IOTL at least somewhat annoying), fads, etc. (Johnson is more focused on appealing to YouTube's audience than to a mainstream audience; thus, there are no celebrities, etc. not known for their YouTube content in Rewinds).
The Yo Mama characters have appeared in all YouTube Rewind videos since 2012.
All logos remain the same from OTL.
Cosmetic
Human biology
There is one minute difference with human biology in the Johnsonverse, in that the refractory period does not exist. There is evidence that it did in the past, but in direct response to the Toba Catastrophe reducing the human population to roughly 1,000 to 10,000, humans evolved to lose this to enable rapid repopulation. Consequently, amateur pornography in the Johnsonverse tend to be much longer in runtime.
Countries/Territories
China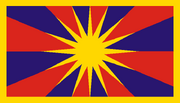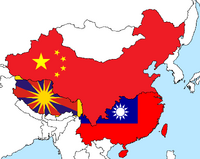 In 1949, the United States successfully negotiated an armistice between the People's Republic of China and Republic of China, and established a border at the Yangtze River. This effectively became the Johnsonverse equivalent of the Korea situation, with the PRC coming to be known as North China, and the ROC as South China. Despite this, no major border incidents have occurred between the two nations. As a result of this division, China never became an economic powerhouse, with South China becoming the world's second-largest economy despite its smaller land size. North China uses the same government, flag, and currency as the real-life China, while South China has those from Taiwan, which is incorporated into South China. This also means that China never took Tibet, which is still its own independent country; its 1912 flag was kept until 1970, when it was redesigned in a nationwide contest. Lobsang Sangay is the current Tibetan president, and its currency is the same as it last was IOTL.
One major difference is the formation of the International Mandate for the Concessions, Settlements and Legations in China (commonly referred to as the Legation Cities), which aims to provide equal and open access to the South Chinese markets. The Legation Cities are Hong Kong, Macau, Zhanjiang, Xiamen, Fuzhou, Whenzou, Ningbo, Nantong, and Behai, with each being administered by a different country upon handover on January 1, 1954:
The United Kingdom retained Hong Kong
Portugal retained Macau
The United States received Fuzhou
France received Xiamen
Korea received Nantong
Canada received Ningbo
West Germany received Whenzou
The Netherlands received Zhanjiang
Turkey received Behai
North China refused to participate, instead creating its own Legation Cities. The initial plan was for these cities to be administered exclusively by the Soviet Union, but this plan was quickly abandoned due to North China and Russia sharing a land border, thus making this arrangement impractical. Instead, the administration contracts were awarded either to other communist nations, or even nations that weren't in either sphere. The "Northern Legation Cities" are Qingdao, Xinhailian, Yantai, Qinhuangdao, Tienstan, and Tali, and, upon the handover on January 1, 1956, were administered as follows:
Iran received Qingdao
Brazil received Xinhailian
Argentina received Yantai
Yugoslavia received Qinhuangdao (went to Serbia after the break-up of Yugoslavia)
Indonesia received Tienstan
Egypt received Tali
The creation of the Legation Cities has influenced naval doctrine on both sides, with the United States, Russia, and North China stationing numerous attack submarines in the area specifically to sink each other's merchant marine in the event of war.
Egypt
Egypt was never Christianized, Islamized, or even secularly Arabized. There is still a Pharaoh today, but the country has become a constitutional monarchy like the UK. Most people in the country worship the ancient pantheon (Kemetism) and speak a form of Coptic (referred to as simply Egyptian ITTL). The Egyptian Arabic language never gains dominance, but still exists as a minority language. Egypt is considered a western country and part of Europe, and is in the EU and NATO.
Island of Sodor
The Island of Sodor is real in the Johnsonverse, as are its people, railways, and engines. One big difference that goes without saying is that none of the vehicles have faces.
In the Johnsonverse, Sodor is home to six railways:
North Western Railway, a standard-gauge railway serving Sodor's southern, western, and eastern coasts, as well as the island's interior
Higher Sudrian Rail, a standard-gauge railway serving Sodor's northern coast between Vicarstown and Arlesburgh (because of the railway's troubled history, it has never been featured in any media, and is frequently omitted from maps tying into the books and television series; the closest it ever came was the depiction of the town of Shining Time, established by Americans fleeing the Civil War in 1862, which is served by the Higher Sudrian Railway, but in the television series Shining Time Station and film Thomas and the Magic Railroad, it is located somewhere in the United States and served by the Indian Valley Railroad)
Skarloey Railway, a narrow-gauge railway running from Crovan's Gate to Skarloey Lake (from 1982 to 2006, it was expanded to better serve Sodor's interior, explaining the railway's bigger size in the television series)
Arlesdale Railway, a minimum-gauge railway from Arlesburgh to Arlesdale on the roadbed of the Mid-Sodor Railway
Culdee Fell Railway, a cog railway running from Kirk Machan to the summit of Culdee Fell, the tallest mountain on Sodor
Mid-Sodor Heritage Railway, a heritage railway built on the roadbed of the original Mid-Sodor Railway from King Orry's Bridge to Cas-Ny-Hawin
The North Western Railway and Higher Sudrian Railway have been part of British Rail as the North Western Region of British Railways since 1948. BR's continued use of small two-axle wagons meant neither railway has had to greatly alter its goods trains.
The Reverend Awdry grew up on Sodor, and his childhood experiences there were the direct inspiration for his Railway Series books.
Japan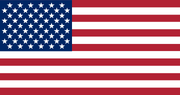 In 1952, former IJA officer Takushiro Hattori carried out a plot to assassinate Japanese prime minister Shigeru Yoshida and declared Japan's independence from the United States, with the intent of rebuilding Japan's military and naval might. Hattori, a staunch supporter of Hideki Tojo, believed that it was Japan's "divine destiny" to dominate the Pacific, and that Emperor Hirohito cowered in the face of "acceptable civilian losses".
The Hattori Coup was incredibly unpopular with the war-weary populace of Japan, leading Hattori to order mass, indiscriminate killings of civilians to shut them up. All this did was galvanize anti-militarist support, and Yoshida loyalists called upon the United States to remove Hattori from power. On June 6, 1952, American forces commanded by Douglas MacArthur marched on Tokyo and ordered Hattori to surrender. MacArthur's forces and Hattori's loyalists engaged in intense urban warfare for three days until MacArthur ordered tanks to move in, breaking the stalemate. Angry citizens, tired of the Japanese government, stormed the National Diet Building in an insurrection that Hattori's loyalists were powerless to stop. A militia group presented Hattori to MacArthur, who had him executed on the spot. In the days that followed, the United States reoccupied Japan, with Hattori's supporters fleeing to the countryside. A week after the "Japanese Civil War", as both western and Soviet media referred to it, the Japanese people heavily lobbied for full annexation by the United States, believing that any domestic leadership was either ineffective or would attempt to restart the Pacific War. On July 1, 1952, the United States and provisional Japanese governments signed the Treaty of San Francisco, stipulating that Japan, as a nation, would cease to exist, and all of its lands would now be under full American control. The changes were immediate: Japan's eight regions were reclassified as states (for example, the Kansai Region became the State of Kansai), and all prefectures were reclassified as counties (for example, Iwate Prefecture became Iwate County), though they are still generally referred to as prefectures like how Louisiana's counties are called parishes, and Alaska's counties are called boroughs. A new American flag with 56 stars was hastily designed and put into effect in the hours after the treaty was signed.
To this day, Japanese separatist movements are still a major problem, with early investigations into the September 11th attacks calling them a potential perpetrator; the PATRIOT Act included an entire section targeting these separatists, classifying them as domestic terrorists; this is because most organizations related to Japanese separatism are violent and have spelled out their intentions to rebuild the Japanese Empire and destroy the United States (the South Park episode "Chinpokomon" satirized the idea that media originating from the Japanese States are designed to brainwash citizens into starting a civil war in the Lower 48 while the separatists retake power). Racial conflicts between whites and ethnic Japanese are also a major issue, though in a twist of irony, whites are the ones being discriminated against along with all other non-Asian races, being viewed as occupiers. It should be noted that the majority of native Japanese peoples are highly-opposed to the idea of Japanese independence, using such groups as an example; in turn, most separatist groups refer to these people as "ankurutomus" (which is Japanese for "Uncle Toms").
Seventy percent of the region speaks in both the English and Japanese languages, with five percent speaking only in English, and the remaining twenty-five percent speaking only in Japanese. Japanese rail services are run by Continental Rail by way of subsidiary Eastern Pacific Railroad, which is responsible for passenger and freight services; from its takeover in 1952 to 1963, no new rolling stock was ordered due to Continental Rail focusing entirely on rebuilding the system; starting from 1963, all of the Japanese-built rolling stock was replaced by British Railways-designed stock, with Japan eventually becoming a dumping ground for locomotives and coaching stock withdrawn from BR; this coincided with the system being regauged to standard gauge. The Shinkansen was introduced in 1964 as in OTL, though with much more difficulty due to obstruction by the automobile lobby, interference that CR swept aside when the Blitzkrieg Crew plowed through a crowd of protesters opposing construction, leaving 64 dead; this action was not sanctioned by Johnson Industries (unlike the Alabama branchline incident), and the foreman and many workers were arrested and either given the death penalty or life in prison; since then, Johnson has stipulated that construction crews may only attack protesters if the latter attacks first. NHK, Japan News Network (JNN), Nippon Television Network System (NNS), Tokyo Broadcasting System (TBS), Fuji Network System (FNS), TV Asahi Network (TAN), and TV Tokyo Network (TXN) all air in the US mainland, the latter five being part of the "Japanese Big Five" television networks, with the "English Big Six" being NBC, CBS, ABC (which Johnson was allowed to acquire in 2013 due to there being more major broadcast networks ITTL, and Johnson airing programming on the network that is very different from WBC), WBC, Fox (which Johnson also acquired in 2019 for the same reason as ABC; Fox News Channel was split into two: a new channel with the Fox News name, and the original Fox News, still owned by the Murdoch family and renamed into News Nation, after their Fox Nation streaming service [itself renamed to Nation Digital]; News Nation retains the personalities and right-wing stance of the original Fox News, and the OTL NewsNation is instead called Nexstar News) and SPN (Sony Pictures Network, a television network formed by Sony in 2000 to compete with NBC, CBS, ABC and WBC); because of this, the Turner Broadcasting System (TBS) is known as Turner SuperStation (TSS), and Nagasaki Broadcasting Company (NBC) is known as Nagasaki Broadcasting System (NBS), or NNBS-TV to avoid confusion with the Mainland US NBC (although it is an NBC affiliate). CERO does not exist either, with all games being rated by the ESRB. JAITS doesn't exist either, with all of its stations being CW, MyNetworkTV, ION, independent stations, or even PBS affiliates. The new Fox News channel tends to be more centrist and unbiased than the left-favoring WBC News Network; for example, Fox News is more likely to point out flaws with a democrat's priorities, etc. than WBC News is (though both are just about as likely to point out flaws with those of republicans).
The Japanese States, Hawaii, and US possessions in the Pacific Ocean use "J" callsigns (assigned to Japan IOTL). Alaska is still considered a "K" state.
In terms of highways, all OTL Japanese National Expressways are Interstates prefixed with "J", all OTL National Highways are US Routes, and all OTL Urban Expressways are State Routes of each region/state.
This also means that Japanese retail chains (such as FamilyMart and Lawson) operate in the Lower 48, Alaska, and Canada. More specifically, FamilyMart would be the brand used by Couche-Tard in the Lower 48 west of the Mississippi, the Japanese states, Hawaii, Alaska, the western provinces of Canada, the Canadian territories in the Arctic region, and all US territories in the Pacific region (including Marshall Islands, Palau, and Micronesia); while Circle K would be used in the Lower 48 east of the Mississippi (except for New England), Ontario, Puerto Rico, and the Caribbean; and Couche-Tard would be used in Quebec, Newfoundland & Labrador, the Atlantic provinces, and New England. Vice-versa, a lot of Mainland US store chains (such as Walmart and Macy's) operate in Japan; specifically, Walmart acquired and absorbed Seiyu in 2002, replacing the Seiyu name with the Walmart name.
1seg (mobile television) is also available in the Mainland US, as well as Canada and Mexico. In fact, a lot of "garakei" features, like I-mode (which reigned supreme before the rise of responsive web design), have made their way worldwide.
Historical events
2020 election
Former Johnson CEO Sheldon Johnson, Jr. became the 46th President of the United States instead of Joe Biden, though Biden still became the Chief of Staff, with Val Demings as vice president. Also, because he brought renewed energy to the party after the Democrats' surprise loss in the 2016 election, Johnson ended up winning by a landslide, winning almost all the swing states including Texas and Florida, and the Democrats regained the Senate majority, as well as some additional House seats.
Here is a list of Johnson's cabinet appointees:
Chief of Staff - Joe Biden
Secretary of State - Jen Psaki
Secretary of the Treasury - Janet Yellen
Senior Advisor (policy) - Pete Buttigieg
Other possible selections include:
Susan Bass
Tulsi Gabbard
Jerry Brown
Korean War
The Korean War began at the same time as OTL, but ended in February 1951. Communist China attacked South Korea, and General MacArthur drew up a plan to use 50 atomic bombs against both North Korea and North China. In our timeline, President Truman dismissed MacArthur for trying to go behind his back to implement this plan, but in the Johnsonverse, Truman realized this was the only way they could break the stalemate.
On February 23, 1951, Operation Hudson Harbor was executed, and all North Korean positions were wiped off the map by Mark 4 nuclear bombs carried by B-29 bombers. Over 50 bombs were dropped along the Yalu River to create a death zone that the North Chinese could not send any forces or supplies through. The Yalu Radiation Zone was declared terra nullius until the International Atomic Energy Agency declared it habitable again in 2012, a full sixty years after the operation was carried out. North Korea immediately surrendered, and North China pulled back. The Soviet Union, which had bomber and submarine forces in the area, was intimdated into pulling all forces out of the area, as they had very few nuclear weapons of their own compared to the United States. In a controversial move, Kim Il-sung was granted amnesty on the grounds that he never get involved in politics again. He went on to become Korea's most-prolific restauranteur, a legacy carried on by his son Kim Jong-il and his grandson Kim Jong-un. This also means that the 2014 Sony hacking incident never happened.
To this day, Operation Hudson Harbor is a topic of debate and controversy, with historians questioning if the United States was justified in carrying out the bombings (which were done with the permission of South Korea), or if the United States should have settled for an armistice. Proponents of Hudson Harbor state that an armistice would create an increasingly-unstable situation on the Korean Peninsula that could escalate into World War III at any time, while opponents stated that the operation was unethical and created an ecological disaster that only ended in 2012. As for international opinion, nuclear weaponry was still in its infancy, and to the United States' credit, the lowest-possible yield on the Mark 4 bomb was used against North Korean positions, and only airbursts were used on the Korean Peninsula, both factors limiting the damage and ensuring radioactive fallout wouldn't hinder Korea's postwar recovery. North Chinese and American authorities also worked together to keep fallout from the Yalu groundbursts from drifting into Korea. In addition, no future wars saw nuclear weapons used, despite several close calls.
Mexico food mascot ban
Mascots were not banned from appearing on food items in Mexico, as Tim and Chloe prevented that from happening; because of this, new Tony the Tiger and M&Ms commercials still air over there.
Roe v. Wade
One of the first acts Sheldon Johnson made when becoming President was to officially codify Roe v. Wade into law, meaning it wasn't repealed in June 2022.
Media
"200", "201" and "Super Best Friends"
None of those three South Park episodes were ever banned from reruns due to Johnson owning Comedy Central and Tim pointing out that the extremist Muslim website sending the death threat post to Trey Parker and Matt Stone was "the smallest fish in the smallest pond" and an "al-Qaeda wannabe". "200" and "201" were also left almost uncensored aside from the bleeping of some swear words such as the word "fuck", and are available completely uncut on the DVD and on Netflix, right down to Muhammad's presence and Kyle, Jesus, and Santa's speech at the end being completely uncensored. The "Cartoon Wars" two-parter also remains on Netflix (HBO Go and HBO Now don't exist in the Johnsonverse due to Johnson already owning Netflix, while HBO Max is instead known as Warner Max, and all originals in those platforms are on Netflix, Cartoon Network for animated series, or the main HBO channel instead).
Adventure Time
The series has many notable differences, due to being a co-production between Cartoon Network Studios, Johnson Television, and Frederator.
The artstyle is much different, being closer to the Detective Jenny artstyle than the simplistic CalArts style of OTL.
Jake is not the deuteragonist, instead being a recurring character (he is still voiced by John DiMaggio). Instead, Fionna is the deuteragonist, being Finn's twin sister. Finn and Fionna are both voiced by Tim and Chloe Johnson, respectively. In the pilot, Finn is named Pen and voiced by Zack Shada, and Fionna is named Penny and voiced by Liliana Mumy. Both are also depicted as being much smarter than their OTL counterparts, neither use "totally radical" jargon like "Mathematical!" or "Schmow-Zow!", and Finn is depicted as slowly becoming more and more jaded and bitter with his love life, with the events of "Too Young" affecting him for the rest of the third season before meeting Flame Princess in "Incendium".
The Mushroom War is explicitly stated to have been World War III, fought between NATO and Russia.
Several of the gender-swapped characters aside from Fionna exist, including Prince Gumball (still voiced by Neil Patrick Harris), who is Princess Bubblegum's younger brother who aspires to be the greatest baker in the land, and Marshall Lee (voiced by Dante Basco), who is Marceline's roommate (their relationship is 100% platonic due to Marceline still harboring feelings for PB). PB and Marcy are still voiced, respectively, by Hynden Walch (Paige Moss in the pilot) and Olivia Olson.
The series has an overarching main antagonist in the form of the Anti-Human League, who wish to destroy all humans for causing mutants to exist.
Flame Princess is a COMPLETELY different character. She first appears in the pilot as a nameless Fire Elemental, and appears recurrently throughout the first three seasons, either making small cameos or silently working in the shadows to manipulate events in Finn and Fionna's favor (for example, she directed them towards the Tree Fort in the pilot, threw Marceline out in "Evicted!", among other acts). Flame Princess has very little in common with her OTL counterpart, in that she has two forms: the first is Fire Form, which is made of pure fire; this form can use fire magic without restrictions, but she can't maintain this form indefinitely due to the strain it puts on her body; the other form is Humanoid Form, in which she becomes an orange-skinned, red-haired humanoid (her hairstyle is largely based on Saria's from The Legend of Zelda: Ocarina of Time); this form is waterproof and more energy-efficient, but she can't fly, and can't use fire magic at full power for risk of burning herself. Flame Princess lives with Finn and Fionna full-time, and is a character with multiple personalities (though the second two weren't known until the fifth season premiere):

Edana (Tara Strong) is the normal, nice personality.
Phoebe (Jessica DiCicco) is the second, evil personality. She resembles Edana's Humanoid Form, but with blue skin and white hair. She was a Manchurian Agent planted by Flame King (who looks the same as OTL and is still voiced by Keith David) to one day lead the Fire Kingdom to global conquest. Phoebe was accidentally unleashed by the Lich's mind control in the fifth season premiere, though she nearly surfaced on multiple occasions throughout season four, causing her much distress.
Chloe (Belle Armstrong) is the dormant, true personality. Chloe is a human born into a family of mages who were killed during the Great Hunt carried out by the Anti-Human League. She was taken by Flame King to be converted into a Fire Person, but it only worked partially. This personality resurfaced when Phoebe was unleashed, and she contacted Finn psychically during a sword duel between him and Phoebe, telling him how to release her. She was fully released when Finn kissed Phoebe on the lips for the first time, but Phoebe is still within her, and they battle for control one last time before Chloe casts a spell on herself to remove the Evil Fire Spirit (Frank Welker), who vows revenge before being trapped in a mason jar (which he claims is his one weakness) by Marceline. Having been born into an influential mage family, Chloe spends most of season five mastering all seven schools of magic, which come in very handy in multiple situations. Because of this, Finn and Flame Princess/Chloe (who, despite popular belief, was not named after Chloe Johnson) never break up.

The Lich is also a completely different character voiced by Seth MacFarlane. His initial appearance is the same as OTL, but after casting off Billy's skin, he gains a new appearance as a green-skinned humanoid with his horns, but he is stripped back to his pure skeletal form when Phoebe absorbs his power and casts him into Prismo's Time Room. This version of The Lich is a much more humorous character, being based on the Robot Chicken version of Emperor Palpatine. Instead of being the physical embodiment of the Mushroom Bomb (which doesn't exist ITTL), he is a member of an alien race known as the Elkeots, whose planet is dying; they are a race of scientists who are predisposed to genetic modification, hence The Lich's magic. He merely wants to destroy all life on Earth so the Elkeots can mine it for resources to build a fleet of spaceships and find a new homeworld, and he takes no personal pleasure in his task. After the fifth season premiere, he becomes an ally to the heroes.
Some episodes that are overly-reliant on Jake such as "The Witches Garden", "Freak City", "Gut Grinder", "Her Parents", "Jake vs. Me-Mow", "Paper Pete", "Dad's Dungeon", and "Card Wars" don't exist in the Johnsonverse. Flame Princess-centric episodes such as "Hot to the Touch", "Burning Low", "Ignition Point", "Vault of Bones", and ESPECIALLY "Frost & Fire" and "The Red Throne" also don't exist.
Alvin and the Chipmunks franchise
Johnson also took over production on the series for the 1991 season, and has been heavily involved in the franchise ever since.
The show continued airing until 1995, after which various movies and specials were produced.
The two DTV films Alvin and the Chipmunks Meet Frankenstein and Alvin and the Chipmunks Meet the Wolfman were produced by Johnson and aired as television specials on WBC.
The live-action movies were completely different. The first one, released on December 12, 2008, stars Steve Carell as Dave, David Cross as Ian Hawke, Jason Lee as Hawke's assistant Josh Owens, Jane Lynch as Dave's boss Gail, and Amy Poehler as Dave's on-and-off girlfriend Claire (whose characterization is completely different); Ross Bagdasarian Jr. and Janice Karman also reprise their roles as the Chipmunks, as well as making physical cameos. The sequel, Alvin and the Chipmunks Meet the Chipettes, was released on December 16, 2011, with Karman also voicing the Chipettes, and the third and final film, Alvin and the Chipmunks: The Road Chip, was released on December 19, 2014; all three films lack toilet humor and use better jokes and storytelling, in addition to using the 1960s designs for the Chipmunks (new designs for the Chipettes were produced in this style), traditionally animated.
Beginning in 2013, a revival (called Alvin and the Chipmunks) has aired on WBC, using traditional animation, different designs than the OTL CGI series (namely, the Chipmunks and Chipettes' designs are modernized versions of their 1980s designs, and Dave's design is from Johnson's two DTV movies), and a larger voice cast. Clyde Crashcup (voiced by Frank Welker) was also brought back. The Chipmunks Go to the Movies was also brought back beginning in January 2016, airing from January to April while the main series airs from September to December.
In early 2022, Ross Bagdasarian Jr. and Janice Karman sold the franchise to Johnson, stating that the company truly understands their work and its appeal.
The Mini-Munks
In the Johnsonverse, Janice Karman's concept for a preschool series starring younger versions of the Chipmunks was expanded upon, with there being a two-season series of 20 half-hour episodes (10 per season) airing on Sprout from June 15, 2007 to October 17, 2008, produced in association with Johnson Television. Like the 2003 direct-to-video movie Little Alvin and the Mini-Munks (which was released by Johnson instead of Paramount), the chipmunks are puppets in the series. All characters from said movie return here.
After the series finished airing, an hour-long WBC Presents special entitled "La-Lu's Birthday", written by Karman alongside Sheldon Johnson, Jr. and Tammy Jo Johnson, aired on WBC in the evening of August 28, 2009 (it was filmed just about exactly a year back, in August 2008, albeit a few weeks before the 28th of that month). Several members of the Johnson family make appearances as partygoers and close friends of La-Lu's, including Tim and Chloe Johnson, who would become CEO and President of Johnson respectively at the beginning of the next month. A notable shot featuring them is during the closing song (a shortened reprise of "Friends" from the 2003 direct-to-video Mini-Munks movie with a new, "grander, arguably more emotional" arrangement), where Chloe wraps her arm around a crying Gilda (who's crying because of how sentimental the song is, that she wasn't prepared for them to sing "Friends" again, and because Lou (who already has his companion, Sam, there to comfort him) is also crying; she calls Chloe "too kind" in return for the comfort) before noticing that the song is also making Tim emotional and proceeding to wrap her other arm around him; it's been said that while Tim being emotional was supposedly scripted, the scene was actually rather easy to film due to the song actually making the normally-reserved (albeit not as much as his sister) Tim emotional; he has heard the song before while watching the direct-to-video movie (he beleives that while it did make him emotional, the emotions didn't hit him as hard back then), but it's been a long time since he'd last seen it and thus heard the song.
American Dad!
Many changes also came to the show beginning in its sixteenth season:
The original 2005-08 opening was brought back, but with improved animation and shading.
As with Family Guy and The Simpsons, the animation is now more fluid, and is provided by Johnson Television Animation.
The overall style returned to that of the pre-TSS era.
Angry Birds franchise
Since Johnson bought 40% of Rovio in 2012, and have recently bought the remaining 60% of the company from Sony, things have gone differently with the franchise:
The old games came back much earlier, as Tim thought waiting too long to see the older games besides the original wasn't a good idea; the games also contain content from beyond 2012.
A second arcade game will be released.
The movie designs are only used for the movies and other materials.
A successor to Angry Birds Trilogy will be released using the Unity engine.
Most content that still use the movie designs have much of the movie cast reprising their roles.
Angry Birds BirLd Cup is still airing and has had the Birds alongside the humans.
The old games were still removed, but only due to conflicts with Sony, but Johnson still supported the old games by partnering with Uptodown to help with future updates of the old games, and Rovio Classics was an update of the original, instead of being a separate game.
The Piggy Tales series is still going on, and has been very successful with old and new fans, and has both clay and CG pigs.
Approximately 40% of Angry Birds material has the birds talk.
More promotions have been made for the franchise; Legoland Florida and California would have Angry Birds-themed lands added to the parks; the Angry Birds-themed land in Legoland Florida would be where the Peppa Pig theme park is IOTL.
There are no attempts at trying to merge the various continuities of the franchise; thus, Angry Birds: Reloaded doesn't exist.
Most Angry Birds games produced by Johnson are slingshot-style games.
An animated series (set in a different continuity from Summer Madness) that uses the Angry Birds: Reloaded name is set to premiere on Cartoon Network in 2023; the designs of the characters in this series are mainly based off the Chrome designs.
The third film is in pre-production and will not have Sony's involvement.
Because of the above, the franchise has experienced a resurgence in popularity since the late 2010s, culminating in the relisting of Rovio Classics, now with a new engine; the game has been doing very well, and Seasons will be relisted with the same treatment on August 30.
7-Eleven has promoted the franchise during both it's prime and its resurgence.
After Johnson purchased the remaining percentage of Rovio, the theme song for the Angry Birds Seasons episode "Winter Wonderham" was changed back to the original version (the slower, lower-pitched mobile version)
in 2021, an episode to Angry Birds was added with the name "Piggy Tales", based off the series of the same name.
In the NBA update of Seasons, the cutscenes were brought back; cutscenes were also created for levels after Piglantis.
The web games are still playable, have more levels, and more of them exist; ABMCD's has cameos from the McDonald's characters themselves, and a web game called Angry Birds M&M's was first released in Australia and was brought to the US, Japan, and Mexico a week later.
Animaniacs (2020)
The series is somewhat the same, except that, due to airing on The Hub (where reruns of the original aired for a few years IOTL) instead of Hulu, Tim requested several changes: namely, Tom Ruegger was brought back, this time as the showrunner, along with much of the original writers and creative team, and as a result, the show doesn't rely on topical humor as heavily. Tim is also an executive producer, alongside Steven Spielberg, Sam Register, and Amblin Television co-presidents Justin Falvey and Darryl Frank. This means that all the side characters such as Hello Nurse (who is now the head of the studio due to Plotz' retirement), Minerva Mink, Slappy and Skippy (the latter now being an adult who wants his aunt to move out), Rita and Runt, Mindy and Buttons (the former is also an adult; her spot is taken by her daughter Mandy, while Mindy herself replaces her mother, who had passed away), the Goodfeathers, Colin (again, who is also now an adult, though he still talks about an offscreen Randy Beaman), and Chicken Boo were brought back, all with the original actors returning, among many other characters; additional segments such as "Good Idea, Bad Idea" were also brought back, and the new characters for the 2020 reboot were all still included as well.
The theme song also uses much of the original lyrics (though the line "The writers flipped, we have no script, why bother to rehearse?" was changed to "Meet Ralph and Dr. Scratchansniff, say hi to Hello Nurse" from the Season 3 version, "Buttons chases Mindy" became "Buttons chases Mandy", "While Bill Clinton plays the sax/"We got wisecracks by the slacks"/"We pay tons of income tax" was still changed to "Our careers have made comebacks", and "We have pay-or-play contracts" was still changed to "You should see our new contracts"), meaning that the line "Dot is cute" was never changed. The verses from the theme song IOTL ("A brand new cast who tested well in focus group research, gender-balanced, pronoun-neutral, and ethnically diverse! The trolls will say we're so passé, but we did meta first!") were instead used in a skit designed to mock PC culture in which the Warners are forced by several particularly intimidating studio executives to cater to PC culture until Hello Nurse fires the executives responsible. The animation is also much more fluid, and the opening has shading. The credits gag was brought back as well.
Animator credits on Netflix series
Netflix requires all animated series to credit individual animators instead of just the studio providing animation services.
Anime in general
In the Johnsonverse, anime is the catch-all term for animation produced by studios based in the Japanese States, including animation, writing, and staff. Voice-acting for anime is typically done in the Mainland States in California, Texas, and New York. The quality of anime voice-acting is much, much higher ITTL, mainly because the talent pool is much, much larger; it's common to hear Mainland-based actors such as John DiMaggio and Tara Strong in anime, though iconic performances such as Steve Blum as Spike Spiegel and Wendee Lee as Haruhi Suzumiya are still extant in the Johnsonverse.
Because of how frequently Japanese States-based studios work on Mainland States-produced shows, the line between "anime" and "animation" is frequently blurred. For example, it is a matter of debate as to whether or not Detective Jenny is an anime, as the two studios that animate it (Toei Animation and TMS Entertainment) are based in the Japanese States, and both use an artstyle heavily influenced by anime (though with subtle differences that allow viewers to discern which studio does a given episode). Other Mainland-produced series such as Avatar: The Last Airbender, Teen Titans, ThunderCats (2011), and RWBY further blur this line.
Artemis Fowl (2020)
The film was directed by Tim. Because of this, the film is vastly different from OTL:
At the Movies (1986)
<templatestyles src="Multiple image/styles.css" wrapper=".tmulti"></templatestyles>
The series is also produced by WBC instead of ABC. Ebert never had cancer in the thyroid and salivary glands, and therefore never had to have his lower jaw removed, and Gene Siskel never had his fatal tumor. Both are still alive, and review movies on Siskel & Ebert. The Siskel & Ebert archives were not taken down. Because the show wasn't canceled, Ebert Presents At the Movies doesn't exist, and its critics (Christy Lemire and Ignatiy Vishnevetsky) are part of sister show The Critic Roundtable, which has aired in syndication since 2009 and also features TCM's Ben Mankiewicz, A.O. Scott from The New York Times, and Elvis Mitchell, who had filled in for Gene Siskel on Roger Ebert & the Movies in real life. Richard Roeper and Michael Phillips host Roeper & Phillips, which has aired since 1999. The intro for both incarnations recalls the Siskel & Ebert intro, and the series used the set introduced on Ebert & Roeper IOTL from 2001-10; since then, the Ebert Presents At the Movies set from OTL has been used. The real-life Roger Ebert & the Movies theme is used on Siskel & Ebert, and the Ebert & Roeper theme IOTL is used during the cold open, when Siskel and Ebert announce three of the week's five movies.
Balan Wonderworld
Because Yuji Naka rejoined Sega after Johnson acquired it in 2019, the game was released by Sega instead of Square Enix, and is markedly different.
When Johnson acquired HiT Entertainment in 1996 and Lyrick Studios in 2001, many, many changes were made:
Before taking control of the series, Johnson (rather than Polygram) distributed Barney's Great Adventure; they required the director to use Stephen White's original script. The film's box-office disappointment resulted in Johnson buying Lyrick in 2001 and taking full creative control of the series starting in Season 7.
Starting in Season 7, the style of the show was changed. While the show remains relatively lighthearted, it also assists children in learning to deal with negative feelings and/or emotions. It still moved to a park rather than being set at a school.
Duncan Brannan has remained as the speaking and singing voice for Barney. Dean Wendt instead performs an adult character named Mr. Calloway (who works as a janitor like Mr. Boyd did prior to Season 7).
Miss Etta Kette, Scooter McNutty, and Booker T. Bookworm were retained from Season 7 on. After the death of Miss Etta's voice actor Brice Armstrong in January 2020, R. Bruce Elliott (who previously played Mr. Tenagain in "Having Tens of Fun" and Ryan's grandfather in "Grandpa's Visit") replaced him in the role in the final three episodes of Season 24 (Armstrong's already-finished material for Season 24 was aired posthumously as it was produced between October 2019 and February 2020), with the Season 24 premiere showing a dedication to Armstrong between the "Barney Says" segment and the credits. Todd Duffey and Earl Fisher still perform Scooter and Booker, respectively. A fourth puppet, Haven Hufflepup was added in Season 17; she's a competitive, athletic blue cat voiced by Kate Bristol.
The opening visuals were changed in 2011 (the rap theme was never made; instead, the 1997 arrangement is still used to this day) and again in 2018. The Season 14 opening is the same as the one from Seasons 7-13, albeit with new clips. Here are descriptions of those openings:

Seasons 15-21: The opening begins with Barney's silhouette marching first, with the other children's silhouettes following him; the title appears through multi-colored sparkles, with the frame zooming out, remaining for the rest of the opening. The title card turns like a page to show a clip of Barney transforming from a doll into a full-sized dinosaur with the kids hugging him, followed by various clips of Barney, the kids, BJ, Baby Bop, Riff, Miss Etta, Scooter, Haven (from Season 17 onward), and other characters, with graphics occasionally added over them (for example, when the line "ABCs and 123s" is sung, animated "ABC" and "123" graphics light up in tune to the song). After the last line "If you just make believe him", the episode's title card appears with the title under the silhouette of Barney and the children, before it turns to the episode and the frame zooms in.
Season 22-present: The opening begins with the silhouettes of Barney and the six children marching above the logo (a nod to the opening from the first three seasons) with a redesigned frame, whose colors now represent Barney, BJ, Baby Bop and Riff, before it flies away as in the second and third season openings, albeit with rainbow sparkle effects. The opening is very much the same way as in Season 15, with updated visuals. After the last line "If you just make believe him", the episode's title card appears with the title under the silhouette of Barney and the children, before the episode title card flies away and the frame's sides slide out of frame.

The credits still use the 2002 instrumental theme song arrangement, with the visuals from Seasons 15 to 21 being the same as Season 14 IOTL (though with just the credits rather than the footage or logo being shown on the right and the credits being in Dom Casual instead of Kristen). Since Season 22, the credits have used a modernized version of the Season 1-3 visuals involving paintings (which, as in Season 1, vary depending on the episode's theme).
Gallery
Big Mouth
This show was rejected for similar reasons to Cuties (as shown on its section). It instead aired on Amazon Prime, but was quickly canceled after a single season, due to Johnson (which owns competitor eBay) threatening to pull its retail products from Amazon's main online shopping business if the show was renewed.
Bob the Builder franchise
Most notably, the 2015 reboot was never conceived. Instead, a continuation of the 1998 series was greenlit with the original UK voice cast being used for all English-speaking regions. It also returns to the stop-motion style used prior to the Ready, Steady, Build! era.
The Bugs Bunny Show
The series has aired on WBC since 1968. There have been many changes:
The animated segments began to be outsourced to DePatie-Freleng Enterprises and Chuck Jones Enterprises at WBC's request, and the current segments are done at Warner Bros. Animation and Johnson Television Animation.
The classic 1960 opening was replaced in 1981 with the opening used for CBS' six-week primetime series in 1976. That version was used until 1992, when it was replaced by the version from that year in OTL (though between 1984 and 1987, the song "It's Cartoon Gold" was used), the only difference being that both Speedy Gonzales and Sylvester Jr. are in the character lineup.
In 2004, a new version using the stage and outfits from Chuck Jones' 1976 special Bugs and Daffy's Carnival of the Animals was produced, with the same lineup of characters as the 1992 open.
The 2004 opening sequence was replaced in 2019, when the current version was created to commemorate the 60th season of the show and the 70th anniversary of Wile E. Coyote and the Road Runner, as well as the then-upcoming 80th anniversary of Bugs Bunny and the 90th anniversary of the Looney Tunes franchise; it depicts Bugs and Daffy in their tuxedos and stage from "Show Biz Bugs", which provided the inspiration for the show's bridging sequences. The lineup of characters goes like this: Tweety, Speedy Gonzales, the Goofy Gophers, Sylvester Jr., Marvin the Martian, Hippety Hopper, Yosemite Sam, Penelope Pussycat, Pepé Le Pew, Petunia Pig, Porky Pig, Granny, Marisol Mallard, Sylvester, Elmer Fudd, Lola Bunny, Road Runner, Wile E. Coyote (who stares obsessively at the Road Runner), Pete Puma, and Foghorn Leghorn.
In 1981, the special bridging sequences were brought back. Each season consists of 13 episodes because of this.
The principal voices on the show are done by Bergman, Alaskey, Bob Bergen, and Billy West, with John Kassir as Pete Puma, Candi Milo as Granny, Kath Soucie as Lola, Tara Strong as Marisol, Grey Griffin as Petunia, and Tress MacNeille as Penelope.
Gallery
Buzz Lightyear of Star Command
Tim managed to get Pixar's permission to release all 62 episodes of the series in a "Complete Series" boxset in 2015, along with its pilot movie, The Adventure Begins. Both the movie and series are also available on Disney+, and were mentioned in the 2022 documentary Beyond Infinity: Buzz and the Journey to Lightyear.
The Buzz on Maggie
The show aired on WBC Kids instead of Disney Channel, and got MUCH better treatment, getting more seasons and continuing to 2012.
Caillou
The series still exists and ran for five seasons until 2010, but Johnson Television (which owns Cinar), unsatisfied with the first season (citing a variety of issues such as "an unlikable protagonist who encourages children to throw temper tantrums and is almost never even called out"), took over production from the second season on, instituting massive changes (the Caillou Gets Grounded videos still exist in the Johnsonverse, with the revived ShowBiz Pizza Place often depicted as a restaurant Caillou hates but the rest of his family loves).
Caillou's habit of throwing temper tantrums was scaled back significantly, and he behaves more like a realistic four-year-old child, with tantrums only being occasional at most.
Caillou's parents are far less sugary and far more genuine; they are also much better parents who don't give in to their son whenever he throws a fit.
The CGI reboot series doesn't exist.
Cars 3
Mia and Tia make a cameo when Lightning notices the Next-Gen racers replacing the older racers, and have come to wish Lightning good luck; they have long grown out of their "giddy fangirl" personas from the first two movies, though they still work as waitresses at Flo's V8 Cafe.
The racing museum from the epilogue of the first movie (which was a disused motel) and Lightning's racing headquarters in Race-O-Rama return here; both will appear in Cars 2: Special Edition, which will be released in 2021.
Francesco Bernoulli also makes a cameo in the movie, appearing in an interview Lightning watches.
Jackson Storm has a more complex personality. It's hinted that he's putting up his "cocky" facade because Storm is afraid of failure.
The movie has an epilogue during the credits, like the first movie.
Sterling's fate is alluded to in the epilogue, which has him with Rusty and Dusty on vacation at the beach.
Lightning's racing getup in the flashbacks with Doc (outside of scenes from the first movie) is his getup from the end of the first movie.
Cats (2019)
The film was made by Johnson instead of Universal, and directed by Tim Johnson instead of Tom Hooper. As a result, there are innumerable differences from the original:
Rather than CG fursuits, all actors wear actual suits and makeup. Also, their appearances are identical to their stage counterparts.
None of the cast is the same between OTL and TTL. Some major changes include:

Elaine Paige as Grizabella
Tim Curry as Old Deuteronomy
Brian Blessed as Bustopher Jones
Susan Jane Tanner as Jellylorum
Tim Johnson as Skimbleshanks the Railway Cat
John Legend as Rum Tum Tugger
John Cleese as Gus the Theater Cat

All songs are in their original keys and presented as how they were originally staged.
Rather than being one of Macavity's minions, Growltiger remains a fictional character played by Gus in "Growltiger's Last Stand".
The entire movie takes place in a junkyard instead of around pre-war London, and the Jellicle Cats' scale is much larger, around the size of an average housecat instead of the Lilliputian scale seen in the film IOTL.
The song "Beautiful Ghosts" does not exist. "The Dreadful Battle of the Pekes and the Pollicles", and by extension, the original version of the Great Rumpus Cat, is used instead.
"The Ad-dressing of Cats" doesn't take four minutes to complete, as Tim Curry doesn't have macular degeneration like Judi Dench did at the time.
As a result of being so divorced from the Tom Hooper version, the film did much better at the box office and was much better-received, often being cited as one of the best adaptations of a musical ever made, and won an Academy Award in 2020. Cats writer Andrew Lloyd Webber also approved this version.
Chicken Run: Dawn of the Nugget
Julia Sawalha reprises her role as Ginger instead of Thandiwe Newton, with Mel Gibson reprising Rocky rather than being replaced by Zachary Levi, and Timothy Spall and Phil Daniels voice Nick and Fletcher, respectively, rather than being replaced by Romesh Ranganathan and Daniel Mays. Fowler is still voiced by David Bradley instead of the late Benjamin Whitrow. This was at the request of Netflix (which is owned by Johnson ITTL), with Tim Johnson telling Aardman that "just because (Sawalha) is older doesn't mean she still can't do Ginger well".
Chip 'n Dale: Rescue Rangers (2022)
The CGI is much better, and almost all 2D animation is done traditionally instead of being 3D models with a 2D style.
Characters from other Johnson properties (including those from Cartoon Network, Hasbro, HiT Entertainment, Nintendo, Sega, Capcom, Paws Inc., 20th Century Fox, and Blue Sky, among other Johnson-owned companies) also make cameo appearances in the film, with the main cast of Detective Jenny being major players (to the point the film was nicknamed Detective Jenny: The Thirteenth-And-A-Half Movie by the production staff).
Gadget is NOT married to Zipper. Both end up with different spouses instead (Gadget with Chip, Zipper with another member of his species). Also, they have more screentime due to being main characters in the series.
The 2014-17 revival gets a mention as well.
Character cameos align better with the time period (for example, no random Simpsons characters appear in 1982).
The plot is much more complex, and is a stealth sequel to Who Framed Roger Rabbit. Much of the plot revolves around a "race war" between Traditional Toons (2D) and Digital Toons (3D) instigated by Baron von Rotten, the true identity of Judge Doom, with the ultimate goal of destroying all Traditional Toons because they're "tired and dated", while Digital Toons are "hip and edgy"; Baron von Rotten is traditionally-animated (which makes him a hypocrite), with Christopher Lloyd reprising his role. Roger Rabbit (Charles Fleischer) plays a major role in the film, at one point wishing Eddie Valiant were still alive to solve the disappearances (the film is dedicated in Bob Hoskins' memory). Part of the conflict involves Chip and Dale (the latter of whom has still gotten his "CGI Surgery" before being made aware of the situation, much to the discomposure of several other 2D characters, including Chip himself at first) hitting so many dead ends that Team Jenny takes over the case, especially when they prove ineffective at breaking up a standoff between Traditional and Digital Toons, which causes Jenny (Tara Strong) to have to fire her gun in the air to get their attention, even saying "fuck" multiple times while ranting about how stupid the entire "race war" is, but getting censored by Ruby Rose (Lindsay Jones) adjusting Penny Polendina's (Taylor McNee) systems to better kill Digital Toons, which causes an even bigger uproar since both Ruby and Penny were created as Digital Toons and somehow got a reverse CGI Surgery for Hyperdimension Neptunia: The Space War; the fighting erupts anew when Rei Ayanami (Amanda Winn-Lee) gets into a shouting match with Shrek (Mike Myers), tries and fails to shoot him while Shrek snarks about her terrible aim, and shouts "THE RACE WAR STARTS NOW!!!!". While the Rescue Rangers prove they still have it, the day is saved by other heroes. Baron von Rotten dispatches the One-Eyes to unleash a massive Dip-spewing machine on Toontown, but it falls apart completely when Tack uses the exact same tactic he used to destroy the original war machine (while the Thief tries to steal some gold-painted balls on the machine used for decoration, thinking they are real balls; this sequence reused a good deal of animation from The Thief and the Cobbler: Director's Cut, with Tim Johnson stating in an interview "We're gonna get our money's worth out of Richard's animation, dammit!"). He also unleashes a Dip-spewing kaiju, which is defeated by Godzilla. He then tries to use the original Dip Machine from 1947, but finds that Double D (Samuel Vincent) disassembled the engine ahead of time and drained the Dip. Finally, he is cornered by the Rescue Rangers, but Jenny is ultimately the one who kills him by shooting him with a Super Soaker filled with Dip. Pluto (instead of Sweet Pete/Peter Pan due to the latter's backstory being too similar to the life of his original voice actor, Bobby Driscoll, that culminated in his 1968 death) is a side villain who serves as a Red Herring, making bootleg toons because he was blackmailed by the North Chinese government for associating with Winnie the Pooh. Once he learns of the race war, he drops his bootlegging operation like a bad habit and joins the heroes.
Blaster has a small speaking role, being voiced by Buster Jones via VoxMutatio.
Garfield also makes an appearance, with Lorenzo Music reprising his role.
As the live-action remake of The Lion King does not exist in the Johnsonverse, Pumbaa is depicted as his 1994 self, voiced by Ernie Sabella.
Bob and Mantis still appear, instead fighting Rocky and Bullwinkle (voiced by E.G. Daily and Eric Bauza, respectively).
Several characters have different voices from OTL, including:

Lumiere is voiced by Jerry Orbach via VoxMutatio
Bootleg Bart Simpson is voiced by Nancy Cartwright (trying to imitate somebody doing a bad impression of her character)
He-Man is voiced by John Erwin
Batman is voiced by Kevin Conroy
Monterey Jack is voiced by Peter Cullen

Ugly Sonic is still in the movie, with the same design, voice, and personality as IOTL (he's somewhat closer to being an antagonist, due to being CGI). The redesigned Sonic (which appeared in the released Sonic movie) also appears (with Ben Schwartz reprising his role), gloating about his success to Ugly Sonic.
Cinderella remaster
In 2015, as part of the 65th anniversary of the film, Johnson released a remastered version that restores all of the original colors, backgrounds, outlines, and magic dust, replacing the infamous 2005 remaster.
Close Enough
The series airs on Adult Swim instead of HBO Max, and was renewed for additional seasons instead of being canceled in 2022.
Command & Conquer franchise
As Johnson owns Westwood Studios, the series has seen massive changes:
The first three games, Generals, and the Red Alert games are the same.
The fourth game,

Tiberian Storm

, was released in 2010.
The fifth game,

Tiberian Conquest

, was released in 2015, and added a fourth faction, a rival religion to the Brotherhood of Nod that is heavily against GDI and Scrin, but is also anti-Tiberium.
The sixth and last game in the Tiberium series,

Tiberian Twilight

, was released in 2019.
Cops and Live PD
Because it moved to WBC instead of Spike/Paramount Network in 2013 (and back to Fox in 2019), Cops was never canceled due to the George Floyd riots, as Tim felt that doing so would be "caving in to the PC crowd" and even stated on his social media accounts that "People were fine with it for just over 30 years and only now is it magically racist? Pathetic. God help us if a uniformed man or woman is seen in the same place as someone who's even the teeniest-tiniest bit black. Even if the uniformed person happens to be black". It has been renewed to Season 40 (the 2027-2028 season). Live PD (which airs on sister channel A&E) was not canceled either. The one-minute version of the "Bad Boys" theme song (which was used in the show's intro until 2003) is still in use today. Both series were instead merely placed on hiatus due to the COVID-19 pandemic, though these series eventually resumed production after stay-at-home orders were slowly lifted.
Copyright status on early Mickey Mouse cartoons
After Johnson acquired Disney, Tim announced that he would terminate the copyrights for the early Mickey Mouse short cartoons that would have fallen into the public domain had Disney not lobbied Congress to renew them; he considered it "an act of pure, pure greed", and pointed out that Disney would retain the rights to every later incarnation of the Mickey Mouse character, as well as his original 1928 incarnation due to it being considered an active trademark (as it's currently used in Disney's corporate branding since late 2013, as well as the Walt Disney Animation Studios logo since 2007).
Cuties
The film was rejected from Netflix by Tim on the grounds that "it's borderline softcore child porn, an endorsement of pedophilia, and as a father of three, I will never let anyone, not even myself, watch this monstrosity". It was instead going to be released on video on demand, with the worldwide distribution rights being held by Lionsgate, and Tim called for the film to be banned worldwide; his father Sheldon Johnson, Jr. pledged in his 2020 presidential bid to ban the film from being shown or distributed in the US or any of its territories. Two days before its planned VOD release, however, it was discovered by Tim and Chloe that the movie was a front for a conspiracy to normalize pedophilia as a sexual orientation, claiming it's against pedophilia to trick distributors and viewers, and that the filmmakers had bribed various critics into giving the movie positive reviews. Because of this, the leaders of this scheme, the parents of the child actresses, and much of the film's staff, including director Maïmouna Doucouré (who was also exposed as a pedophile), were arrested and received various punishments, the actresses were placed under foster care, its VOD release was canceled, and its Sundance award was rescinded, though pirated copies have circulated; Johnson, which acquired all rights to the film, has worked hard to destroy every pirated copy in existence. This also means that the #CancelNetflix movement never happened.
Daria DVDs
The Complete Series DVD of Daria was released in 2004; among other things, the licensed music was kept intact rather than being replaced with royalty-free stock music, and "Is It College Yet?" uses the original version rather than the edited one.
The Day After
The infamous 1983 telefilm was made by WBC instead of ABC. It still premiered on November 20, 1983, and still had the live debate, albeit moderated by Don George instead of Ted Koppel. Phil Stacker was involved in production of the film, taking the threat of nuclear war very, very seriously. As such, he gave Nicholas Meyer full creative control of the film, and allocated a theatrical budget. Johnson Studios created a large miniature set of Kansas City for the nuclear attack scene, which is completely destroyed; stock footage from past Johnson films such as Hot Cuba was also used during the sequence. The sound effect of the nuclear explosion was actually created by Johnson for Hot Cuba, and has come to be known as the "Johnson Nuke" sound, used in many films before and since.
The original three-hour cut was the one that ended up being broadcast.
Diary of a Wimpy Kid (2022)
The film was made under the 20th Century Fox Animation label instead of Disney, and was released on Fox+ instead of Disney+.
Tim himself served as an executive producer.
The film itself is 2D animated instead of being CGI, the latter of which Tim vetoed, citing that "Jeff Kinney's original artstyle wasn't made with CGI in mind". Some scenes are animated to appear as though they come from the book, as in the original live-action films.
Some of the original cast members make cameo appearances. For example, Devin Bostick (the original Rodrick) voices a journalist in Greg's fantasy at the beginning.
Doctor Who franchise
In 1969, the BBC sought out Johnson Television UK to assist in production of the seventh season of Doctor Who. Sheldon Johnson immediately jumped at the opportunity, not only sending Johnson Television UK crews and equipment to the BBC, but also buying up every episode of the series that had been made up to that point to preserve them and air them on WBC. As a result, none of the series' episodes are missing.
The changes made by Johnson were immediate. While the BBC would continue handling scripting and casting, Johnson took over filming, among other things. For the first six seasons, scenes shot indoors or on studio sets used 2" quad tapes, while outdoor scenes were shot on 16mm film. Starting with the season opener Spearhead from Space, the series switched to being filmed on 35mm film regardless of location, giving the series a much more cinematic look and feel. Johnson being in charge of filming also saw much higher production values, such as better costumes, makeup, model work, and monster designs. For example, there were a whopping 35 Dalek props used in Day of the Daleks, meaning the Ogrons were completely removed from the story, and the dinosaurs in Invasion of the Dinosaurs were considered groundbreaking for their time (it helped that the t-rex was actually the Gorosaurus suit borrowed from Toho).
Johnson remained very much involved in the series' production, even finishing the serial Shada when industrial action halted production. However, Phil Stacker was dismissive of the series, and paid zero attention to it, resulting in the divisive 80s era of the series. By 1987, however, Stacker had taken a keen interest in the series, and become much more involved, even managing to intimidate BBC controller Michael Grade into giving the series a 27th season. This season, however, proved to be the last, though it did allow the Cartmel Masterplan to be enacted.
After Sheldon Johnson Jr. became Johnson CEO, he lobbied unsuccessfully to get a 28th season, though did manage to get The Dark Dimension made. Johnson was involved in production of the 1996 television movie, being almost the same as IOTL, but with less plotholes, and the Doctor not being half-human, the comment made to Professor Wagg being a throwaway joke.
Johnson's co-ownership of the franchise allowed them to use characters from the series in the Mother series, including the Sontarans in Mother (1991) and Revenge of the Sontarans (2002), and the Daleks and Cybermen in all other productions
In 1999, the BBC allowed Johnson to independently revive the series. McGann returned to the role; the OTL Big Finish Eighth Doctor audio productions starting with Storm Warning are full-fledged television stories. McGann stayed in the role until 2002, when the Doctor regenerated into the Ninth Doctor, played by Christopher Eccleston. He left the series in 2005, being replaced by David Tennant. From there, the series' history follows our own, except John Hurt's War Doctor doesn't exist.
There are additional spin-offs to the series beyond Torchwood, The Sarah Jane Adventures, K9, and Class, these being:
The Doctor's Daughter - Starring the Doctor's "daughter" Jenny who debuted in the episode of the same name, the series is intentionally made to feel like the older episodes, being shot on 35mm film and using no CGI. The series follows Jenny and her companion, an American street orphan named Noah (initially portrayed by Tim Johnson before the character was given the ability to regenerate) going on adventures across time and space, including visiting other dimensions. In the series' first episode, Georgia Moffett reprised her role as Jenny, but at the end of the episode, she was mortally wounded by The Rani (Kate O' Mara, playing the role for the final time before her death) and regenerates for the first time, the Second Jenny being played by Georgie Henley (ironically, Henley and Johnson share the exact same birthday of July 9, 1995). Noah throws The Rani into a river of lava, and he and Jenny stealing The Rani's TARDIS while she recuperates from the regeneration, though The Rani emerges from the lava after regenerating (now portrayed by Siobhan Redmond). As of 2022, the Third Jenny is played by Millie Bobbie Brown, while the Second Noah is played by Gabriel Bateman. They also have their own K9 (voiced by John Leeson). The series often crosses over with the main series.
Dalek Wars - Created following Journey's End, the series stars Dalek Caan, having escaped the exploding Crucible using an Emergency Temporal Shift, seeking to "reboot" the Dalek race into a force for peace and freedom. Frequently crossing over with The Doctor's Daughter, Caan often calls upon Jenny and Noah for help, such as helping to repair the damage done to the Daleks' DNA by the war with the Thals, stealing weapons from the New Dalek Paradigm to reverse-engineer, or simply to assist in a battle. Caan's Daleks, instead of being heavily-mutated squid-like creatures, more resemble shrivelled-up babies, with Caan admitting that this is the best he can do for the moment. The "New Dalek Federation" is populated by Daleks with individual names and personalities, full emotions, and even individualized Travel Machines, contrasting the uniform Daleks of the NDP; among the notable Daleks include Caan's second-in-command Xenol, eccentric chief scientist Yttral, saucer commander Anzollo, noble general Grexnarl, super spy Snelldron, gung-ho Storm, and chatty maintenance worker Grexzol. The series primarily sees the Federation Daleks fighting the Imperial Daleks, as well as other hostiles such as the Cybermen, Sontarans, Weeping Angels, Zygons, Slitheen, Movellans, and even the Quarks, while allying with the Mechanoids and even The Doctor. It, too, frequently crosses over with the main series, with Federation Daleks popping up every so often on alien worlds as normal citizens who never pass up the chance to say hello to The Doctor, and vice versa.
The film was released in theaters in the summer of 2019 by Johnson Films.
Extreme Dinosaurs
Unlike IOTL, the toyline was made by Hasbro, and the show was picked up by WBC and ran for two more seasons in 1998 and 1999; here are some changes the show received:
A finale to the first season titled Dino-Vision aired in July 1998.
Generic Raptors were added as Bad Rap's minions.
Spike became a bit of a local celebrity due to his masterclass of chili making; he also was made into both a chef in general and a food critic.
The show was given continuity, with episodes having references to previous ones, and story arcs happening.
A new member of the Reckless Raptors in the form of a Brontosaurus named Brontonaiter was added in the beginning of the Dino-Vision arc.
In the last season, a villain named Carnoroarus was added.
From January to February 2000, an eight-part sub-season named Extreme Dinosaurs 2000 aired.
A live-action adaptation of the series was released in 2018, with a sequel set for a 2023 release.
As the series has aired on WBC since 1987 instead of CBS from 1988-93, there are many changes from OTL:
The Bullseye round was still implemented, but it acted like the Dawson return-era Bankroll round IOTL, with higher payouts ($2,000, $3,000, and $5,000).
Ray Combs was never let go, as stated in the "People" section.
The daytime show still uses the 1988 theme, while the syndicated version uses the 1994 theme.
The Fast Money consolation amount expanded to $10 a point in 1995.
Gene Wood remained as the announcer until his 1996 retirement. He was replaced by Burton Richardson, who still announces today.
The Ferranti-Packard board continued seeing use until 1999, when it was replaced with a three-screen trilon (the logo screen, the survey screen, and Fast Money), though the survey board still got reduced to eight answers instead of twelve in 1994.
The current daytime jackpot for Fast Money is $30,000, while its syndicated counterpart is $50,000 (the starting amounts are $20,000 and $40,000, respectively).
The Combs set continued being used until 2006, when it was replaced with the John O'Hurley-era set (the current set is the same as the Harvey-era set IOTL, but with the O'Hurley-era lecterns and audiences on either side of the game board, as well as sliding screens showing the families' names). Combs' old set was sent to the Johnson Studios museum, where it still stands today.
For road shows, the set used during the show's trip to Opryland USA in 1993 is used.
Felix the Cat franchise
Johnson beat DreamWorks in a bid to purchase the Felix the Cat franchise in 2014. A television series aired from 2016 to 2021 called The New Adventures of Felix the Cat, and a feature film called Felix's Grand Adventure was released in 2019.
Fireman Sam
Neither HiT Entertainment nor Mattel Creations ever had any involvement (Johnson bought HiT in 1996 before making it a Johnson subsidiary in 2010, and it was renamed back to Henson International Television in 2018 after Johnson acquired The Jim Henson Company); from the beginning, the series was, and still is, a creation of Johnson Television UK, in association with Bumper Films for the first few seasons (as in the real world's timeline). There are many key differences:
The first four seasons are the same as OTL.
In the fifth season, John Sparkes only voiced Mike, Norman, Tom, and Dusty. John Alderton stayed on voicing Sam, Elvis, Station Officer Steele, Trevor, Dilys, and Bella. Sarah Hadland still voiced Penny and Mandy, and Joanna Ruiz still voiced Helen, Sarah, and James. Also, the original color of the firefighters' coats (black/dark navy blue) is kept.
The series went partially CGI in the sixth season onward, with CG characters (who look more like their (Johnsonverse) Season 5 selves, original coat color still kept and all) on model sets driving remote-controlled vehicles; the fires are also real and pyrotechnics frequently used, as is tradition for Johnson productions. John Alderton continued voicing Sam, Elvis, Steele, Trevor, and Bella (who never went AWOL until the tenth season), while Su Douglas took over Dilys. Stephen Kynman still voices Norman (and Kynman still goes out of his way to make Norman sound as obnoxious as possible), while Sarah, James, and Mandy are voiced by actual children; every other voice change is the same as OTL. Storylines also have the same quality and writing style as the early seasons (including entire scenes without music). The use of CGI also allowed for the creation of nameless background characters to make Pontypandy more populated. Finally, Pontypandy suddenly being a seaside town is explained as a massive dredging project to create a new harbor; said project drew the ire of Sarah and James' mother Bronwyn (whose rather extreme efforts to stop the project intentionally mirror actions committed by Johnson against protesters, such as the bulldozer incident in 1963 during the construction of the Shinkansen in the Japanese Isles).
Subsequent seasons are much of the same, with the same characters being introduced and the same specials being released. However, character traits are not changed around (for example, Sarah and James' bickering is basically non-existent, and they and Hannah are very often the only sane ones compared to Norman, Mandy, or the more comedic adult characters such as Trevor, Mike, Joe, and Bella; in addition, Norman is not lethally-stupid).
Finally, the original 1987 recording of the theme song is still used, albeit shortened in the CGI seasons. Trevor's Bus theme also never disappeared, and still uses the same recording from 1987. Here is a mock-up of what the Season 6-8 intro looks like in the Johnsonverse.
The electronic siren from Seasons 1-4 continues to be used (in its Season 1-3 pitch) alongside the two-tone horn sound introduced in Season 5.
Foodfight!
Unlike in the real world, where the files were deleted, the files were actually stolen as reported in the Johnsonverse, by two ex-Pixar animators willing to snuff out competition. Tim and Chloe found these files, a discovery which would lead to the creation of Foodfight! Special Edition.
Garfield and Friends remaster
In 2020, Johnson (which acquired Paws, Inc. the previous year) released newly-remastered versions of the complete 1988-94 Garfield and Friends series, replacing the infamous 2018 remastered versions, which Tim considered "a perfect example of how not to do a remaster". Among the differences were:
The series is once again presented in a 4:3 aspect ratio.
The opening and all segments presented in Retrovision in the 2018 remaster are completely remastered using AI technology, original cels, and pencil tests. The opening's original visual effects were also recreated.
Both versions of the "We're Ready to Party" opening sequence (the ones used from the third to fifth and sixth seasons, as well as the seventh in all versions after their original broadcasts) were restored using the correct clips.
The credits and many visual effects are recreated to appear exactly as how they originally did, though the credits in the first six seasons change the copyright from referencing United Features Syndicate (which owned the rights to Garfield at the time the episodes were originally produced) to Paws, Inc., and in all seasons, credits for the remastered version are added, as well as the 2020 copyright. Also, the logo for Film Roman is updated to the modern version, and the logo for Mendelson/Paws Productions from the 2018 remaster and 2021 revival is added.
All U.S. Acres Quickie logos are intact, rather than a few of them being covered with new versions resembling the Orson's Farm logo.
All missing Quickies and Garfield opening lines are reinstated.
Johnson picked up the project, which was released on February 14, 1990.
Godzilla franchise
As Toho Company Ltd. is a subsidiary of Johnson Studios, the Godzilla franchise is a Johnson property. As a result, the series has a much more coherent, singular timeline, rather than two separate timelines and a series of anthology timelines (the Monster World timeline is considered an alternate timeline created when Second Impact occurred, and referred to as the "Beta Timeline", while the main timeline is called the "Alpha Timeline").
The entries in the series are as follows:
Films
Alpha Timeline
No.
Film
Released
Director
Composer
Differences from OTL/Notes
Monster(s) present
1
Godzilla
November 3, 1954
Ishiro Honda
Akira Ifukube
none
Godzilla I
2
Godzilla's Counterattack
April 24, 1955
Motoyoshi Oda
Masaru Sato
none
Godzilla II

Anguirus

3
King Kong vs. Godzilla
August 11, 1962
Ishiro Honda
Akira Ifukube
none
Godzilla II

King Kong

Giant Lizard

Giant Octopus

4
Mothra vs. Godzilla
April 29, 1964
Ishiro Honda
Akira Ifukube
Original script with Godzilla's larger role used
Godzilla II

Mothra Imago

Mothra Larva

5
Ghidorah, The Three-Headed Monster
December 20, 1964
Ishiro Honda
Akira Ifukube
The film has a subplot where Godzilla ponders his morality, and decides to defend humanity once he sees Ghidorah destroying indiscriminately
Godzilla II

Rodan

Mothra Larva

King Ghidorah

6
The Great Monster War
December 19, 1965
Ishiro Honda
Akira Ifukube
Japanese title used

Four monsters are taken to Planet X instead of two, these being Godzilla, Rodan, Mothra, and Anguirus; the Anguirus suit from Godzilla's Counterattack is used, and it is explained that this is a different Anguirus than the one Godzilla killed in 1955

Godzilla II

Rodan

Mothra Imago

Anguirus

King Ghidorah

7
Godzilla vs. The Sea Monster
December 17, 1966
Jun Fukuda
Masaru Sato
Godzilla doesn't try to fight Mothra, rather aiding her in helping evacuate the natives by holding off Red Bamboo

The fight with the Giant Condor is easier to see, and Mothra is the one to fight it

Godzilla II

Mothra Imago

Ebirah Giant Condor

8
Son of Godzilla
December 16, 1967
Jun Fukuda
Masaru Sato
Minilla/Minya is named Godzilla Jr., and his appearance is explained as him having hatched prematurely
Godzilla

Godzilla Jr.

Kamacurus

Kumonga

9
Destroy All Monsters
August 1, 1968
Ishiro Honda
Akira Ifukube
Baragon and Varan have bigger roles, as new suits were made for them

Monsters that had been planned to appear in the film do appear, including Maguma, King Kong, Ebirah, Kamacurus, and Mechakong; Kong is able to appear because the original 1933 film was a Universal-Johnson co-production, and as a result, both companies share the rights

The film is set in 1968 instead of 1999

Monsterland is referred to as Monster Island

Kamacurus and Ebirah side with the Kilaaks (and are killed for their troubles), and Mechakong is deployed after it is revealed that Dr. Who survived the events of King Kong Escapes, and he foolishly thinks he can curry favor with the Kilaaks by destroying King Kong; he ends up being forced to side with Godzilla's group once he realizes the Kilaaks won't care

Baragon is the one that destroys the Arc de Triomph, not Gorosaurus

Godzilla II

Godzilla Jr.

Anguirus

Rodan

Mothra Imago

Baragon Varan

Gorosaurus

Kamacurus

Kumonga

Ebirah

Maguma

King Kong

Mechakong

King Ghidorah

10
All Monsters Attack
December 20, 1969
Ishiro Honda
Kunio Miyauchi
The film takes place in the real world instead of a little boy's imagination; as a result, Gabara is real

The film is a coming-of-age story for Godzilla Jr.

The film's title comes from Gabara rallying several monsters such as Ebirah, Kamacurus, and the Giant Condor, for revenge against Godzilla; they end up being defeated by Godzilla Jr. after Gabara nearly kills Godzilla with his electric powers

Godzilla II

Godzilla Jr.

Anguirus

Rodan

Mothra Imago

Baragon

Varan

Gorosaurus

Manda

King Kong

Maguma

Kamacurus

Ebirah

Giant Condor

Gabara

11
Godzilla vs. Hedorah
July 24, 1971
Yoshimitsu Banno
Riichiro Manabe
Animated and educational segments removed

It is made clear that Hedorah was born from the Great Pacific Garbage Patch

Godzilla II

Hedorah

12
The Return of King Ghidorah
March 12, 1972
Jun Fukuda
Akira Ifukube
Second draft was used, except Gigan's hands are both claws instead of one being a mace
Godzilla II

Rodan

Varan

King Ghidorah

Gigan

Mogu

13
Godzilla vs. Megalon
March 17, 1973
Jun Fukuda
Riichiro Manabe
Darker tone

No kid-appeal character

The opening earthquake on Monster Island doesn't occur

Godzilla II

Jet Jaguar

Megalon

Gigan

Anguirus

Rodan

14
Godzilla vs. Mechagodzilla
March 21, 1974
Jun Fukuda
Masaru Sato
The monster that attacks Fake Godzilla is Baragon instead of Anguirus
Godzilla II

Mechagodzilla

King Caesar

Baragon

15
Terror of Mechagodzilla
March 15, 1975
Ishiro Honda
Akira Ifukube
none
Godzilla II

Mechagodzilla

Titanosaurus

16
Wrath of Godzilla
December 15, 1984
Koji Hashimoto
Reijiro Koroku
It is made abundently clear that the Godzilla in this film is a new one that had not been previously discovered

Everything remains on the 50 meter scale to maintain consistency with previous movies

Godzilla III

Shockirus

17
Godzilla vs. Biollante
December 16, 1989
Kazuki Omori
Koichi Sugiyama, Yuki Saito
none
Godzilla III

Biollante

18
Godzilla vs. King Ghidorah
December 14, 1991
Kazuki Omori
Akira Ifukube
The time travel plot is made less confusing, in that the intention is to prevent the creation of the third Godzilla, not the second
Godzilla III

King Ghidorah

Dorats

Mecha-King Ghidorah

19
Godzilla vs. Mothra
December 12, 1992
Takao Okawara
Akira Ifukube
none
Godzilla III

Mothra Larva

Mothra Imago

Battra Larva

Battra Imago

20
Godzilla vs. Mechagodzilla II
December 11, 1993
Takao Okawara
Akira Ifukube
Instead of the remains of Mecha-King Ghidorah, Mechagodzilla is reverse-engineered from the two Mechagodzillas deployed by the Black Hole Aliens in the 1970s

Mechagodzilla engages in hand-to-hand combat, instead of chiefly fighting at range

The Rodan that appears in this movie is stated to be a younger Rodan that had recently hatched, to avoid confusion with the Rodan that lives on Monster Island

Godzilla III

Mechagodzilla

Rodan

Baby Godzilla

21
Godzilla vs. SpaceGodzilla
December 10, 1994
Kensho Yamashita
Takayuki Hattori, Isao Shigetoh
none
Godzilla III

SpaceGodzilla

M.O.G.U.E.R.A.

Little Godzilla

22
Godzilla vs. The World
December 9, 1995
Jim Henson
Akira Ifukube
Because he was still alive in 1995 (see below), Jim Henson directed this film

The plot is much bigger than the original: Godzilla III has gone into meltdown, Little Godzilla has grown to become Godzilla Junior, Destoroyah has surfaced, and Godzilla II has reappeared for the first time in twenty years with a "monster posse" to take care of Godzilla III once and for all; the film ends with Destoroyah killed by Godzilla II, Godzilla III going into meltdown and takes Godzilla II with him, and Godzilla Junior is revived as Godzilla IV

Godzilla II

Godzilla III

Godzilla Junior/Godzilla IV

Destoroyah

Anguirus

Rodan

King Caesar

Baragon

GODZILLA
May 19, 1998
Roland Emmerich
David Arnold, Michael Lloyd
This film is in continuity with previous Godzilla movies, and it is made clear that the monster seen is NOT Godzilla, due to the American military misidentifying the monster; by the end of the movie, it is referred to as "Zilla"
Zilla

Baby Zillas

23
Godzilla 2000
December 11, 1999
Takao Okawara
Takayuki Hattori
The Godzilla in this film is completely-new

The pacing of the OTL English dub is used

Godzilla 2000

Millennian

Orga

24
Godzilla vs. Megaguirus
December 16, 2000
Masaaki Tezuka
Michiru Oshima
The Dimensional Tide is absent; instead, Godzilla 2000 faces off with Godzilla IV and is defeated

The GX-813 Griffon is referred to as the Super-X4

Godzilla 2000

Godzilla IV

Meganulon/Meganula

Megaguirus

25
Godzilla Must Die!
December 15, 2001
Shusuke Kaneko
Kow Otani
The title for the proposed US theatrical release of GMK is used

The Godzilla in this film is the first Godzilla, resurrected by the spirits of those who died in the Pacific War

Godzilla fights Anguirus and Varan instead of Mothra and King Ghidorah; he doesn't kill the three monsters, and is killed the same way as in OTL

Ghost Godzilla has the 1954 roars instead of the Millenium roars

Ghost Godzilla

Anguirus

Baragon

Varan

26
Godzilla Against Mechagodzilla
December 14, 2002
Masaaki Tezuka
Michiru Oshima
The Godzilla in this film is Godzilla 2000 after receiving a massive power boost

Kiryu is built around the bones of Godzilla II after the events of Godzilla vs. The World

Godzilla 2000

Kiryu

27
Godzilla: Tokyo S.O.S.
December 13, 2003
Masaaki Tezuka
Michiru Oshima
none
Godzilla 2000

Kiryu

Mothra Imago

Mothra Larva

Kamoebas

28
Godzilla: Final Wars
December 4, 2004
Timothy Hill
Keith Emerson, Akira Ifukube, Takayuki Hattori, Cal Johnson
Instead of a Hollywood-esque action movie, the film is more akin to a traditional Godzilla movie

The focus is first-and-foremost on Godzilla IV

Instead of various aerial vehicles, the cities are defended from monster attack by mech units, including Mechagodzilla 2, M.O.G.U.E.R.A. 2, Mecha-King Ghidorah, and Jet Jaguar

Kiryu re-emerges from the sea to guide Godzilla IV

Almost every monster that appeared in a prior Godzilla film appears in this film; the ones that don't are Maguma, Manda, Mogu, Biollante, Battra, Orga, and Megaguirus

After being defeated, Anguirus, Rodan, and King Caesar join Godzilla in the final battle; Baragon, Varan, Gorosaurus, and King Kong also join the final battle

It is made clear that Mothra survived her kamikaze attack on Gigan

Gigan is deployed by the Xiliens, instead of being found in a tomb; in his first fight with Godzilla IV, he has his 1970s appearance, and in the final battle, has his OTL Millennium design, with the ability to switch between his claws, chainsaws, and gatling guns

Minilla/Milla does not appear in the film

Monster X does not exist; instead, Godzilla IV fights King Ghidorah, Spacegodzilla, Destoroyah, and Bagan

During the final battle, a tear in the fabric of space-time is made that causes parts of the Beta Timeline to bleed into the Alpha Timeline, namely Evangelion Units-01 and 02; the end credits depicts Shinji and Asuka bidding the prime Godzilla IV farewell as they return to their own timeline

There is much less techno and rock music, and more orchestral music

The fight between Godzilla IV and Zilla is longer, and Zilla uses green atomic breath; his defeat also doesn't involve the destruction of the Sydney Opera House, with Godzilla IV instead ripping his jaw off and beating him with it

The film was shot on 35mm film instead of digitally, and is the final Godzilla film shot this way

Godzilla IV

Anguirus

Rodan

King Caesar

Mothra Imago

Baragon

Varan

Gigan

Megalon

Hedorah

Kumonga

Kamacurus

Zilla

Gabara

Ebirah

Gorosaurus

King Kong

Mechagodzilla (alien)

Mechagodzilla 2

M.O.G.U.E.R.A. 2

Jet Jaguar

Mecha-King Ghidorah

Kiryu King Ghidorah

Destoroyah

Bagan

Evangelion Unit-01

Evangelion Unit-02

29
Vocaloid & Godzilla
June 10, 2012
Timothy Hill
numerous
The first theatrical Godzilla film since 2004 (not counting the Monster World film The Revenge of Cthulhu), this film followed a series of made-for-television films made from 2009 to 2012
Godzilla IV

Godzilla 2000

Godzilla III (clone)

Anguirus Rodan

Mothra Imago

Kiryu

M.O.G.U.E.R.A.

King Ghidorah (clone)

Gigan (clone)

Megalon (clone)

Battra Imago (clone)

Krystalak (clone)

Zilla (clone)

Mecha-King Ghidorah

Mechagodzilla (alien)

30
Vocaloid & Godzilla II
November 18, 2012
Timothy Hill
numerous
Godzilla IV

Anguirus

Rodan

Mothra Imago

Mothra Larva

King Caesar

Baragon

Varan

King Ghidorah (clone)

Gigan (clone)

Megalon (clone)

Orga (clone)

Mechagodzilla (alien)

Kiryu Mechagodzilla 2

M.O.G.U.E.R.A. 2

Mecha-King Ghidorah

Sanda (clone)

Gaira (clone)

Obsidius

31
Vocaloid & Godzilla III
June 23, 2013
Timothy Hill
numerous
Godzilla IV

Anguirus

Rodan

Mothra Imago

King Caesar

Baragon

Varan

King Ghidorah (clone)

Gigan (clone)

Megalon (clone)

Hedorah (clone)

Orga (clone)

Mechagodzilla (alien)

Mechagodzilla 2

M.O.G.U.E.R.A. 2

Jet Jaguar

Kiryu

Mecha-King Ghidorah

Destoroyah (clone)

Spacegodzilla (clone)

Biollante (clone)

Deutalios (clone)

Gabara (clone)

Daghara (clone)

Gorosaurus

King Kong

32
Godzilla
May 16, 2014
Gareth Edwards
Alexander Desplat
This film is in continuity with the previous films

The Godzilla in this film is described as what the Godzilla species originally looked like before it evolved to a smaller form; prior Godzillas were mutated by bomb testing; the 2014 Godzilla is considered a "real" Godzilla

Godzilla (known as "Elder Godzilla") has more screentime

While this film was produced by Legendary Pictures, it was released by Johnson Films, and Johnson Studios did the special effects with practical effects such as suits and puppets; as a result, the GareGoji design has several differences from OTL to accomodate a suit actor

Elder Godzilla

Hokmuto

Femmuto

33
Sgt. Frog: The Great Rescue
July 4, 2014
Timothy Hill
numerous
Though marketed as a Johnson Aligned Universe film, this film is nevertheless considered the 33rd Godzilla film
Godzilla IV

Megalon

Mecha-King Ghidorah

Mechagodzilla 2

M.O.G.U.E.R.A. 2

Jet Jaguar

34

Nemesis

March 15, 2015
Timothy Hill
numerous
Godzilla IV

Anguirus

Rodan

Mothra Imago

King Caesar

Baragon

Varan

Mechagodzilla 2

M.O.G.U.E.R.A. 2

Jet Jaguar

Kiryu

Mecha-King Ghidorah

Nemesis

Komododon

Gigashark

Magnarock

Ikameijin

DragonLotus

Heart Eater

Tursacra

Tornaq

Macrosaurus

Duncan

Katyusha

Lycanoid

Moratitan

35
Vocaloid & Godzilla IV
June 12, 2016
Timothy Hill
numerous
This is the first film to take advantage of Johnson's acquisition of Tsuburaya Productions in 2014; it also retcons all prior Ultraman series as taking place in both the Alpha and Beta Timelines (the latter setting up the events of the Monster World film Rise of the Ultra Kaiju)
Godzilla IV

Anguirus

Rodan

Mothra Imago

King Caesar

Baragon

Varan

Mecha-King Ghidorah

Mechagodzilla 2

M.O.G.U.E.R.A. 2

Kiryu

Jet Jaguar

Gigan

Megalon

Mechagodzilla (alien)

Gomora

Red King

Telesdon

Neronga

Bemular

Litra

Gomess

Gabora

Zambolar

Banila

Eleking

Gesura

Antlar

Zaragas

36
Shin Godzilla
October 11, 2016
Hideaki Anno
Shiro Sagisu, Akira Ifukube
This film is a crossover between the two timelines, in that Godzilla I, in his fourth form, manages to tear a fabric in space-time while using his Atomic Breath that causes monsters from the Alpha Timeline to bleed through to the other side
Beta Timeline:

Godzilla I

Godzilla V

Kiru

Titanosaurus

Zilla

Evangelion Unit-01

Evangelion Unit-02

Evangelion Unit-00

Evangelion Unit-03

Evangelion Unit-04B

Evangelion Unit-07

Evangelion Unit-08

Alpha Timeline:

Godzilla IV

Mothra Imago

37
Godzilla: Planet of the Monsters
November 17, 2017
Kobun Shizuno, Hiroyuki Seshita
Takayuki Hattori
This film is the first to be considered part of neither the Alpha nor Beta Timelines, and is considered the Delta Timeline

Rather than an all-CG anime, this film is a hybrid with 2D-animated characters and physical monsters and sets; Godzilla Earth is a completely-new suit that is still a plant-based Godzilla, but isn't 300 meters tall, but the traditional 50 meters; Godzilla Filius, therefore, does not exist

Godzilla Earth bears more resemblence to the KiryuGoji suit instead of the GareGoji suit

More focus is put on the notion of Earth being a "planet of monsters", with more monsters appearing

Tim Johnson intervened on the project during production by demanding that Gen Urobochi be kept as far away from the film as possible, calling him "Urobutcher" over his past projects tending to be overly bleak and cynical

Godzilla Earth

Servum

Anguirus

Rodan

Baragon

Varan

Ebirah

Kumonga

Kamacurus

Gorosaurus

Zilla

Gabara

Titanosaurus

38
Godzilla: City on the Edge of Battle
May 18, 2018
Kobun Shizuno, Hiroyuki Seshita
Takayuki Hattori
The Mechagodzilla in this film is not a city, and is a modified version of the Kiryu suit

There is an actual fight between Godzilla Earth and Mechagodzilla

Yuko Tani remains alive

Godzilla Earth

Servum

Anguirus

Rodan

Baragon

Varan

Ebirah

Kumonga

Kamacurus

Gorosaurus

Zilla

Gabara

Titanosaurus

Mechagodzilla

39

Gorgo Strikes Back

June 24, 2018
Timothy Hill
numerous
This film came out when it did because Toho worked on City on the Edge of Battle, while Johnson made Gorgo Strikes Back

This film also saw another crossover between the Alpha and Beta timelines, though this time completely by choice on NERV's part

This film also retcons the original 1961 Gorgo as being part of both the Alpha and Beta Timelines

Godzilla IV

Anguirus

Rodan

Gorgo

Mecha-King Ghidorah

Mechagodzilla 2

M.O.G.U.E.R.A. 2

Evangelion Unit-01

Evangelion Unit-02

Evangelion Unit-00

Evangelion Unit-07

Mechagodzilla (alien)

40
Godzilla: The Planet Eater
November 9, 2018
Kobun Shizuno, Hiroyuki Seshita
Takayuki Hattori
Yuko is alive for the duration of the film, is ultimately the one Haruo gets together with

King Ghidorah is a traditional Ghidorah (portrayed using the HeiseiGhido suit), and the fight between him and Godzilla Earth is suitably epic

Just before the final battle, Mothra hatches from her egg and assists Godzilla Earth in destroying Ghidorah

The ending is different: Mothra sends Haruo and Yuko on a one-way mission back in time, where they find Godzilla Earth in a small, weak form and destroy him, before they fade away due to a time paradox; the film ends with a nearby ship being engulfed in a sea of fire with a calendar showing the date as November 1, 1954, revealing that the Delta Timeline was the "original" timeline, and that their actions created the Alpha and Beta Timelines due to Godzilla Earth having killed Godzilla I

Godzilla Earth

Servum

Anguirus

Rodan

Baragon

Varan

Ebirah

Kumonga

Kamacurus

Gorosaurus

Zilla

Gabara

Titanosaurus

Mechagodzilla

Mothra

King Ghidorah

Godzilla I

41
Godzilla: King of the Monsters
May 31, 2019
Michael Dougherty
Bear McCreary
The Ghidorah in this film is the same Ghidorah from Rebirth of Mothra III, imprisoned in the Antarctic by G-Force

The Rodan in this film is referred to as a "Lava Rodan", and actually fights the real Rodan during the climax

Elder Godzilla requires Godzilla IV's assistance in defeating King Ghidorah

Elder Godzilla

Godzilla IV

Mothra Imago

Lava Rodan

Rodan

Anguirus

King Ghidorah

Methuselah

cylla

Behemoth

Queen MUTO

42
Vocaloid & Godzilla V
November 17, 2019
Timothy Hill
numerous
Godzilla IV

Anguirus

Rodan

Mecha-King Ghidorah

Mechagodzilla 2

M.O.G.U.E.R.A. 2

Gomora

Zambolar

Geronimon

Gyeron

Peguila

Pagos

Gudon

43
Godzilla vs. Kong
March 31, 2021
Adam Wingard
Tom Holkenborg
The Kong in this film is stated to be from the previously-undiscovered Gamma Timeline, with Kong: Skull Island ending with Kong being pulled into a temporal rift; the film ends with Kong returning to his own timeline, and Elder Godzilla following at the insistence of Godzilla IV

Rather than being built using King Ghidorah's surviving skull, this film's Mechagodzilla was secretly funded by Teto Kasane, and instead of being hijacked by Ghidorah's consciousness, Mechagodzilla is hijacked by Teto herself, with the intention of luring V-Unit out into a decisive battle (though Elder Godzilla, Godzilla IV, and King Kong destroy it before V-Unit is even launched)

Elder Godzilla

King Kong (Gamma Timeline)

Godzilla IV

Mechagodzilla (Apex)

44
Vocaloid & Godzilla VI
June 26, 2022
Tim Johnson
numerous
This is the first Godzilla film directed by Tim Johnson
Godzilla IV

Anguirus

Rodan

Mecha-King Ghidorah

Mechagodzilla 2

M.O.G.U.E.R.A. 2

Biollante

Mechagodzilla (alien)
Beta Timeline
All Alpha Timeline films up to GODZILLA (1998) are canon to the Beta Timeline.
No.
Name
Released
Director
Composer
Notes
Monster(s) featured
23
The Revenge of Cthulhu
November 17, 2006
Timothy Hill
Cal Johnson
Made in response to complaints about the series finale of Monster World (namely the fact that Shinji and Asuka did not become a couple), this film was dedicated to them and their relationship, as well as Cthulhu's last-ditch effort to achieve his goals of extinguishing all life on Earth.
Godzilla IV

Cthulhu

Evangelion Unit-01

Evangelion Unit-02

Evangelion Unit-00

Destoroyah

24
Monster World
June 19, 2015
Timothy Hill
numerous
Godzilla IV

Godzilla Junior/Godzilla V

Anguirus

Rodan

Mothra

King Caesar

Baragon

Varan

King Ghidorah

Gigan

Megalon

Hedorah

Orga

Mechagodzilla (alien)

Moguera (alien)

Mechagodzilla II

M.O.G.U.E.R.A.

Jet Jaguar

Mecha-King Ghidorah

Kiryu

Evangelion Unit-01

Evangelion Unit-02

Evangelion Unit-00

Evangelion Unit-03

Evangelion Unit-04B

SpaceGodzilla

Battra

Ebirah

Kumonga

Kamacurus

Titanosaurus

Zilla

Megaguirus

Female Godzilla

25
Shin Godzilla
July 29, 2016
Hideaki Anno
Shinji Higuchi
See above
26
Rise of the Ultra Kaiju
2017
27
Godzilla: Civil War
2018
28
Godzilla vs. NERV
2019
29
Revenge of the Kilaaks
2020
30
Return to R'lyeh
2021
31
Rei vs. Hikari: The Never-Ending War
2022
WORK-IN-PROGRESS
Non-canon films
Name
Released
Production Company
Director
Composer
Notes
Monster(s) involved
Godzilla vs. The Tricephalon
June 8, 1979
Universal
Jun Fukuda
John Williams
In 1977, Universal proposed to Johnson to make a non-canon Godzilla film. Sheldon Johnson was intrigued by the idea, and provided production staff for the production, including director Jun Fukuda. John Williams was tapped to compose, and he created a score incorporating classic Ifukube themes. Universal initially planned to use stop-motion, but upon realizing why Eiji Tsuburaya had elected to use suitmation in 1954, attempted to construct their own suits, but the first prototype was unsatisfactory. Toho built a brand-new Godzilla suit (TricephGoji), and made extreme modifications to the ShodaiGhido suit, which involved replacing the wings with a pair of front legs, adding a fin on the back, and repainting the suit green. The film was a modest box office success, and won an Academy Award for Best Special Effects.
Godzilla

Tricephalon

Godzilla 3D
November 11, 1983
20th Century Fox
Steve Miner
Jerry Goldsmith
In 1983, Steve Miner proposed to make and direct an independent Godzilla film, and Toho approved of the plan. Toho agreed to let Miner develop a conceptualization of his film and begin seeking for backing from Hollywood studios. Miner started by hiring Fred Dekker to write a screenplay and William Stout to develop concept sketches. Dekker was not a Godzilla fan, finding the original films to be "cheesy," stating, "He (Miner) did not want to make a cheesy film, and I wasn't interested in just special effects and knocking buildings down. The first thing I said to Steve was, 'If all this movie is about is this big monster destroying buildings, we're screwed.'" Dekker took influences from James Bond and Steven Spielberg films, and wanted to write an action adventure with an Irwin Allen quality that would have been interesting even without Godzilla in it. Stout based his Godzilla design on a prototype developed and constructed by paleontologist Steve Czerkas and even made a teaser poster for the film, depicting Godzilla spitting atomic breath on the Golden Gate Bridge. Dave Stevens developed numerous storyboards based on the Godzilla designs. Miner contacted some of the biggest names in Hollywood special effects at the time. Many of them were invited to a special screening of the original Japanese version of Godzilla. Rick Baker was contacted to develop an animatronic Godzilla head for close-up shots, and Jim Danforth was set to animate stop motion, with David Allen set to head the animation team. When Phil Stacker caught wind of the film, he not only expressed approval, he even lent the TricephGoji suit to Miner. The film was released to mixed reception but decent box-office returns. After production wrapped, the TricephGoji suit was returned to Toho, where it was refurbished for use in Wrath of Godzilla, where it was renamed 84Goji.
Godzilla
Television Series
| Name | Airdate | Notes |
| --- | --- | --- |
| Zone Fighter | 1973-1977 | In our timeline, this series was cut short by the Energy Crisis, while in the Johnsonverse, Zone Fighter managed to run for several seasons. |
| The Godzilla Power Hour | September 9, 1978 - December 8, 1979 | Instead of being an animated series by Hanna-Barbera, this series was live-action, using live actors and suitmation. As a result, Godzilla (portrayed using the MegaroGoji suit) has his proper roars. The premise of the series is the same as the OTL series, but Godzooky is completely absent, and the series is aimed at general audiences instead of being a Saturday morning cartoon subjected to the strict moral guardians of the era. In addition, classic Godzilla monsters are present in the series, either helping Godzilla or being his opponent of the week; Gigan and Megalon, in particular, were recurring antagonists, while Anguirus appears in every episode. |
| Godzilla, King of the Monsters! | 1994-1995 | The first entry in the "Sunbow Trilogy", this series was a co-production between Sunbow Entertainment and Toho. This was a hybrid series combining animated humans with live-action suits, and is considered non-canon to any established timeline. The main purpose of the series was to promote the Trendmasters toyline. |
| Godzilla Wars | 1995-1996 | The second entry in the "Sunbow Trilogy". |
| Godzilla Doom Island | 1996-1997 | The third entry in the "Sunbow Trilogy", this series was controversial for the many strange ideas it presented, including putting battle armor on Godzilla and featuring generic dinosaurs. |
| Godzilla Island | October 6, 1997 - September 30, 1998 | Aside from using suitmation instead of Bandai action figures being manipulated by offscreen hands, and the main theme not being a J-Pop remix of the Akira Ifukube theme, this series wasn't different from the OTL version. It is not canon to any timeline. |
| Monster World | 1998-2004, 2015-present | |
Television Movies
All TV movies are canon to the Alpha Timeline.
Movie
Airdate
Notes
Principal monsters
Godzilla: Super Fight
2009
The first made-for-television Godzilla movie, meant to build public interest in the franchise ahead of Vocaloid & Godzilla. The film sees Godzilla transported to another planet by the Kilaaks to engage in gladitorial games against other kaiju taken from other planets, with the winning kaiju's planet being spared destruction. During the games, Godzilla finds himself being forced to work with his old enemies King Ghidorah, Gigan, and the Black Hole Alien Mechagodzilla to break out and return to their respective planets.
Godzilla IV

Gigan

King Ghidorah

Mechagodzilla (Showa)

Godzilla vs. Barubaroi
November 2011
Loosely based on a concept that evolved into Godzilla vs. The World, this film was made in direct response to the 2011 Tohoku earthquake and tsunami, with Barubaroi being awoken by the earthquake and coming ashore. Barubaroi is treated less as a malicious force and more as a confused animal that is trying to get its bearings, so Godzilla IV tries to be as humane as possible until Barubaroi does something unforgiveable, at which point the gloves come off.
Godzilla

Barubaroi

Godzilla: Doomsday
February 2012
To date, the final made-for-television Godzilla film, this film serves as a sequel to the Atari/Pipeworks video game trilogy, with the Vortaak launching an end-all assault on Earth. This time, though, the humans have help from another alien species known as the Sterlans.
Godzilla

King Ghidorah

SpaceGodzilla
Video games
Name
Release Date
Developer
Platform(s)
Differences/Notes
Playable Monsters
Godzilla: Monster of Monsters
December 9, 1988
Johnson Games
NES
The game is much more fleshed out, having been developed by Johnson Games

The game takes place on Earth, instead of across the solar system

Progressing is less of a chore, as the player is instead fighting through cities and the countryside, and buildings go down in one hit

In addition to Godzilla and Mothra, Anguirus, Rodan, and King Caesar are playable, each with their own special abilities (Anguirus can roll, Rodan can create shockwaves while flying, and King Caesar can use an enemy monsters' attacks to charge his usually-empty energy meter and unleash an eye beam)

The boss monsters are Gezora, Hedorah, Titanosaurus, Megalon, Gigan, Mechagodzilla, and King Ghidorah; there are also mini-bosses, including Kumonga, Kamacurus, Ebirah, Maguma, Gabara, and Tricephalus

The story is much clearer, the antagonists being the Kilaaks

The canonicity of the game is vague, due to Godzilla II, usually portrayed as an ally of humanity, being depicted destroying buildings and fighting the military; a later statement by Jun Fukuda clarified that Godzilla and friends were fighting in Communist countries

Overall, the game is much more fun, being considered one of the best NES games of all time

Godzilla II

Mothra

Anguirus

Rodan

King Caesar

Super Godzilla
December 23, 1993
Johnson Games
SNES
Instead of its unconventional presentation, the game is a top-down RPG with turn-based battles

Godzilla does not take damage when destroying buildings

The aliens, instead of being undefined, are explicitly shown to be the Xiliens

This game is considered canon to both the Alpha and Beta timelines

The boss monsters are, in order, King Ghidorah, Megalon, Fake Godzilla/Mechagodzilla, Hedorah, Gigan, and Bagan

The Super Godzilla form does not exist, the game's name instead being part of the SNES naming convention

Godzilla III
Godzilla: Monster War
December 9, 1994
Johnson Games
SNES
This game is largely the same as in our timeline, except it has several more monsters, including Rodan, Showa Mechagodzilla, SpaceGodzilla, King Kong, Jet Jaguar, and Hedorah
Godzilla II

Anguirus

Rodan

Mothra

King Kong

Jet Jaguar

King Ghidorah

Gigan

Megalon

Mechagodzilla (alien)

Hedorah

SpaceGodzilla

Jet Jaguar

Mechagodzilla 2

Super Mechagodzilla

Biollante

Gotengo

Godzilla Trading Battle
December 3, 1998
Johnson Games
PlayStation
none
Every monster that had appeared in Toho media up to that point, including all monsters from Zone Fighter; also features six new monsters
Godzilla: Destroy All Monsters Melee
October 8, 2002
Pipeworks Software
PlayStation 2

Xbox

GameCube

Godzilla 90s is named Godzilla IV

Several monsters that did not make the final cut in our timeline do so in this timeline, including Kiryu, Baragon, Jet Jaguar, Godzilla I (as Ghost Godzilla from Godzilla Must Die!), and SpaceGodzilla

This game is canon to the Alpha Timeline

As a general rule of thumb for the entire trilogy, all cities are much, much bigger, more accurate to real-life, and there is a Solo Destruction mode in all three games taking place from a third-person perspective

Godzilla IV

Godzilla 2000

Ghost Godzilla

Anguirus

Rodan

King Ghidorah

Gigan

Megalon

Mechagodzilla 2

Kiryu

Mecha-King Ghidorah

Orga

Destoroyah

Godzilla: Save The Earth
2004
Pipeworks Software
PlayStation 2

Xbox

GameCube

The game wasn't Christmas Rushed, and therefore, is much, much more fully-fleshed out than its OTL counterpart

The story mode is completely intact, featuring FMV cutscenes; the humans are CG, while the monsters and their surrounding environments are live-action suits and models

The game is canon to the Alpha Timeline

Every rejected monster, location, and level from OTL is in the game

Godzilla IV

Godzilla 2000

Godzilla I

Anguirus

Rodan

Mothra

Baragon

Varan

King Ghidorah

Gigan

Megalon

Mechagodzilla (alien)

Orga

SpaceGodzilla

Battra

Mechagodzilla 2

Kiryu

M.O.G.U.E.R.A. 2

Jet Jaguar

Mecha-King Ghidorah

Biollante

Megaguirus

Titanosaurus

Battra

Godzilla: Unleashed
December 5, 2007
Pipeworks Software
Wii

PlayStation 3

Xbox 360

PC

The PS2 version doesn't exist, but the game was released on PS3, Xbox 360, and PC with a brand-new engine; the PC version is also mod-friendly

The game's story is better explained, once again with FMV cutscenes with CG humans and suitmation monsters; there are also endings for the Alien campaign where the Alien monster turns on the Vortaak, and an ending for the Mutant campaign where, if the player didn't collect any Power Surges, they will fight the other Mutants and join the Earth Defenders; these endings are non-canon, with the ending of an Earth Defender campaign as Godzilla IV being considered the only canon ending

All of the rejected monsters, locations, and features are included (except the Cloverfield monster)

The PS3, Xbox 360, and PC versions received free DLC monsters

There is an option to turn off the crystal effects in all environments

This game is canon to the Alpha Timeline

There is a fifth faction called "Freeside", consisting of monsters that are unaffiliated with the other four factions, and cannot gain affinity with any of them

A * indicates this monster wasn't available in the Wii version; as a general rule of thumb, none of the DLC monsters can be used in the Wii version due to limitations with the Wii Shop

EARTH DEFENDERS:

Godzilla IV

Anguirus

Rodan

Mothra

King Caesar

Baragon

Varan

King Kong

Fire Lion

Sanda (DLC)

Gamera (DLC)

Ultraman (DLC)

Zone Fighter (DLC)

EARTH DEFENSE FORCE:

Kiryu

Mechagodzilla 2

M.O.G.U.E.R.A. 2

Jet Jaguar

Mecha-King Ghidorah

Evangelion Unit-01 (DLC)

Evangelion Unit-02 (DLC)

Evangelion Unit-00 (DLC)

ALIENS

King Ghidorah

Gigan

Megalon

Orga

Mechagodzilla (alien)

Hedorah *

Lightning Bug

The Visitor

Monster X/Keizer Ghidorah (DLC)

Gyaos (DLC)

MUTANTS

SpaceGodzilla

Krystalak

Obsidious

Battra

Titanosaurus

Zilla

Maguma

Ebirah *

Kumonga *

Kamacurus *

Oodako *

Gaira (DLC)

FREESIDE

Godzilla 2000

Biollante

Destoroyah

Gorosaurus

Gabara

Ultimate Godzilla
2010
Johnson Games
PC
See page for details
Every Toho monster, with Steam Workshop support to add more
The Good Dinosaur
Due to Johnson's acquisition of Disney, The Good Dinosaur was changed to a theatrical short, as its story was deemed "too paper-thin" to be made into a feature film. The project that was planned as a theatrical short, Sanjay's Super Team, was changed into a feature film, released on November 23, 2016. The Good Dinosaur also uses different, more realistic character designs from OTL to match the photorealistic environments.
Happy Tree Friends
Due to Johnson owning Mondo Media since 2004, the series was not put on constant hiatus due to budget issues, still producing episodes to this day (about twelve episodes, one per month, are produced each year). The television series also aired on Freeform (then WBC Family)'s adult block (whose name was adopted for the channel from 2016 onwards, while the adult block was renamed Freeform At Dark) instead of G4 due to Johnson focusing almost exclusively on games for the latter channel, and continues today. The series also received a movie adaptation, released in 2019, and the Ka-Pow! spinoff is still ongoing. YouTube Copyright School does not exist. Cro-Marmot was permanently unfrozen in a 2010 episode.
Giggles, Flaky, Mime, and Cro-Marmot's pop-ups from 2009 onwards are:
G is for Giggles - Great giggly gophers are filled with glee!

Giggles giggles and sits on a log next to a flower field, refrencing "Better Off Bread".

F is for Flaky - Fleeing far away from friends is no fun.

Flaky runs away from an eagle in a forest, referencing "Take a Hike".

M is for Mime - Being mute may make one a marvelous mime.

Mime rides in his unicycle, juggling some balls.

C is for Cro-Marmot - Cool, compassionate cavemen cause complete chaos.

Cro-Marmot skis down a hill in the snow.
Harvey Comics
As Johnson acquired Harvey Comics in 1962, there have been massive changes:

The Richie Rich, Little Audrey, Little Dot, Little Lotta, Casper, and Hot Stuff lines, among other comics, have continued to this day.
A live-action Richie Rich movie was released in 1977, being the directorial debut of Timothy Hill. It received two sequels:

Richie Rich II

in 1980, and

Richie Rich III

in 1994. The 1994 live-action film does not exist.
A second television series still aired, though it premiered in 1993 instead of 1996, and was produced by Hanna-Barbera like the 1980 series. It continued until 2002, and the 2015 live-action Netflix series does not exist. It also received a traditionally-animated feature film,

Richie Rich in New York

, released in 2013 to commemorate the character's 60th anniversary.
Harvey Street Kids is still in production, and is produced by Harvey itself in tandem with Hanna-Barbera Productions and Ruby-Spears Productions rather than DreamWorks. It also received a comic series in 2019 with the Harvey Girls Forever! name (the TV series is still called Harvey Street Kids), and a movie, titled

Harvey Street Movie

, is to be released in August 2022.
HBO bumpers
Under Johnson, HBO has kept the 1982 "HBO in Space" bumper (which was kept in standard-definition with a blurry version on the sides since the switch to widescreen in 1994) for primetime in all the HBO channels, as well as the 1999 bumper for daytime until 2017, when it was replaced by the current one (the full version is used for Sunday night movie premieres).
Homestar Runner
Due to Johnson owning Harmless Junk, Inc. since 2006, H*R also was not put on hiatus, and new toons and sbemails are still released regularly. After Adobe Flash was discontinued in 2020, the series switched to HTML5 Canvas animation. It is still a webseries, but the toons and sbemails sometimes air on Cartoon Network and Freeform.
Home Sweet Home Alone
The film is almost completely different than OTL with Belle Armstrong as the director:
The married couple's motives are different: rather than wanting to sell a doll they think Max stole to save their family's Christmas, they are depicted as cruel and spiteful parents who are abusive to their children and don't care that the doll belongs to Max.
Max is a much, much more likable character.
Kevin, his parents and the Wet Bandits all make cameo appearances along with Buzz; Kevin is the head of a security company as IOTL and a family friend of the Mercers, while his parents still live in the McCallister house and the Wet Bandits are shown as homeless bums still bitter about being defeated twice. Finn Baxter (Christian Martyn) and Alex Pruitt (Alex D. Linz) also make cameo appearances.
The authorities don't do anything about the reported break-in at Max's mansion because it isn't actually reported, rather than Buzz misinterpreting it as a prank call from Kevin.
Inhumans franchise
The show doesn't exist, the film wasn't canceled and will release in November 2023, and the Inhumans were not killed off in the comics.
Jem and the Holograms (2015 film)
The film was directed by Jenny Smith in her directorial debut with Johnson Studios producing it. As a result, it's almost completely different from OTL.
While Jeopardy! hasn't seen as many changes as Wheel of Fortune, those are still significant:
The current executive producer is Michael Davies as IOTL; he replaced the retiring Harry Friedman for Season 37 (Mike Richards was not the executive producer ITTL).
After Alex Trebek's 2020 death, it was announced that CNN legal analyst Laura Coates would become the permanent host of the show starting on January 11, 2021; it was already explained that Coates had been selected with Trebek's blessing prior to his death. According to a press release, Coates was selected by Tim from a series of 2019 audition tapes (which included Ken Jennings, Buzzy Cohen, Brad Rutter, both Clue Crew members, Alex Faust, Brooke Burns, LeVar Burton, and others) due to Trebek liking her, being personable with contestants, and having the right voice for reading clues.
Clue values still pop in for Double Jeopardy! (using the 2009-16 and 2016-present clue sounds ITTL), and the set background and score displays are still red. Negative scores also use a red background in the first round. After the set turns red during Final Jeopardy!, it remains red until the credits roll, at which point it reverts to blue.
Celebrity episodes are still done, but as primetime hour-long shows rather than as part of the regular season.
The 1984-2008 clue pop-in sound is still used, albeit for the Jeopardy! round.
Players still walk onstage during their introductions, except in episodes with handicapped contestants and during Season 37, as it was shot during the height of the COVID-19 pandemic.
The tiebreaker rule was still introduced in 2014, except that those who lost the tiebreaker clue can still keep their winnings.
As on Wheel, contestants who played on the show can play again after ten years (unless they became employees of the show since their runs).
Since Season 26, the category name and clue value are always seen above the clue itself, with the scores below. Also, the text is still shown at the bottom of the screen for video clues, and the Final Jeopardy! category appears above the clue when fading to show the contestants writing their responses.
The consolation prizes were increased from $2,000 for second place and $1,000 for third place to $3,000 and $2,000, respectively; since 1986, all contestants have had travel expenses paid for by Johnson.
In Season 33 (2016-2017), the theme music and thinking music used since 2008 were rearranged by Bleeding Fingers Music. The theme song is similar to the OTL 2021 version, except with real instruments and a guitar similar to the Inside Jeopardy! podcast version.
Due to Mike Richards' absence, contestant coordinator Glenn Kagan stayed, as did other staff members. Jimmy McGuire also acknowledged Trebek's passing on-air prior to the November 9, 2020 episode (which aired the day after Trebek's death).
Sports Jeopardy! still airs due to being on GSN rather than Crackle. Dan Patrick hosted from 2014 to 2020 with Fox (currently ESPN) sportscaster Joe Buck succeeding him as host afterward, and Kelly Miyahara continued as the announcer until her 2019 departure; Whitcomb-Foss has been the announcer ever since. Likewise, Rock & Roll Jeopardy! still airs on MTV (which Johnson owns) rather than VH1, and Jeff Probst continued hosting until 2002, when he left the show to focus on Survivor. Jimmy McGuire of the Clue Crew has hosted since then.
Kids' Weeks are still held due to Johnson refusing to listen to a contestant's mother's demands that a Final Jeopardy! act be reshot during the 2014 Kids' Week, albeit as daytime specials on ABC.
Categories that require contestants to search for a hidden word keep the clue on screen until someone buzzes in.
Kelly Donohue's introductory shot in his fourth game (which aired on April 27, 2021) was reshot so he held up his index, middle, and ring fingers to represent his three wins, as the "okay" symbol he initially held up was also being used by various white supremacist groups and other right-wing individuals.
The tribute to Brayden Smith appeared at the beginning of the 2021 Tournament of Champions, rather than in the middle of the fifth game.
Rather than the "Around the World with Alex" reruns from December 2020, the 2021 summer reruns consist of 20 assorted, rarely-seen Trebek episodes, with new introductions from Jennings, Cohen, McGuire, and Whitcomb-Foss; those include the March 20 and 21, 2003 episodes that were pre-empted throughout much of North America due to debates over whether or not the US and Canada should be involved in the Iraqi War.
The clue writing and judging quality are the same as they were prior to Season 37.
Season 38 received some cosmetic changes to transition from the Trebek era to the Coates era:

The graphics are mostly the same as OTL, but with some differences from the Season 37 graphics such as a darker shade of blue for the contestant name, cash winnings and credits graphics; the former two now use the Korinna font used in the clues and credits.
The set, rather than being a modification of the 2013 set, is a modernized version of the "grid set" used from 1991 to 1996, utilizing a giant Jeopardy! logo with flashing letters, with a mechanism that allows two halves of the sign to slide apart for Coates to pass through and back together to close, an element borrowed from the 1996-2002 "sushi bar" set. The only reused set piece is the heightened floor above the lecterns introduced in 2020.
The 2016 theme music and thinking music were replaced with new arrangements composed by Bleeding Fingers Music. The theme music uses a very different arrangement with real instruments and is inspired by the 1984 and 1992 versions, with elements from the second Trebek pilot, 1997, 2001, 2008, 2016, and Greatest of All Time versions (though the additional sound effects were still added starting in the Professors' Tournament), as well as bringing back the old swoosh sound at the beginning; it still has a more cinematic sound and is done in different lengths so the "Think!" music immediately starts once the camera zooms in through the "A" in the opening as it did in the past. The thinking music is based on the version used from 1997 to 2008, albeit the first version with a piano instead of a trumpet that was only used in the first two weeks of Season 14; this change was personally requested by Tim Johnson, who has admitted to having "a weakness for jazz". As a result, Steve Kaplan (who arranged the 1997 think music and the 1997 and 2001 themes) is listed under "Music Composed or Arranged By" in addition to Merv Griffin and Bleeding Fingers Music.
The soundstage Jeopardy! tapes on (Stage 10) was still renamed in Trebek's honor, and the line "From the Alex Trebek Stage at Johnson Studios..." was added before the phrase "This is Jeopardy!" in the intro. Jennings made the announcement on the Season 38 premiere episode (September 13, 2021) accompanied by footage of Trebek's family with the Alex Trebek Stage plaque.
Starting this season, touch keypads are used for Final Jeopardy! instead of light pens, in order to avoid sloppy handwriting making otherwise-correct responses illegible; physical keypads were considered before it was realized that contestants could count the number of keys other players typed, and in some cases, ascertain the players' responses from that number of keys typed. Despite this, light pens are still used for the players' names on their lecterns. Because of this, Sadie Goldberger's Final Jeopardy! response on the June 17, 2022 episode was deemed correct.

The National College Championship (in addition to being hosted by Coates rather than Mayim Bialik) uses the traditional tournament format with two full games played, though with minor changes to accommodate a 36-player roster. There is also a greater variety of schools represented beyond Ivy League or "alternate Ivies", and the compositions from the 2020 College Championship are used instead of the OTL versions.
The 2022 Tournament of Champions field was cut off after Ryan Long, with all 5-time champions after Long eligible for the 2023 TOC.
All tournaments starting in Season 39 (including the Tournament of Champions, Second Chance Tournament, and National College Championship) will air on WBC instead of being part of the main show to increase slots for potential contestants. The 2022 Tournament of Champions will be increased to 20 players.
The Second Chance Tournament has a 27-player lineup, with contestants who played five or less years before and those who won three or less games being invited.
The Season 39 graphics package is completely different rather than reusing the previous season's graphics. The opening goes like this: the camera zooms in on the globe (now completely realistic) into a CGI museum in which clips from throughout the show's history are featured, along with still images, slideshows of contestants during their runs, past title cards, categories, clues, values, and footage of clue subjects; Coates is shown in one of the clips, folding her arms. The camera zooms out of the globe (which turns black and gains a blue aura around it) into a comfortable distance as the show's logo arrives in place. The camera zooms through the letter "A", revealing the 2021-present set. As in the Season 37 (not counting the post-Trebek versions) and 38 openings, five different versions were made.
Gallery
Jetsons: The Movie
The film was released by Johnson Studios instead of Universal.
Janet Waldo was not replaced by Tiffany Darwish as Judy Jetson
The movie also has much better writing, animation, and characterizations.
Because of all of this, the film had a much better reception.
Judge Judy
The show still airs to this day, meaning Judy Justice does not exist; Season 26 saw Judy Sheindlin back in the courtroom, along with limited audiences, as well as a new graphics package (replacing the general style introduced in 2004) and the reinstatement of the Bill Bodine-composed music cues used prior to 2004. Also, the show is still distributed by Worldvision Enterprises (which Johnson acquired a controlling stake in via Blockbuster Entertainment in 1994). The OTL Judy Justice set, music, staff and graphics were instead used for a different show, Judge Levy (with Judy's son Adam Levy), which airs on Amazon's Freevee.
Kingdom Hearts III
Oswald and Ortensia appear in the game.
The English voice direction is better.
L.A. Noire
TBA.
Law & Order franchise
Once again, many changes were made to the Law & Order franchise after Johnson saved the mainline series from cancellation in 2010 and Criminal Intent a year later; Trial By Jury was also picked up by WBC-owned A&E in 2005 after one season on NBC.
Trial By Jury saw a vast amount of changes. For one, a different production staff was hired so the existing staff could focus on the other three shows (Law & Order, Special Victims Unit, and Criminal Intent).
Criminal Intent (in addition to using the Season 1-6 theme throughout its entire run) went back to showing the criminals' perspective as well as the police investigation.

The current cast lineup as of Season 21 is Vincent D'Onofrio as Robert Goren, Kathryn Erbe as Alex Eames,

The main Law & Order series had Kate Dixon (Camryn Manheim) replace Anita van Buren (S. Epatha Merkerson) as the commanding officer at the 2-7, as well as working in the pregnancy of Alana de la Garza (who continued playing Connie Rubirosa until leaving the show for fellow Dick Wolf production FBI in 2018; she was replaced by Odelya Halevi as Assistant District Attorney Samantha Maroun).

The current cast lineup as of Season 32 is Anthony Anderson as Detective Kevin Bernard, Jeffrey Donovan as Detective Frank Cosgrove, Camryn Manheim as Lieutenant Kate Dixon, Hugh Dancy as Executive Assistant District Attorney Nolan Price, Odelya Halevi as Assistant District Attorney Samantha Maroun, and Sam Waterston as District Attorney Jack McCoy.
Special Victims Unit also
Organized Crime is mostly the same, with its opening being a major difference. Here is an idea of what it looks like (though the theme song is the same as IOTL).
In February 2022, a massive crossover miniseries called All Forces United aired on NBC, in which the casts of all five Law & Order series team up to tackle a massive crime ring in New York City. Its opening narration goes "In the criminal justice system, several different forces, either in the police or in the courts, handle specific types of criminal cases. In New York City, all those forces will work together to solve a major case. These are their stories."
The Lego Movie franchise
The Bionicle characters appeared in both movies.
Emmet and Lucy do not become a couple, as Tim felt that finishing your journey before you start a new one only to lose the boyfriend you had was pointless, so Batman was kept with Lucy.
MetalBeard always looked like how he did in the first film.
Mikey and Milhouse have larger roles, and both appeared in the second movie.
General Mayhem does not turn out to be a good guy; Rex does.
Milhouse gets kidnapped, not Lucy.
All characters were featured in both Lego Movie toylines.
Universal didn't buy the Lego film rights.
Lucy appears in The Lego Batman Movie.
Takanuva did not get cut from the second film, and saved everyone from General Mayhem and Queen Watevra Wa'Nabi alongside Rex.
Finn's father's real name, Ted, along with Emmet's mother did not get cut.
A third film, The Lego Movie 3: The Final Chapter, will come out in 2023.
Spin-offs will still be made.
Jay and Silent Bob make a cameo where they poke fun at Ted for owning a huge Lego collection, and Ted punches Jay in the face for kicking Ted's 2001 Statue of Liberty.
There's a scene in the first movie where Emmet eats an M&M.
As Tim was the writer (though Angus MacLane remained as the director) and a co-producer, there are many major changes.
Buzz is voiced by Tim Allen instead of Chris Evans, due to being much more related with the toy, and Zurg is voiced by Wayne Knight, being depicted as a threatening yet flamboyant, hammy, and comical villain.
The plot is much different; notably, it features Buzz's crew from Buzz Lightyear of Star Command instead of his crew from the OTL movie; Nicole Sullivan and Larry Miller reprise their respective roles as Mira Nova and XR, while Bobby Moynihan replaces the late Stephen Furst as Booster Munchapper. Also, Zurg isn't an alternate universe version of Buzz, but just, in his own words, a "generic doomsday villain with no complex motives". The plot involves Team Lightyear traveling through space after getting stranded on a hostile planet rather than Buzz and his crew trying to escape said planet; Tim stated that "having a space adventurer on just one planet kinda defeats the point of being a space adventure movie". Its tone is also significantly less bleak and more comical and tongue-in-cheek.
Other characters who appear include Warp Darkmatter (voiced by Will Arnett, replacing Diedrich Bader), Commander Nebula (voiced by Adam Carolla), Norbert Klerm (voiced by Mitchell Whitfield), The President of the Galactic Alliance (voiced by Roz Ryan), Dr. Ozma Furbanna (voiced by Linda Hamilton), Cosmo (voiced by Paul Rugg), the Little Green Men (voiced by Jeff Pidgeon), and the Grubs (voiced by Frank Welker) and Brain Pods (voiced by various actors). Patrick Warburton (who voiced Buzz in the BLOSC series) also makes a cameo appearance, as does Andrew Stanton (who voiced Zurg in Toy Story 2).
More work is done to make the film look more like it would've been made in 1995 in the Toy Story universe (such as film grain, gate weaving, model work-style special effects, and compositing), as well as taking influence from several major sci-fi films made around that time.
Tad Stones (the producer of BLOSC) served as a creative consultant.
An epilogue reveals that Lightyear received five sequels in 1999, 2003, 2006, 2011, and 2015, a prequel released in 2008, a Saturday morning cartoon (referencing BLOSC) that ran from 2000 to 2001 and takes place in an alternate continuity, a direct-to-video pilot movie for the cartoon (referencing The Adventure Begins), a reboot released in 2022 that was heavily criticized for its lack of faithfulness to the original, and various forms of merchandise, including video games, clothing and, of course, the Buzz Lightyear toyline.
After the credits, there's a stinger showing a grown-up Andy (once again voiced by John Morris) re-watching the film on DVD with his children.
A promo piece for the film showing Andy watching the film in a theater has just himself and his mother, with none of the toys present.

The marketing also made it clear from the announcement that this was the film Andy saw in 1995, rather than creating confusion on whether this was about a real-life astronaut who inspired the toy, or about the in-universe Buzz Lightyear character.
The film itself was also much more successful at the box office. Also, a video game adaptation was released around the time the film released; it was made to feel like a 16-bit game from 1995, with pre-rendered graphics, 2D platformer gameplay (though some levels use 3D gameplay mechanics), SNES-esque music, voice clips (including Mike MacRae as Buzz and Wayne Knight as Zurg), and 16-bit recreations of scenes from the film. Evening Star Studios collaborated with Disney Interactive to produce this video game.
Finally, a Disney+-exclusive film with some similarities to OTL's version (including the voice cast and characters) but also with major changes titled Lightyear: The Reboot was released on August 3, 2022, the same day Lightyear itself went to Disney+; it serves as the reboot mentioned in the epilogue. Here is a list of changes from the OTL version:
The opening framing device explains that this is the reboot of Lightyear Andy saw as an adult with his children in 2022.
Zurg is revealed to be Buzz's father and not a future version of Buzz himself.
Buzz's adventures with Alisha are explored further, with the first act focusing on them.
The side characters (including Izzy, Mo, Darby, and Commander Burnside) are better fleshed-out.
The Lion Guard
Aside from Simba being voiced by Matthew Broderick rather than Rob Lowe, James Earl Jones voicing Mufasa throughout the series, Nathan Lane voicing Timon instead of Kevin Schon, Scar being voiced by Jeremy Irons, Simba and Kiara's personalities staying true to the movies, and the artstyle for the show resembling the first movie and The Lion King 1 1/2 (all due to the series boasting a much higher budget), the series otherwise remains the same.
Looney Tunes: Laff Riot
The series was made instead of Wabbit: A Looney Tunes Prod./New Looney Tunes. Voice-wise, Alaskey returned to voice most of the male Looney Tunes characters (although Jeff Bergman returned to voice Bugs Bunny, his performance sounds closer to those from the 1990s).
The Magic School Bus Rides Again
The series has many differences from OTL:
The series is simply called The Magic School Bus as in the 1994-97 series, with "Rides Again" being the title of the first episode.
Valerie Frizzle is still the teacher, with Fiona (still voiced by Kate McKinnon) only appearing in a handful of episodes and not trying as hard at being "hip" or "groovy".
Phoebe (voiced by T.J. McGibbon) is still present. Jyoti is still in Ms. Frizzle's class as a new student, still the class' technology expert, but sometimes takes multiple tries to build a gadget (many of which are homemade-looking), as well as being naive due to being the new kid in class; in other words, far from the flawless Mary Sue she was IOTL. Phoebe even grows out of her naive newcomer status to join her friends in mentoring Jyoti while still remaining a sweet, innocent animal lover.

Jyoti's outfit is the same as OTL, but orange-colored to give her a more distinct color from Dorothy Ann.
Also, her catchphrases are "Here it is, Ms. Frizzle!" when she presents a gadget and "These things don't happen on most field trips" when she remarks about something happening during a field trip.

The opening sequence is a shot-for-shot recreation of the 1994 version with the addition of Jyoti (both visuals and vocals), as well as more fluid animation and shading, and being in widescreen; the original Little Richard-performed theme song was used in the first three seasons, with Erykah Badu re-recording the theme from the fourth season onward after Richard's 2020 death, with the fourth season premiere dedicated in his memory. As an aside, all spoken dialogue (including Ms. Frizzle's line "Seat belts, everyone!" and Arnold's line "PLEASE let this be a normal field trip!") use the exact same audio as the 1994 intro (though Arnold's original voice actor, Amos Crawley, is uncredited).
The characters all have their distinct personalities and distinct ways of learning as in the original series; they all continue using their catchphrases as well rather than just Arnold and Dorothy Ann.
The series uses the same character designs (though slightly taller as the children in Ms. Frizzle's class still become fifth graders; they're also drawn with different heights) and artstyle as the 1994 series; the animation style in general is much better due to being animated by Nelvana and Hanho Heung-Up rather than 9-Story Media Group.
Much better writing and plots. There are also real conflicts among some of the kids from time to time, including rivalries amongst paired students and some of them making lighthearted snarky comments from time to time.
The producer segments return, with Malcolm-Jamal Warner and Susan Blu reprising their roles as the producers. The opening is a modernized version of the 1990s one, with smartphones replacing the older landlines, 1990s cellphones and phone booths; the dialogue and music are unaltered.
The voice acting also has better direction.
It doesn't try as hard at being relevant to late-2010s culture.
Dorothy Ann pronounces research as "ruh-SEARCH" as in the 1990s series instead of "REE-search".
Some episodes feature book-exclusive characters Alex (portrayed as laid-back), Amanda Jane (portrayed as a joker), Carmen (portrayed as artistic and using her appearance from "Goes on Air"), Florrie (portrayed as intelligent), Gregory (portrayed as a snarker with a tender side) John (portrayed as a worrier), Michael (portrayed as imaginative and using his appearance from "Makes a Stink"), Molly (portrayed as outgoing and energetic), Phil (portrayed as a realist), Rachel (portrayed as competitive and athletic), and Shirley (portrayed as sweet and kind) as students in other classes, all depicted as fourth-graders.
Because it was more successful, it was renewed for additional seasons beyond the first two; the third season in 2019, followed by five specials in 2020, and the fourth season in 2021. It also airs reruns on syndication.
There was one rather-memorable episode where Ms. Frizzle's niece visits, and said niece happens to be one of Lily Tomlin's characters, Edith Ann.
Gallery
Match Game
In 1991, the series moved from ABC to WBC, continuing its run until 2003, when it moved to daily syndication; a once-a-week syndicated version has aired since 1998. It was brought back on WBC in 2015 and continues today.
Ross Shafer was replaced with original host Gene Rayburn, who continued hosting until his 1999 death. Michael Burger has hosted ever since.
The 1990 set and music continued in use until 1998, when they were replaced by their OTL counterparts (although the set wasn't changed mid-season and the panel continued using six celebrities as it does today rather than five; the contestant area on the left side is also a turntable so it can rotate for the Super Match). In 2003, the set was replaced with a replica of the 1973-78 set, and the show reverted to the 1970s version's theme music. This set was also used in Game$how Marathon in 2006. It was replaced with a modernized version in 2015 (namely, the one from Alec Baldwin's version IOTL). Production also moved back to Television City in 1991.
Gene Wood continued announcing until retiring in 1996. Paul Boland has announced since then.
Match-Ups were removed from the 1991-92 season onward.
The show is distributed by King World Productions instead of Program Partners. As a result, there are many key differences:
The series airs with Jeopardy! and Wheel of Fortune in a 90-minute block, mainly in WBC-owned stations.
It was called Merv Griffin's Crosswords in its first season in Griffin's memory, as Griffin died during its production; every season afterward is called Let's Play Crosswords.
The show tapes at Johnson Studios (next to the Wheel and Jeopardy! stages) instead of Sunset Bronson Studios. There is also a live audience instead of canned applause.
Its host is television personality Mark L. Walberg instead of Ty Treadway, though the announcer is still Edd Hall.
The music that plays when a contestant wins the Bonus Round is a reworking of "Frisco Disco", the Jeopardy! closing theme from 1978-79. Both it and the theme song, "Buzzword", were arranged by Tim Mosher & Stoker until 2018, when the current version by John Hoke was introduced.
The crossword and credits font from 2007 to 2018 was Franklin Gothic Demi; they were changed to ITC Lubalin Graph Semi-Bold starting in the 2018-19 season.
The format goes like this: three contestants (one of whom is a returning champion, without a day limit) compete to win the most money by solving crosswords, building up a cash jackpot that the day's winner plays for at the end (which was Griffin's original intention). The bonus round has them try to guess ten crossword-like clues in a minute (the rest of the puzzle is revealed at the end of Round 3). Instead of Extras, contestants can double their winnings by guessing the common thread of the longest words in the puzzle.
The values for each word in Round 1 are still $50 for 3-letter words, $100 for 4-6 letter words, and $150 for 7-or-more letter words, while Round 2's values are still $100, $200, and $300, and Round 3's values are $200, $400, and $600.
As with Wheel and Jeopardy!, the title card and graphics change every season.
The guaranteed house minimum is $1,000, ensuring that winners do not end the game with negative winnings. The second-place contestant goes home with $2,000.
In 2015, the set was redesigned into its current form, incorporating a giant, lit-up Crosswords logo sign.
Here are descriptions for the opening animations:

Season 1: Same as OTL, but in widescreen.
Season 2: Similar to Season 1, but with a new logo and the logo flying through crossword-like patterns.
Season 3: Various words being formed in the crossword such as "RAKE" and "DASH", with the Crosswords logo forming from a ten-letter row.
Season 4:
Season 5:
Season 6:
Season 7:
Season 8:
Season 9:
Season 10:
Season 11:
Season 12:
Season 13:
Season 14:
Season 15:
Season 16:
Gallery
Mickey Mouse in DuckTales (2017)
Johnson did not veto the DuckTales staff's plan to have Mickey be Donald's more successful former roommate; Mickey is a recurring character as a result, voiced by Chris Diamantopolous. Here is an idea of what he looks like.
The Middle Earth
TBA.
Milo Murphy's Law
Due to Doofenshmirtz already appearing in spin-off series The O.W.C.A. Files (which got picked up by Johnson and started airing in July 2016 after the end of Phineas & Ferb), he (and other Phineas & Ferb characters) were not added as major elements in the second season, with references to its parent show being limited to "The Phineas & Ferb Effect" and other offhanded mentions. This means that Milo Murphy and his friends get more character development.
Due to the buyouts of The Walt Disney Company and The Jim Henson Company by Johnson, the 2015 Muppets series is very different than IOTL, Steve Whitmire never got fired from the Muppets and still performs Kermit, Rizzo (who is still Gonzo's sidekick and accompanied him in Muppets Haunted Mansion), the Newsman, Lips (who was still made more talkative in The Muppets along with Zoot due to Tim seeing what he considered "untapped potential built up over 40 years" in both characters), Link Hogthrob, and Bean Bunny, and Matt Vogel still performs Kermit's nephew Robin the Frog. Whitmire also still performs Wembley Fraggle and Sprocket in Fraggle Rock-related projects.
In addition, Kermit became a regular on Sesame Street again starting in Season 45 due to Johnson licensing the character to Sesame Workshop. This also means that Whitmire also remained as Ernie.
Seasons 4 and 5 of The Muppet Show were released on DVD in 2016 in celebration of the show's 40th anniversary after Tim managed to get clearance from every celebrity that appeared, as well as the rights to use several songs (Gonzo is on the Season 4 cover, while Animal is in the Season 5 cover). All seasons are also on Netflix (later Disney+) with all cut segments in previous home media releases restored, the presence of all UK spots, and the old ITC/ATV logos intact at the end (including all alternate closings), and a "Complete Series" box set was released in 2018 using the Netflix/Disney+ versions.
My Little Pony franchise
"The Ending of the End" and "The Last Problem"
Throughout the season, Grogar, not King Sombra, is partnered with Queen Chrysaliis and Cozy Glow. Discord does not disguise himself as any character, and the "FIENDship is Magic" and "Siege of the Crystal Empire" comics are considered canon.
As Friendship is Magic was renewed for one last season, which aired from 2019-2020, as Tim felt that "some questions still needed to be answered", the future scenes in "The Last Problem" are the basis of the two-part series finale "The Future Awaits" (with "The Last Problem" being the title of the preceding two-part episode), while the present-day scenes were instead called "Twilight's Coronation" and aired at the end of Season 9; Twilight has a different, less Celestia-like design, while Spike also has a different design that makes him look less like the Sonic Boom incarnation of Knuckles "with a Jay Leno-type chin". The other main characters also don't have eye bags, as Tim felt that it would only be suited for ponies with "really stressful" jobs. Flurry Heart also appears, ruling the Crystal Empire (she's still voiced by Tabitha St. Germain), and Apple Bloom, Sweetie Belle, and Scootaloo are part of a Mane Six-like group with Diamond Tiara, Silver Spoon, and Dinky Doo.
Equestria Girls
Tim was one of the writers of the movie, so certain changes were made from OTL. These include:
Spike is a human instead of a dog; this is not the Spike from Equestria, as it would create a plot hole where he could go without a problem but the rest of the Mane Six can't go; this Spike is also revealed to be the human Twilight's adopted little brother in the stinger to Rainbow Rocks. Tim felt that having Spike be a dog would reduce his practicality as a character; as an aside, Twilight's human counterpart does have a dog, though his name is Rex, with golden and beige colors, and he's voiced by Gilbert Gottfried after he gains the ability to speak; this is the human world's counterpart to a dog doll Princess Twilight had as a foal.
The mirror portal only requires Equestrian magic to be activated rather than the Elements of Harmony.
Sunset and Flash both have more personality (Sunset's "alpha bitch" personality is actually a facade, and she's secretly broken and depressed due to feeling unappreciated by Celestia, and stealing all six Elements in an attempt to get back at her and Twilight, and Flash is a self-admitted nerd who is also goofy and a nice guy rather than being a pretty-boy high school crush stereotype).
Sunset's backstory is explained in full detail.
Very few pop-culture references.
Only three romance scenes between Twilight and Flash were left in, all rewritten.
The characters also wear different outfits and have more natural skin tones (their colorful skin tones are only used when they pony up), with only Applejack's remaining the same, though it's more orange in her ponied-up form. The proportions are also not overly anorexic, and their legs are shorter.
Moons are explained as fifteen days, with one month translating to two moons, and the 30 moons mentioned translating to 450 days.
There's also no Fall Formal or school dance, with Twilight having to take her crown back in a contest between herself and Sunset.
As an aside, Vinyl Scratch has a speaking role in Rainbow Rocks; she is voiced by Jesse Nowack, who voiced the character in several fanworks. This also means that Vinyl has a speaking role in "Slice of Life", as well as the Ponies of Equestria spin-off series. Also, Juniper Montage from Mirror Magic is a better-written character.
Gallery
Legend of Everfree
Instead of being a film, Legend of Everfree is instead a two-part episode, serving as the first episode of the fourth season of the television series. There are also some differences such as Gloriosa Daisy being better written.
Rollercoaster of Friendship
The main characters don't use their powers to destroy Vignette's phone (Rainbow Dash destroys it by throwing it far enough that it gets smashed by the traffic on the road), the final battle is much more climatic with higher stakes, and she's not forgiven; instead, she is handed over to the Magical Criminal branch of the Canterlot Police Department. She also has a reason as to why she behaves the way she does: as a child, her father gave her older sister better treatment than her, and would often push her to the sidelines, resulting in Vignette being desperate for attention.
Television series
The show received a TV series airing on The Hub (in the Johnsonverse, it never became Discovery Family, and Johnson, through its Hasbro subsidiary, bought out Discovery's stake in 2014, earning full control of The Hub in the process) beginning in October 2013 (with the movie serving as its pilot), with each episode running for 22 minutes (for web series plots from the Better Together series IOTL that can be adapted into 22 minutes), and since 2017, 2-to-5-minute shorts airing on YouTube (for web series plots that can't) under the Better Together subtitle. It also debuted the human counterparts of characters normally absent in EG, such as Discord (who is depicted as the uncle figure to Fluttershy; he calls himself "Funkle Discord", "funkle" being a pormanteau of "fun uncle") and Thorax (depicted as a former member of the Changelings, who are depicted as a Mafia-esque crime family, though they are never depicted as committing injury or murder in order to keep the series family-friendly), as well as the Young Six, with G3 characters absent in OTL appearing both in here and in Friendship is Magic such as Starsong (voiced by Andrea Libman) and Kimono (voiced by Kathleen Barr, who reprises her role from G3), along with Minty (voiced by Maggie Blue O'Hara). Starlight's human counterpart also appears as one of the main characters (she has a slightly taller build to show her old, "matronly" ways). The intro used in the first four seasons (2013-2017) was the same as the one used in the 2017 specials IOTL with the character lineup shown changing accordingly, while the one used in seasons 5-8 (2017-2021) is the same as the Better Together and Choose Your Own Ending shorts, with the opening altered in the seventh season to use Sunset's human counterpart (introduced in the two-part sixth season finale "The Right Choice") in place of the pony Sunset; Sci-Twi's design was altered for the final two seasons as well, using a completely new outfit incorporating Sunset's leather jacket, reflecting her leadership. The final episode, "University Life", aired on May 11, 2021 and depicted the girls a few years later; three hour-long specials released throughout 2021 explore their lives in university.
The series ended with a theatrical film released on July 12, 2021, My Little Pony: Equestria Girls - The Struggle, which takes place around the time of the future scenes in the Friendship is Magic finale "The Last Problem". In the film, Twilight is the principal of Canterlot High and is married to Timber Spruce, Starlight is the vice-principal, the human Sunset is a teacher, Spike is the counselor, Rainbow Dash is the coach of the Wondercolts, Applejack inherited Sweet Apple Acres after Granny Smith's death, Rarity (who is married to Spike) is a fashion icon who owns the Carousel Boutique and the Canterlot Carasouel in Canterlot, Rarity For You in Manehattan, and Rarity-Go-Round in Yakyakistan, Pinkie Pie (who married Cheese Sandwich and has a son named Lil' Cheese like her pony counterpart) acquired the Sugarcube Corner from the now-retired Mr. and Mrs. Cake, and Fluttershy runs an animal sanctuary. The film, which was animated by Toei Animation in tandem with Boulder Media, was the final full-time project in the fourth generation of the My Little Pony franchise.
Generation 3 of My Little Pony
Various background ponies in animated works (Daisyjo, Bowtie, Butterscotch(?), etc.) resemble themselves in merchandising more.
Generation 5 of My Little Pony
The 2D designs for the characters are much different; for one, they don't use the infamous "bean mouths" used in many 2010s cartoons. The main voice actors in Make Your Mark and Tell Your Tale are still the same, however, with Jenna Warren as Sunny Starscout, Ana Sani as Izzy Moonbow, Aj Bridel as Pipp Petals, Maitreyi Ramakrishnan as Zipp Storm, J.J. Gerber as Hitch Trailblazer, Josh Graham as Sprout Cloverleaf, and Rob Tinkler as Sparky Sparkeroni.
Due to Entertainment One not having been bought by Johnson/Hasbro in this universe, various pieces of media related to MLP G5 are at least somewhat different.
It has been proven that G5 is set in a different universe from G4 instead of taking place long after it.
A lot of the merchandise looks somewhat different (less uncanny, arguably).
The film itself is very different. For one, it uses a hand-drawn artstyle instead of a CGI one.
"The Last Roundup"
The Rainbow Dash/Derpy scene in the My Little Pony: Friendship is Magic Season 2 episode "The Last Roundup" was not censored after its initial airing, due to Tim feeling that the complaints were only a small fraction of the viewing audience, and his disdain for what he considered "needless censorship". This also means that the name "Derpy Hooves" was used in future episodes, Equestria Girls, The Ponies of Equestria, and in merchandise.
The Friendship Express' design
Due to Johnson's passion for railway realism, the Friendship Express has some differences from its OTL counterpart, most notably in the locomotive having a tender (with there being no way to get to the locomotive from any other point in the train; at least a few episodes are at least somewhat different because of this) as well as a whistle directly above the heart-shaped window on the front of the cab.
My Little Pony: The Movie (2017)
The movie has several differences, with Chloe directing and executive-producing, and Tim being one of the writers and an executive producer:
Discord, Starlight, Trixie, and the Cutie Mark Crusaders all have speaking parts and contribute to the story (for example, Starlight goes on the adventure with the Mane 6 and Spike).
The film is traditionally animated by Walt Disney Animation Studios instead of animated using ToonBoom Harmony. Many 2D Johnson movies since 2014 have used Disney cel animation due to it being deemed more authentic than computer animation.
A less predictable plot.
As with the TV series, Canterlot is portrayed as a city that has well-descriptive socioeconomics with a lot of upper-class cultures, rather than some stereotypical happy pony paradise.
The Mane Six have their character development that they accrued throughout the series up to this point.
The original opening is used, though Starlight is in the stained glass portrait.
After the main title, the film opens in Ponyville, where the Mane Six, Spike, and Starlight are ready for the Friendship Festival while Discord is taking care of the Castle of Friendship.
Fluttershy and Applejack have more screentime, and have their own songs ("Songbird Serenade" for Fluttershy and "Braeburn" for Applejack).
The new characters have different personalities:

The Storm King is portrayed as dark and serious instead of goofy and over-the-top. He also has more screen time.
Grubber's personality is still the same, but he's very smart and his poorly-timed humor has been completely toned down.

The storm clouds are hand-drawn, and Captain Celaeno's ship is a live-action model.
Pony Life
The series doesn't exist as Tim rejected it for being "like Teen Titans Go!, but with ponies and hopefully not as a front for a criminal scheme" and also stated that "we already have Equestria Girls and The Ponies of Equestria to hold fans over for the sixth generation". The character Potion Nova (still voiced by Chanelle Peloso) appears in the tenth season of Friendship is Magic and the final two seasons of The Ponies of Equestria, as well as the final season of Equestria Girls.
MultiVersus
The game is a collaboration between Johnson, Warner Bros., and Paramount Global, and is known as Super Smash Bros. MultiVersus due to Johnson owning Nintendo. It is billed as the sequel to SSBU, and (in addition to all returning characters from SSBU) includes all characters from OTL's MultiVersus and Nickelodeon All-Stars Brawl as well, in addition to several other characters owned by Johnson (including Nintendo, Sega, Disney, and all other Johnson subsidiaries, including advertising mascots for Johnson's food and retail brands). This means that NASB never existed; Tim Curry reprises his role as Nigel Thornberry, Tim Johnson plays Finn, and the Tales versions of Leo, Mikey, April, and Shredder all appear in place of the 1987 versions.
The series has a variety of differences:
Due to being released by Johnson instead of Universal, the movie was not edited down, and the unused Dave Alvin cover of the theme song was used in the beginning. It also received an extensive marketing campaign, making it an overall success in the box office. Johnson also aired MST3K marathons in many countries (usually with their own versions of Comedy Central) to ensure it would be a success.
The series also remained on Comedy Central throughout its run, and the original run continued until 2008; Michael J. Nelson (Mike Nelson) continued as the human host, and Kevin Murphy (Tom Servo) and Bill Corbett (Crow) also remained in their roles until 2004, when they left the series after disputes with producer Jim Mallon, going on to create The Film Crew and later RiffTrax. They were replaced by Tim Harmston (Tim Randall, after screen actor Tony Randall), who wears a yellow jumpsuit, James Moore (Servo), and Paul Chaplin (Crow); Mary Jo Pehl (Pearl Forrester) remained, but Professor Bobo (Murphy) and Brain Guy (Corbett) were removed, with Brain Guy replaced by another Brain Guy (Chaplin). Pehl left in 2007 to focus on other projects, and was replaced by Moore, playing Pearl's brother Monty Forrester. Patrick Brantseg remained as Gypsy.
The eighth season didn't have the mandated storyline, and the theme song from the eighth to fifteenth seasons was the same as the tenth season IOTL, with the exception of "Somewhere in time and space" being "Way up in outer space" instead. The theme song for the sixteenth and seventeenth seasons was:
In the not too distant future
At Castle Forrester
Pearl was busy scheming
And finding a new tester
She called in a guy named Tim Randall
To tidy up the castle, ready to go
Pearl knew that she wanted him above
So she lured him in and shot him into the Satellite of Love (Get me down!)
I'll send him cheesy movies
The worst I can find! (La la la!)
He'll have to sit and watch them all
And I'll monitor his mind! (La la la!)
Now keep in mind, Tim can't control
Where the movies begin or end (La la la!)
He'll try to keep his sanity
With the help of his robot friends
Robot roll call
Cambot! (Action!)
Gypsy! (Oh my stars!)
Tom Servo! (Check me out!)
Crooooow! (That's one O!)
If you're wondering how he eats and breathes
And other science facts (La la la!)
Then repeat to yourself, "it's just a show
I should really just relax"
For Mystery Science Theater 3000!
The theme song from the eighteenth and nineteenth seasons was:
In the not too distant future
Way up in outer space
Tim Benedict and his robot friends
Are caught in a nasty place
Monty Forrester is watching them
While planning out his dirty machination
He will torture the SOL captives
As part of his evil plot for world domination! (I will rule the world! Ha ha ha!)
I'll send him cheesy movies
The worst I can find! (La la la!)
He'll have to sit and watch them all
And I'll monitor his mind! (La la la!)
Now keep in mind, Tim can't control
Where the movies begin or end (La la la!)
He'll try to keep his sanity
With the help of his robot friends
Robot roll call
Cambot! (Action!)
Gypsy! (Oh my stars!)
Tom Servo! (Check me out!)
Crooooow! (That's one O!)
If you're wondering how he eats and breathes
And other science facts (La la la!)
Then repeat to yourself, "it's just a show
I should really just relax"
For Mystery Science Theater 3000!
The series ended in 2008, after declining ratings; mainly, there were complaints about Moore and Chaplin's casting, as well as the writing dropping in quality without Nelson, Murphy, Corbett and Pehl. Reruns continued airing on Comedy Central, however.
The #BringBackMST3K Kickstarter still happened ITTL, but was even more successful due to Tim's public endorsement of it; it airs on Netflix as in OTL, with many differences at Tim's request:

The cast is very different, comprised of complete unknowns:

Emily Marsh as Emily Connor (in a purple jumpsuit)
Nate Begle as Crow
Conor McGiffin as Tom Servo
Yvonne Freese as Gypsy/Gypsum
Grant Baciocco as M. Waverly
Russ Walko as Growler
Rebecca Hanson as Kinga Forrester
Matt McGinnis as Dr. Matt Claude van Damme (a clone of Joel Robinson and ex-test subject who grew insane after watching the worst movie ever made)
Jonah Ray, Hampton Yount, Baron Vaughn, Felicia Day, and Patton Oswalt made guest appearances throughout the revival, as did Trace Beaulieu as Dr. Clayton Forrester and Joel's Crow (he also serves as an executive producer), Frank Conniff as TV's Frank, J. Elvis Weinstein as Dr. Laurence Erhardt and Joel's Tom Servo, Jim Mallon as Joel's Gypsy, Michael J. Nelson as Mike Nelson, Patrick Brantseg as Mike's Gypsy, Mary Jo Pehl as Pearl Forrester, Kevin Murphy as Professor Bobo and Mike's Tom Servo, and Bill Corbett as Brain Guy and Mike's Crow.

The riffing scenes are done the same way as the original rather than recorded separately; Tim encouraged Hodgson to go the original route, and reportedly said to him in a dinner "It's not wise to try to reinvent the wheel when the wheel we already have is perfect". The theater doors are the same as well.
Gypsy has her old appearance. She was also renamed to Gypsum instead of GPC in 2021, as the name "GPC" sounded clunky, and she was sometimes referred to as "Gypsum" in the KTMA episodes.
Each season begins in July and ends in January; the exception being Season 22 (2018-19), which began in November to coincide with the series' 30th anniversary. As a result, the revival began airing on July 22, 2016. Episodes are also produced one at a time and are released as they're completed.
4:3 movies and shorts are done in the new series; the former type has theater curtains on the sides, meaning Emily, Crow and Servo's seats are closer to the center.
The SOL set has a similar build to that of the original series, but is still its own thing.
Almost all movies in the new MST3K are old, obscure movies as in the original, steering away from well-known bad movies such as Mac and Me.
Each episode has a minimum runtime of 90 minutes.
Rather than having no less than 30 writers (Tim told Hodgson that "there's an old saying: too many cooks will spoil the broth"), the writing staff consists of the main cast members, along with Joel Hodgson and Elliot Kalan, with Beaulieu, Weinstein, Pehl, and Chaplin also returning as writers; some episodes have guest writers, however.
The theme song for the first three seasons of the Netflix revival (which Marsh and Hanson perform with interjections by Begle, McGiffin, Freese and McGinnis) goes like this:
In the not-too-distant future
Next Sunday, A.D.
There was a gal named Emily
Not too different than you or me
She worked at Gizmonic Institute
Just another Jane in a purple jumpsuit
A distress call came in for her at half-past noon
That's when an evil woman trapped her on the dark side of the moon
I'll send her cheesy movies
The worst I can find (La la la!)
She'll have to sit and watch them all and I'll monitor her mind! (La la la!)
Now keep in mind, Emily can't control
Where the movies begin or end (La la la!)
So she'll have to keep her sanity
With the help of her robot friends!
Robot roll call:
Cambot! (Still working!)
Gypsy!/Gypsum! (Oh, my stars!)
Tom Servo! (I'm handsome!)
Crooooow! (You know you want me, baby!)
If you're wondering how she eats and breathes
And other science facts (La la la!)
Then repeat to yourself, "It's just a show
I should really just relax"
For Mystery Science Theater 3000!
Because of the cheaper way to produce new episodes, the remaining Kickstarter funds were used to make later seasons and live tours.
The fourth season had two episodes guest-hosted by Hodgson in-character as Joel Robinson, with Beaulieu as Joel's Crow and Forrester, Weinstein as Joel's Tom and Erhardt, Mallon as Joel's Gypsy, and Conniff as TV's Frank; Joel's Mads operate from Deep 13. Two additional episodes were also hosted by Nelson in-character as Mike Nelson, with Murphy as Mike's Tom and Bobo, Corbett as Mike's Crow and Observer, Brantseg as Mike's Gypsy, and Pehl as Pearl, with Mike's Mads operating from Castle Forrester. The fifth season will also have Hodgson and Nelson do two episodes each, as well as having Joel riff with Mike and Emily for a holiday special.
The theme song for Joel's episodes (performed by Hodgson with interjections by Beaulieu, Weinstein, and Mallon) goes like this:
In the not-too-distant future
Next Sunday, A.D.
Joel Robinson found himself back in space
A place he didn't want to be
He escaped the SOL and out of space
And started up a hot fish place
But Joel was in for a surprise above
When his bosses put him back on the Satellite of Love
We'll send him cheesy movies
The worst we can find (La la la!)
He'll have to sit and watch them all and we'll monitor his mind! (La la la!)
Now keep in mind, Joel can't control
Where the movies begin or end (La la la!)
He'll try to keep his sanity
With the help of his robot friends!
Robot roll call:
Cambot! (Pan left!)
Gypsy!/Gypsum! (Hi, girl!)
Tom Servo! (What a cool guy!)
Crooooow! (Oh, wisecracker!)
If you're wondering how he eats and breathes
And other science facts (La la la!)
Then repeat to yourself, "It's just a show
I should really just relax"
For Mystery Science Theater 3000!
The theme song for the Mike episodes (performed by Nelson and Pehl with interjections by Corbett, Murphy, and Brantseg) goes like this:
In the not-too-distant future
Next Sunday, A.D.
The evil Pearl Forrester
Was hatching a evil scheme
She tracked Mike and the 'bots, who had sneered
While watching bad movies for twenty years
They got conked on the noggin and were flown off the map
That's when they woke up to realize that they fell for Pearl's trap! (Get me down!)
I'll send him cheesy movies
The worst I can find (La la la!)
He'll have to sit and watch them all and I'll monitor his mind! (La la la!)
Now keep in mind, Mike can't control
Where the movies begin or end (La la la!)
He'll try to keep his sanity
With the help of his robot friends!
Robot roll call:
Cambot! (You're on!)
Gypsy!/Gypsum! (Oh, my stars!)
Tom Servo! (Check me out!)
Crooooow! (I'm different!)
If you're wondering how he eats and breathes
And other science facts (La la la!)
Then repeat to yourself, "It's just a show
I should really just relax"
For Mystery Science Theater 3000!
Due to COVID-19 regulations, the fourth season went into remote shooting temporarily, with riffs still being recorded together. The fifth season will go back to the standard procedure, with fewer staff members.

There is also a spin-off called Live from Deep 13, which is a talk show hosted by Beaulieu in-character as Dr. Forrester and premiered on the same day as the revival (April 14, 2017).
There was a "Complete Series" release in 2008 to commemorate the 20th anniversary of the show, featuring every episode of the series (including films that couldn't be seen on home video releases due to rights issues, as well as all of the KTMA episodes, including Star Force: Fugitive Alien II, the third film used in the KTMA era). Sets of discs were sold individually, along with a shelf resembling the MST3K logo. It was re-released on UltraStorage Disc in 2013, with every episode stored on a single disc; the disc box itself is sold inside a MST3K logo-shaped tin with a book covering the show's history, as well as action figures of the human hosts, Crow, Tom, Gypsy/Gypsum, and Cambot, and the Mads.
Pac-Man franchise
With Johnson taking control of Bandai Namco in 2007, Ghostly Adventures and anything connected to it never happened. A different television series aired from 2013 to 2020.
Johnson made a move seen as "daring" in that the genders of Blinky, Pinky, and Inky were made ambiguous alongside the children of Pac-Man and Ms. Pac Man, with Pinky and Baby Pac-Man having their "feminine" characteristics removed. (Clyde is still male, while Sue is still female).
Pepé Le Pew
At Tim's request, Pepé Le Pew was not cut from Space Jam: A New Legacy, as he felt that "people were fine with him, antiquated stereotype as he is, for over 70 years" and added that "what are the odds any real-life rape case, in the mainstream media or otherwise, was caused by, I don't know, just watching some old Pepé cartoons?". He also pointed out the times that his love interest, Penelope Pussycat, hugged Pepé, including productions such as Bah, Humduck! A Looney Tunes Christmas.
Power Rangers
Because Japan is part of the United States, the Power Rangers franchise does not exist. Super Sentai still exists, though it is known as Super Squadron, with all series broadcast on both sides of the Pacific the exact same way, in English on the Fox network since 1994 (WBC before then), uncut (though the Japanese audio and name is used for Japanese-speaking stations). This means that the Japanese cultural differences from the American mainland are still present in mainland airings, as is the violence, the sillier aspects, and the dark storylines compared to the more "hip and radical" Power Rangers of OTL.
In addition, each show's titles are entirely in English. For example, Kyōryū Sentai Zyuranger became Dinosaur Squadron Zyuranger.
Plants vs. Zombies franchise
Since Johnson bought PopCap in 2011, sweeping changes came to the franchise:
PVZ2 had no microtransactions, being vastly different from OTL, while the art style is still the same as OTL.
Tim kept George Fan at PopCap, and he is still involved with the franchise, and Octogeddon is made by PopCap.
Battle for Neighborville is drastically different, being called Garden Warfare III, and using the GW2 art style and featuring the Heroes alongside the variants.
Speaking of which, PVZ Heroes has more Heroes including GW Plants.
The animated PVZ movie was not canceled and is set for a November 2022 release date. PVZ Online and All Stars are still playable and All Stars was released on Android as Plants vs. Zombies: Champions.
Thanks to Johnson's ownership, this show has seen many changes:
After Bob Barker's 2007 retirement, Todd Newton was selected as the host starting in Season 36. Randy West also took over for Rod Roddy as the announcer after Roddy's 2003 death, beginning in March 2004.

Newton still hosts Family Game Night on The Hub (which still runs to this day) ITTL.

The set for the Newton era is very similar to the Barker set, but with a modern twist:

The curtains still retain their 2011 designs with the logo signs using a physically-spinning dollar sign as they currently do IOTL (the logo is displayed on a price tag on those signs).
Home Base is the same one from the Barker era (since 2015, the two panels next to the turntable itself are large video screens used for displaying trips and game graphics).
Instead of the checkerboard pattern, the Big Doors had a sunburst pattern similar to the 2002-2006 doors, though the colors are the same. Also, since 2012, the doors were redesigned with the logo placed in a circle; one door panel fits into the other. The light sections change colors depending on the game and/or theme week. Starting in 2021, the doors were made white as a nod to their pre-2002 appearances.
The Giant Price Tag was still redesigned ITTL, but uses the Newton door pattern rather the OTL Carey one from Season 36, and the Big Cover still uses the design from Drew Carey's early seasons ITTL (albeit with Newton's name instead).
The current Contestant's Row displays are the same as IOTL. The displays also continued using the 2002-07 colors in Seasons 36 and 37.
The announcer's lectern was still redesigned in 2015 ITTL.

The show has continued using the Barker-era logo; it has been rendered in 3D since 2009, and changed to its current appearance in 2013.
The Big Wheel from the Showcase Showdown still uses the 1988-2008 design, and the Showcase lecterns still use the OTL 2013 props.
Trip skins are still used.
Since Mike Richards was never hired, models Lanisha Cole, Shane Stirling, and Brandi Cochran, producer Roger Dobokowitz and several other longtime employees, and director Rich DiPirro are all still present.
Janice Pennington remained a model on the show until retiring after Season 45 in 2017, while Kathleen Bradley is still a model as well.
As of 2021, the current model lineup is as follows: Holly Hallstrom (who wasn't terminated ITTL due to Johnson keeping an eye on Bob Barker after his affair with Dian Parkinson), Kathleen Bradley, Lisa Stahl, Brandi Cochran, Shane Stirling, Lanisha Cole, Rachel Reynolds, Amber Lancaster, Manuela Arbeláez, Amanda Shiflett, James O'Halloran, Devin Goda, and Alexis Gaube.
Many of the games have had some differences:

Make Your Mark (formerly Barker's Markers) and Credit Card are still present, while all five pricing games planned to be introduced in the Season 37 premiere week debuted as planned (including Gas Money and Do the Math).
Give or Keep, Penny Ante (though To the Penny was still introduced with a different format), and Time is Money (same as OTL) were all brought back.
The $50,000 sign for Plinko wasn't retired or destroyed, and was refreshed along with the main prop in 2010.
Clock Game was still redesigned in 2014, except its current design is similar to the one from the 2022 Croatian version.
Bargain Game (formerly Barker's Bargain Bar) was not put on hiatus, and the old prop is still used with the new name. Make Your Mark (formerly Barker's Markers) is still present as well.
Grand Game still uses the 1980 logo.
Ten Chances still has its original design, while Any Number still uses the 1986-2010 board.
Joker is still present, albeit with a different design introduced in 2007 (similar to the 2009 French version) and a $1,000 bonus for getting all the prices correct.
Money Game has had a darker shade of blue since 2009 to make it look less like it came from 1991.
Pick-A-Number was redesigned in 2011, resembling a cross between the UK Bruce Forsyth and 2019 Argentinean versions.
Push Over's current design retains the hands on the logo.
The current 3 Strikes design introduced in 2019 still has the Broadway font for the number displays, and the baseball illustration introduced in 1982 is still in use with a white outline.
Many older game props still use the old displays.

The 1972 theme song and 1979 "Come on Down!" theme are still used, with the 2007 arrangements being used for primetime shows. Many older cues such as "Bean Stalker" and "Lottery" are also still used, as is the 30th Anniversary Special and Million Dollar Spectacular opening theme for primetime shows.
College Rivals weeks have a different format that doesn't encourage cheating, while the all-Plinko episode of January 4, 2013 had just one playing of the game for $350,000 and used it as part of the Showcase reveals.
The show is still shot live-to-tape.
The show continued using the 2008 light border until 2010, when a new one was introduced, which is the same as the OTL Season 39 version. Aside from that, the light borders are the same, but without the spinning dollar signs introduced in Season 42; the current one introduced in Season 45 is more traditional.
Million Dollar Spectaculars are still produced for sweeps months (November, February, May, and July).
The Price is Right at Night has higher-end prizes, as well as additional touches on the set such as a black floor, and Newton, West, and both male models (James O'Halloran and Devin Goda) in tuxedos.
The 1994 syndicated version with Doug Davidson was still produced ITTL, and still ended after 16 weeks.
Progressbar95
As Spooky House is owned by Johnson, the game is more fleshed-out.
There is an additional line of systems called Progdatum, based on Mandatum.
There are also various kinds of Progux and PBD (parodies of Linux and BSD) systems.
There are also mobile operating systems within the game: Gynoid (parody of Android) and pOS (parody of iOS).
Ralph Breaks the Internet
There are a lot of differences from the OTL version:
The film is called "Ralph Wrecks the Internet", as Tim felt that naming it after the "Breaks the Internet" meme would make it dated, as well as making the title a fitting pun.
The film has significantly less product placement outside of video games. Notably, the only websites with product placement are eBay, YouTube, and a handful of other sites.
The Felix and Calhoun subplot wasn't removed.
Ralph, Vanellope, and the Sugar Rush racers all retain their original personalities. Gloyd (Tom Kenny), Swizzle (Phil LaMarr), Minty (Lauren Tom), Adorabeezle (Hynden Walch), Crumbelina (Kate Higgins, replacing Cymbre Walk), Jubileena (Melissa Villaseñor, replacing Josie Trinidad), and Snowanna (Gabrielle Union) all have speaking roles as well, as do some of their recolors (in-universe, the recolors use the same voice clips as the original racers in-game, albeit higher-pitched; Torvald, a recolor of Minty, has a lower-pitched voice instead).
In addition to Ralph and Vanellope, Rancis also joins them, a major conflict being Vanellope being torn between Slaughter Race and her budding romance with Rancis.
For the Japanese-language dub, Minty Zaki is replaced with Minty Sakura like in the first film; Sakura's voice actress is Aika Kobayashi.
No attempts at being relevant with 2017-18 meme culture. For example, Ralph never flosses at any point in the film, and Yesss has the name Kira. Meme culture, in fact, is mercilessly mocked.
Far less mean-spirited moments.
All plot holes are tied up.
A vastly different plot. Notably, Vanellope never goes Turbo to hang out at Slaughter Race in the end, instead choosing to stay in Sugar Rush and pursue a relationship with Rancis.
It does not use the misunderstanding trope.
The third act is much better and doesn't reference King Kong.
More scenes at the arcade; it's also shown how it connects to the internet and how Litwak's Arcade is struggling to stay relevant in the age of home video games. It also shows how Sugar Rush is likely to become an online console game while Ralph is stuck in Fix-It Felix Jr.
The scene in which Ralph gets insulted by a bunch of commenters doesn't exist.
Ralph's actions towards Vanellope aren't mean-spirited.
Characters from Johnson properties such as Ludicrous Limericks, Detective Jenny, Monster World, Star Pirates, WBC's Sgt. Frog, and Hyperdimension Neptunia: The Space War appear, with Dana Snyder, Tara Strong, Alanna Ubach, Spike Spencer, Tiffany Grant, Michelle Ruff, Caitlin Glass, Richard Steven Horvitz, Melissa Fahn, Erin Fitzgerald, and Morgan Berry reprising their respective roles as Chocodile, Jenny, Makayla, Shinji, Asuka, Rei, Hikari, Keroro, Neptune, Noire, and Linda. Likewise, IPs from other Johnson-owned companies such as Chuck E. Cheese, The Rock-afire Explosion, K-On!, Fraggle Rock, Barney & Friends, Scooby-Doo, Mega Man, Mighty No. 9, The Muppets, Richie Rich, Thomas the Tank Engine, My Little Pony, The Transformers, Rocky & Bullwinkle, Ed Edd n Eddy and The Powerpuff Girls appear, with Aaron Fechter, Duncan Brannan, Jaret Reddick, Stephanie Sheh, John Tartaglia, Frank Welker, Bryce Papenbrook, Yuri Lowenthal, Steve Whitmire, Katie Leigh, John Hasler, Ashleigh Ball, June Foray, Peter Cullen, Matt Hill, Cathy Cavadini, Strong, and E.G. Daily reprising their respective roles as Billy Bob and Looney Bird, Chuck E. and Barney, Crusty, Yui, Gobo, Scooby, Rock, Beck, Kermit, Richie Rich, Thomas, Rainbow Dash, Optimus Prime, Rocky, Ed, Blossom, Bubbles, and Buttercup, with Eric Bauza voicing Bullwinkle for the first time as well.
Mario appears in the film as originally planned, with Charles Martinet reprising his role from the games.
Buzz also uses his design from the Toy Story films, and Tim Allen was brought in to reprise his role instead of using a voice clip from Toy Story. Vin Diesel was also brought in to reprise Groot.
Snow White was voiced by her regular voice actress Katherine Von Till instead of Pamela Ribon,
The Ninja Turtles appear in the arcade scenes with their 1980s actors reprising their roles.
The "Oh My Disney" scene is not used to advertise Disney products.
Much like in the first film, Sonic is voiced by Ryan Drummond instead of Roger Craig Smith.
This would end up being June Foray's final performance as Rocky; the film was dedicated in her memory.
Raya and the Last Dragon
The series was revived in 2014 with host LeVar Burton returning and executive producing with Tim.
Red Dead Redemption 2
The game has several key differences from OTL:
San Francisco and New York City are referred to as San Fierro and Liberty City, respectively, to maintain consistency with the GTA HD Universe.
The honor system is absent, and the OTL ending where Arthur goes back for John and dies of tuberculosis while looking at the sunrise is the only ending. Tim found the honor system "too restricting", adding "I want to be able to cause mass chaos in the Ol' West without having to worry about which ending I get; GTA V at least gives you a choice of endings, while RDR2, with an honor system, would basically railroad you into bad endings just for being a western Trevor Philips".
Rather than playing as John in the Epilogue, the player instead plays as Sadie Adler, as Tim believed she was more interesting.
Upon learning that Abigail has left John for being a "storybook hero", Sadie calls her out on her hypocrisy, accusing her of being perfectly willing to let innocent people get killed if it means she gets to live a normal life, going as far as to directly compare her to Dutch.
Trains can be driven outside of "The Course of True Love V".
There were several differences, mainly due to Johnson's support of the band (as well as acquiring Creative Engineering in 1996) and its creator, Aaron Fechter, being a better person in general:
The New Rock-afire Explosion used pneumatics for the eyes rather than servos. Billy Bob, Mitzi and Dook also retained their outfits from the original. Also, it was more stable than IOTL due to Johnson assisting CEI with its creation. Finally, Rolfe and Earl replaced the TV side, with Rolfe's animatronic being the same height as Dook.
The game Rock-afire Replay was never taken down ITTL, and was endorsed by Creative Engineering.
The show at the Volo Auto Museum is not only on display, but is playing old shows.
The band returned to ShowBiz Pizza Place in 2015 with Mitzi's daughter Mitzi Jr. replacing her; Mitzi Sr. appears as a guest character in several shows.
In November 2016, the second-generation animatronics were completed and introduced.
Rocky and Bullwinkle franchise
As Johnson acquired the rights in 1973, starting with Johnson producing new episodes, the franchise was very different ITTL:
A new series called The Rocky Show ran from 1973 to 1978.
The 2014 Mr. Peabody and Sherman film was animated by Rainmaker Entertainment instead of PDI/DreamWorks.
The show still airs reruns today, namely on Boomerang Midnight Run; Johnson would later buy Jay Ward Productions, which was then absorbed into Johnson Cartoon Studios.
The 2000 film and 2018 reboot still exist. The 2018 reboot is called The Brand-New Adventures of Bullwinkle and Rocky, so it wouldn't be confused with the original's current title, the art style is a mix between the original and a completely different art style, Rocky and Bullwinkle themselves look like how they did in the original, Fearless Leader, Boris and Natasha all have new designs, and the show is not connected to the Mr. Peabody and Sherman film.
The Mr. Peabody and Sherman Show is simply called Mr. Peabody and Sherman; the series is CGI-animated to make it distinct from The New Adventures of Bullwinkle and Rocky, while Ty Burrell reprises Mr. Peabody from the film.
The Dudley Do-Right film does not exist.
Mr. Peabody and Sherman (2014)
With DreamWorks not involved, there are some differences.
Roseanne
The Roseanne revival still airs on ABC due to Tim refusing to fire Roseanne Barr over her tweets. This also means The Conners doesn't exist.
Rugrats (2021)
Tim himself suggested several changes to creators Arlene Klasky and Gábor Csupó.
All the adults (except for Stu, Randy, and Lucy, who are still voiced by Thomas Dewey, Omar Benson Miller, and Nicole Byer due to the deaths of original voice actors Jack Riley, Ron Glass, and Cheryl Carter, respectively) are voiced by their original or replacement actors, including Melanie Chartoff as Didi, Michael Bell as Chas and Drew, Joe Alaskey as Grandpa Lou (who is portrayed as a grumpy, sharp-witted military veteran as in the original series rather than as a hippie), Tress MacNeille as Charlotte, and Kath Soucie as Betty. Riley, Glass, and Carter's voices as their characters were resurrected using VoxMutatio, as was Tony Jay's voice as Dr. Lipschitz. Late in production, the decision was made to use VoxMutatio to resurrect the voice of Christine Cavanaugh (the original voice of Chuckie).
Betty is not depicted as a lesbian. Tim stated that "that's not a good way to add representation", and that "it's overly stereotypical at this point to make the most manly and feminist mother into a lesbian". A new character was added to fill that role. This also means that Betty's husband Howard (voiced by Phil Proctor) appears in the series.
The series is 2D-animated as in the original.
Saints Row franchise
With Johnson owning Volition, the franchise has seen many changes:
The games were all published by Johnson Games rather than THQ (in the first three games) or Deep Silver (in the fourth game and reboot).
The PC port of 2 was done by Johnson Games, and as a result, is much better. The Ultor Exposed and Corporate Warfare DLCs were released as expansion packs.
The first two games were completely rebuilt from the ground up and released alongside the remastered version of 3 in 2020. Many features were changed as well, such as the addition of checkpoints and restarting missions in the first game, the ability to make Playa a female in the first game with new clothing choices for both genders, with rerecorded and/or altered dialogue to accommodate this, and new physics in-line with The Third and onwards. There are also more clothing options and vehicles than the original. One addition is the use of Saint notoriety in "Green With Envy" and "3rd Street Vice Kings", along with Ultor notoriety in 2.

Saints Row: The Third

is closer to 2 in terms of customization (though the walking style is now extended to Playa's movement in cutscenes, and their lines are different in both cutscenes and in-game depending on the selected voice), in-game time, etc. It also has even more differences:

The logo is the same one used in the 2009 prototype; the game itself is simply called Saints Row 3.
The range of clothing in the game is expanded; 3 adds vests, dresses, overalls, shortalls, and jumpsuits, and the length of the legs or sleeves can be expanded or shortened. Stores such as Sloppy Seconds and On the Rag also survive.
Steelport is also much more lively and explorable, with more details and easter eggs, and a lack of copy-and-pasted buildings. Buildings can also be destroyed, a feature later expanded upon in Grand Theft Auto VI.
The game in general retains the more realistic, gangster tone of the first two games rather than the Saints becoming celebrities, along with a greater balance between serious and comedic tones as in 2. Its jokes also don't involve nearly as much sex or toilet humor.
The gangs are much different, though they're still connected to the Syndicate; these include the Killbane Company (a front for a drug cartel led by Killbane and Angel; the former is a retired American pro wrestler, while the latter is a former luchadore, and Killbane is voiced by Hulk Hogan, while Angel is voiced by Rick D. Wasserman) and the Miller Crime Family (replacing the hacker gang ITTL; Kinzie is a former member of said gang).
More cartoony characters such as Zimos and Oleg are more realistic.
Gat remains alive throughout the whole game.
Dex appears in the game as the true leader of the Syndicate, using the Saints as a pawn to destroy the Syndicate so he can take over, as well as having the Steelport Police Department on his pocket; the final mission (titled "From the Ashes") has Playa killing Dex on top of the Syndicate tower after a high-speed chase.
Food items are also still present, available from Freckle Bitch's, Charred Hard Burgers, Lik-a-Chik, Apollo's, Phuc Mi Phuc Yue, and Company of Gyros.
STAG is completely absent, as Tim deemed the satire of militarized police "too on-the-nose". Monica Hughes instead partners with the Syndicate.
Killing Angel also changes the course of the game drastically.
The story missions do not include recycled diversions.
There is no homie hostility in the game.
Kiki also betrays the Syndicate rather than Viola, who is killed off instead. Kiki was going to be killed off, but this was changed due to Tim feeling that Kiki would be a more interesting defector than Viola, being more dominant and unintimidated by Killbane. Ex-porn star Sasha Grey voices Kiki instead of Viola, as a result.
Shaundi also retains her stoner personality from 2, and is still voiced by Eliza Dushku. The Shaundi from the OTL version is instead named Mia, and is Shaundi's older sister.
The Hunters in Professor Genki's Super Ethical Reality Climax are much easier to kill than the ones deployed by the Syndicate.
Zach and Bobby refer to Playa as "they" or "them". This also continues to 4.
Using cheats does not disable autosaving.

Saints Row IV

is also much different (aside from using the Arabic numeral 4 instead of the Roman IV):

Rather than Playa becoming President and the world being destroyed by aliens (which is instead an in-universe film involved in a string of missions), the Saints decide to expand to the beach town of Stagchester, Florida. The game also takes place two years after the events of the third game.
The rival gangs include

Released in 2018,

Saints Row 5

is set five years after 4, and takes place in another new city: Swanson, Texas. The Saints, having fallen on hard times, are forced out of Stilwater after a new, corrupt mayor pledges to push them out once and for all; they also lose their territory in Steelport and Stagchester as a result of stronger gangs coming in, along with the Saints splintering into different, warring factions. The only members of the Saints at this point are Playa, Gat, Shaundi, Pierce, Kinzie, Kiki, Mia, and a few other members.

The sixth game

(which is made instead of the reboot) will feature many differences (though the setting is the same): for one, the game will continue the gangster theming, characters, and continuity (it takes place one year after 5), while place names such as Freckle Bitch's (which became FB's) and Rim Jobs (which became Jim Rob's) are still intact, the Saints themselves are still gangsters rather than hipsters, and their color is still purple instead of teal (which is instead part of the logo).
Scooby-Doo! franchise
Thanks to Johnson's ownership of the franchise following their acquisition of Hanna-Barbera, there are several differences compared to OTL:
A Pup Named Scooby-Doo!, What's New Scooby-Doo?, Scooby Doo: Mystery Incorporated, and Scooby-Doo and Guess Who? still exist. Shaggy & Scooby-Doo Get a Clue! and Be Cool, Scooby-Doo! do not.
The first two live-action films still exist, but are very different (the third doesn't exist), as is Scoob! (as detailed below).
There are many differences to the Scooby-Doo! specials and direct-to-video films.
Scrappy-Doo is still present in Mystery Inc. and is still shown in many Scooby-Doo projects, as Sheldon wanted to fully develop the character, having disliked how overused he was in the 1980s at the expense of Fred, Velma and Daphne. He was still voiced by Don Messick until his 1996 retirement, after which he was replaced by Frank Welker, who has voiced him ever since along with Fred and (since 2002) Scooby; Welker previously auditioned for the character in 1979.
Velma was never stated as gay, the latter being vetoed by Tim as he felt that doing so "would make Bill (Hanna), Joe (Barbera), and Fred (Silverman) all roll frantically in their graves, as well as being a completely illegimiate statement that tries shoehorning politics into a franchise that's survived without them for literally half a century"; Tim also pointed out that Velma has had male love interests such as Shaggy over the years.
The film is distributed by Johnson Studios instead of Warner Bros. Pictures due to Johnson owning Hanna-Barbera. Due to Johnson's ownership of the IP, Scoob! is almost completely different:
The voice actors for the Mystery Gang (Matthew Lillard as Shaggy, Grey Griffin as Daphne, Kate Micucci as Velma, and Frank Welker as Fred) reprise their roles with the celebrity cast voicing other characters (the main actors also receive top billing on the poster). The Mystery Gang also retain their classic designs.
Little-to-no teen slang, pop-culture references, or mentions of real-world products.
It also has a more mystery solving-focused plot with better pacing and heavily focuses on being a Scooby-Doo origin story, with the Hanna-Barbera references showing that they live in a cinematic universe (the only non-Scooby-Doo characters shown are Blue Falcon and Dynomutt, who only appear in a post-credits scene to set up that cinematic universe; he is also voiced by George Lowe instead of Mark Wahlberg, while Welker reprises his role as Dynomutt).
The "toxic masculinity" line said by Velma does not exist.
Simon Cowell has a more cartoony design, and he isn't the unmasked villain.
Scooby keeps his distinctive speech pattern due to voice directors being required to let Frank Welker use Scooby's "dog accent".
One scene shows non-speaking cameos from the original voice actors for the Mystery Gang (Welker, Casey Kasem, Indira Stefanianna, Nicole Jaffe, and Don Messick) as an easter egg, wearing clothes colored like the characters they voiced.
Scrappy-Doo is also present, as stated above.
Scoob! Holiday Haunt was also NOT canceled.
Seasons 5-8 of Game of Thrones
For the fifth season of Game of Thrones,
Sesame Street
With the show's move to HBO for Season 46, Tim took personal control of the show, and many changes happened:
The show remains at 60 minutes on HBO airings (though PBS airings condense it to 30 minutes). The season also aired from 2015 to 2016 and consists of 65 episodes (each season since then consists of 65 episodes as well) rather than 35.
The classic 1969-1992 opening and closing themes were reinstated, as were the Funky Chimes for the also-reinstated "Coming Soon" bumpers (Tim stated "I don't care how 70s the Funky Chimes sound, they're my f*cking jam, pardon my language"). The credits are a shot-for-shot remake of the credits sequence used between Seasons 11 and 23.
The set design (aside from Hooper's Store, the garage's conversion into a community center, the addition of the newsstand, and the garden area) has remained the same since Season 40.
Classic skits were also reinstated for the first time since Season 39. Animated skits were recreated in widescreen. A few skits that Tim deemed "dated" or "intense" weren't reinstated, including:

A Season 1 skit where Kermit yells at Cookie Monster and makes him cry, as Tim thought it was uncharacteristically mean for Kermit
All of the Lefty sketches, due to the implication of Sesame Street having a criminal underworld
All of the Deena and Pearl sketches, which Tim called "grating"
A Season 1 sketch where a proto-Grover engaged in civil disobedience
Anything with material that could be construed as racist or promoting pedophilia; the Roosevelt Franklin sketches were not considered racist by Tim and reinstated
Anything with outdated science or geography, including all references to the Communist bloc or the Cold War

There are less appearances of Abby Cadabby, particularly with Elmo; Zoe begins to make more appearances.
The revived Elmo's World was made into a separate series on Sprout. The episodes also capture the feel of the classic 1998-2009 skits, though with a slightly modern twist. In some episodes, rather than recounting the experiences of one of his friends, Elmo instead shows a clip from his favorite show or movie that ties into the episode's theme; for example, "Robots" shows the first segment of the Transformers pilot episode "More Than Meets the Eye, Part 1", while "Space" shows the entirety of the Battle of Yavin from the 2017 edit of A New Hope.
The street scenes are still more mature in style, and still feature parodies (including Monsterpiece Theater) and other characters. As a result, Joey Mazzarino never left the show.
Bob, Luis (until the death of his actor, Emilio Delgado, in 2022), Gina, Gordon, and Susan were never retired from the show. Following Delgado's death, it was announced that an episode in the same vein as the famous 1983 Mr. Hooper episode will be made.
As said above, Kermit became a regular on the show again in Season 45. Certain Elmo's World episodes also featured additional non-Sesame Street characters (both from the Muppets and other Johnson projects): "Comedy" features Fozzie Bear (with Statler and Waldorf having somehow set up a balcony within Elmo's World just to heckle him; Richard Hunt and Bill Barretta reprised their respective roles from modern Muppet projects), "Pigs" features Miss Piggy (both Piggy and Fozzie were performed by Frank Oz for the first time since 2002 and 2000, respectively), "Dogs" features Rowlf the Dog (Bill Barretta), "Construction" features a group of Doozers led by Cotterpin (Kathryn Mullen), "Bears" features Bear from Bear in the Big Blue House (Noel MacNeal), "Mice" features Tutter (Peter Linz), "Fun" features Gobo, Red, and Boober Fraggle (Jerry Nelson, Karen Prell, and Dave Goelz, respectively), "Daredevils" features Gonzo (Goelz), "Detectives" features Jenny and Makayla from Detective Jenny (who have absolutely no idea why they agreed to appear on Elmo's World; both are portrayed using traditional animation and trying very hard not to give into temptation and trash the entire set), "Monster" features Rei from Monster World (who also tries to restrain herself from destroying the set, only to do so during the ending when she finds Elmo's "Monster Song" to be too juvenile for her to tolerate, getting crayon dust all over her as a result, so she resorts to pulling out her blaster and opening fire as Shinji and Asuka appear from behind the camera to restrain her), and "America" features Sam the Eagle (also Oz) alongside former president Barack Obama (whose very presence makes Sam faint).
The show only ever partnered with the Autistic Self-Advocacy Network, not Autism Speaks, a group the Johnsons are vocal critics of.
Caroll Spinney's final performance as Big Bird and Oscar in Season 50 was not dubbed over, as Tim felt that "it would be tasteless".
As stated in the "People" section, Northern Calloway is still on the show as David.
The Simpsons and Family Guy
After Johnson's acquisition of 20th Century Fox and the Fox network, Tim announced in a press conference on July 1, 2019 that, after a few months of negotiations with the Fox network, both shows would cease production after their 35th and 23rd seasons (which will air in the 2023-2024 television season) respectively, as he felt that they "long overstayed their welcome, and they definitely need to die with dignity", admitting that he had to "pull some strings with the Fox execs just so they can finally go out with a bang, not a whimper".
Tim has famously eviscerated the modern seasons of Family Guy on an episode of Fireside Chat with Tim Johnson that aired on January 27, 2019, ending with a prerecorded clip of him destroying replicas of the Volume Seven to Volume Sixteen DVD box sets with a flamethrower out on the Johnson Studios lot; during that press conference, the full clip was played:
"These modern seasons are the result of a once-clever show having been reduced to a cruel shell that would've gone on the Western Animation section of the 'So Bad, It's Horrible' page on TV Tropes had it not been for the first four seasons and the fact that it somehow still has a fanbase; renewing the series in the first place wound up being a mistake as it stayed clever for a moment before it became this cruel charade. Seth MacFarlane, if you're watching, I know Fox is clearly keeping this for the cash. And it's clear you gave up ever since Fox aired those episodes right under your nose. You still have the option to veto scripts, and honestly, I can't blame you for approving such number-two episodes. The entire show has been bad for as long as I can remember, and I don't want you to have a place in history as the man who created the definitive show that went bad, and yes, I have given it this dubious honor, not The Simpsons. It's also clear you and the writers are deliberately trying to destroy the show so it wouldn't get renewed, but Fox foils their plans every time, creating a "Springtime for Hitler" situation. Let's look at it: character derailment, which was most egregiously done to Brian, who was killed off for two episodes as part of a nasty ratings trap, then brought back, and guess what? He's gotten even worse! Speaking of which, one of the writers' key ingredients for these mediocre-at-best and rancid-at-worst scripts is contempt for the audience. You know, the very same audience that made the show popular in the first place! Tons of product placement and disgusting attempts at shock humor are abound too, but these two points are the most significant. The first four seasons are some of the funniest content I've ever seen. The rest of them, aside from the occasional good episode? Only for masochists."
In another episode that aired on August 22 of that year, Tim made a somewhat more subdued rant against the modern seasons of The Simpsons. In fact, this rant was cited as one of the reasons he and Chloe decided to take control of the series:
"Now I'll have to go on a rant here because, after all, this is the 30th anniversary, so let's lay our cards on the table. The Simpsons is a show that, of the show's seemingly impressive thirty seasons, only the first third and a scattering of episodes after that are actually worth watching; the rest are only for completionists, and here's why: all the good writers and artists made the exodus to Futurama or other projects, including Bill Oakley, Josh Weinstein, Ken Keeler, David X. Cohen, and even Matt Groening himself, who's no longer nearly as involved in the show as he was in another time, severe flanderizations, to the point of even being the trope namer, lazier animation and character movements, entire seasons without hits, humor that ranges from halfway decent to god-awful, terrible choices for guest stars, who are no longer to be mocked, apparently, but promoted shamelessly, and poor attempts at handling social issues, with "Bart vs. Itchy and Scratchy" being the worst offender in that category; not only does this best exemplify the phrase 'get woke, go broke' what with its attempts at catering to feminists and SJWs, but fails at even appealing to the most hardcore of liberals like myself, and the only episode I know of that's even worse is "Lisa Goes Gaga". Speaking of "Lisa Goes Gaga", that episode is literally the flagbearer for two thirds of the entire series, featuring nonsense on top of nonsense, so many plot holes, terrible singing, probably the result of poor direction, and the fact that it's literally a Lady Gaga advertisement stretched to 22 minutes. Even the couch gag, usually the best part of most of those two thirds, is really confusing. And I thought "The Regina Monologues", which managed to do the impossable and insult most of the United Kingdom, was the worst Simpsons episode before I saw this; it makes that look like both "The Principal and the Pauper", which despite arguably starting the series' decline depending on who you ask, is still a good episode, and "Mr. Plow", which is one of the best episodes of not just the show, but any animated show that aired in the 90s, in comparison. I'm sorry, but if you somehow, SOMEHOW managed to make an episode that makes me compare it to 2 episodes from the first nine seasons of the show, that's a sure fire sign that you screwed up HORRIBLY. The only consolation in all of this is that at least it didn't go chaotically bad like Family Guy did, because at least it never stooped to lows only that show can feasibly go. And even then, that's not saying much. It's like the episode "Homie the Clown" in which Homer, as Krusty, beats up the actor playing the Krusty Burglar, and one of the shocked kids cries, 'Stop! STOP! He's already dead!'. Replace Homer with the Fox network, his punches with renewals, the Krusty Burglar actor with the series, the crying kid with the fans, and the man saying 'Krusty the Clown, everybody!' with Al Jean, and it's exactly the same scenario that's happening right now. This is exactly the kind of show that should have ended around '96-'99, and if it ended around that time, it would have had a place as one of the greatest American sitcoms ever made, if not the greatest, period. I wonder how long the modern show would have gone without the legacy of the good seasons, anyway? Probably a single season, and boom, nothing else afterwards. In short, the entire show's like a washed-up old comedian whose prime was all the way back in the 90s, and who's trying to be relevant. Check out the decline chart British producer and Simpsons fan Sol Harris made. All of it I agree with. In the end, you either die a Futurama, or you live long enough to see yourself become The Simpsons. Anyway, we'll be right back after these messages."
He and Chloe took personal control of both shows beginning in their 31st and 19th seasons, making massive changes:
Alf Clausen (the show's composer from 1990-2017) was rehired on The Simpsons, as Tim felt that "while Bleeding Fingers' score is alright, it doesn't really have the quality, depth, and range Alf provided; plus, Fox's treatment of Alf really disgusted me. Why discriminate him for his age?".
Almost the entire writing staff for these series was replaced, with only writers that Tim and Chloe saw as "having some potential" remaining, as he feels that "the current writers are clean out of ideas, and recently have started resorting to attempts at being hip and cool with the kids" and that he didn't want either show to "go out on a whimper" (several classic writers also returned for those shows), as well as his desire to "restore their old characterizations" (both The Simpsons and Family Guy will finish their runs on Fox rather than WBC, though several WBC-owned networks such as Freeform and Adult Swim will air reruns of those shows, and American Dad! will finish its run on TSS as well).
The animation style was reverted back to a more fluid style, as Tim wanted to "restore the fluidity to the animation", with newly-reanimated opening sequences for Family Guy and The Simpsons (Tim was dissatisfied with the current opening sequence in the former, comparing the characters' movements to "poorly-manufactured robots", and called the latter "an intro trying too hard to one-up the classic 1989 and 1990 intros, cramming in too many gags and having wildly inconsistent, almost Flash-like animation at a lot of points. I like the idea of showing more environments, easter eggs, and Sideshow Bob, but this intro best suits the modern seasons: restricted character movements and way too many attempts at gags"; he cited the part in which Marge sees Maggie in the bag as one reason why he criticized the current intro, as "it went from Marge about to call for help before giving a sigh of relief upon seeing Maggie to just a simple turn of the head, and a lack of emotion compared to the original, which had her actually concerned for her daughter's safety", as well as giving The Simpsons a cel-animated look and feel like that seen in pre-2002 episodes; its animation also reverted to being provided by Film Roman (which handled the animation from 1992 to 2016) instead of Fox Television Animation.
On Family Guy, Vinny returned as a second dog for the Griffins, with other characters getting larger roles such as Cleveland's family, the reintroduction of certain one-off characters Tim liked such as Quagmire's daughter Courtney, as well as recurring gag characters such as Johnny and Vern, Greased-Up Deaf Guy, Buzz Killington, and Holden Caulfield (the character who calls things "phony"), and the reintroduction of certain character developments that Tim felt were "wasted as they immediately go back into their old selves in the next episode even though the episodes are supposedly canon to each other" such as Glenn learning to be a better father in the episode "No Giggity, No Doubt"; the first episode of the final season, "Meet the Johnsons", sees Tim and Chloe coming to and taking Quahog to task for their abysmal treatment of Meg, while the next episode will feature, as Tim put it, "quite possibly the biggest character development the show ever had".
On The Simpsons, both Maude Flanders and Rabbi Krustofski were brought back to the show (due to Tim seeing their respective death episodes, "Alone Again, Matura-Diddily" and "Clown in the Dumps" as "attempts to toy with the audience's feelings, though not nearly as bad as what Family Guy did in 2013") in the Season 32 premiere, aptly titled "The Decline Stops Here".
The cutaway gag from the Family Guy episode "Moving Out (Brian's Song)" in which Quagmire rapes Marge and kills her and the rest of the Simpson family was also removed from home video releases and any future airings; Tim reportedly responded "what the f**k?!!" when he saw the gag.
Both shows will continue through reruns in syndication, Adult Swim, Cartoon Network's Adult Alone Time block, FXX, TSS, and Freeform. The upcoming Simpsons and Family Guy movies, to be released in 2024, will be the series finales for those shows (as an aside, there will also be a Futurama theatrical film for release in 2022).
In addition, Tim vetoed the Simpsons producers' decision to ban the episode "Stark Raving Dad" (which has Michael Jackson guest-starring as Leon Kompowsky) due to his sharp criticisms of the Leaving Neverland documentary (which, in the Johnsonverse, aired on Showtime instead of HBO due to Johnson owning the latter and Tim rejecting the idea on sight due to his support of Jackson, even calling Wade Robson and James Safechuck "a couple of crooked cheats who will gladly stoop to dirty tricks such as slander to make money at the expense of a man's legacy, ironically that of the same man Robson once defended, using a combination of slander from the 1990s and anachronisms to further their lies"; the Fireside Chat episode airing on its US release date of March 3, 2019 has Tim viciously tear into the documentary, with the quote coming from that episode, and even call its defenders "Sagi-shi ga otoko no isan o dainashi ni suru no o tasukete iru mōmoku de muchina moron" ("詐欺師が男の遺産を台無しにするのを助ける盲目で無知なモロン"), which is Japanese for "blind, ignorant morons helping scammers ruin a man's legacy"), invoking an attributed P. T. Barnum quote of "There's a sucker born every minute", and even expressing his disbelief that anyone, including celebrities such as Oprah Winfrey and corporations, would be "smoothbrained" enough to support it. The episode still airs in syndication, FXX (in the Johnsonverse, the episodes reverted to the fullscreen versions in reruns due to Tim's criticisms of the cropped episodes), and Disney+.

Also, the Spanish dub of The Simpsons is still provided by Audiomaster 3000 (which Johnson acquired in 2003), meaning Humberto Vélez is still Homer, Nancy McKenzie is still Marge, Claudia Motta is still Bart, Patricia Acevado is still Lisa, and many other actors remain in their respective roles (the only ones who don't have either retired or died).
He has also promised that their movies, and the hour-long special, which he will personally write and direct, "will not only be dedicated to all the people who made those shows great and the viewers who've wanted them canceled for so long, but there will be tons of surprises in those films".
In December 2021, a remastered version of The Simpsons: Cartoon Studio was released as The Simpsons: Cartoon Studio Remastered, with even better animations and more characters, locales, and voice acting.
Characters such as Dr. Hibbert and both Bumblebee Man and Carl are still voiced by Harry Shearer and Hank Azaria, respectively, while Azaria was allowed to step down as Apu with Kal Penn taking over the role (Mike Henry was allowed to step down from Cleveland Brown with Arif Zahir replacing him, as Tim gave the move a pass due to his approval of Zahir's Cleveland voice).
The Sims franchise
With Johnson, and not EA, owning Maxis, the franchise has seen massive changes:
The first three games are the same as OTL, along with the expansion packs and most of the console versions. The expansion packs were also released as free updates instead of being separately-sold in retail.
The fourth game has many features that were or still are missing in our timeline.
The fifth game,

The Sims 5

, was released in 2019.
Snyderverse
Tim convinced Warner Bros. to take a hands-off approach to both Batman v. Superman: Dawn of Justice and Justice League; the latter was pushed back to November 10, 2018 due to director Zack Snyder mourning his daughter Autumn, and Joss Whedon wasn't brought in to do reshoots, while principal photography ended in April 2018. Justice League is just like Zack Snyder's Justice League IOTL, except with Superman having a mullet and a beard to go with his black suit, which also doesn't have a cape, as well as an intermission between ZSJL Chapters 4 and 5 rather than chapter cards.
Because of the success of Justice League, Snyder's planned second Justice League movie (Justice League II) was released on March 18, 2021 (the same day Zack Snyder's Justice League was released IOTL) on Warner Max, while Justice League III will be released on July 14, 2022. This also means that DC Extended Universe movies released after Justice League are based on the Snyder version rather than Whedon's. Suicide Squad never received executive meddling, either, and was also released under director David Ayer's vision; Birds of Prey is different because of this.
Batgirl also did NOT get canceled, nor did Ben Affleck's Batman film.
Sonic the Hedgehog franchise
Character designs and ages
In 2020, the characters were redesigned to make them more modern. Here is an idea of what Sonic, Tails, Knuckles, and Amy's designs look like, along with an idea of Eggman's design; Sticks' design is mostly unchanged, apart from some minor proportional changes and her eye pupils becoming a solid black. The other characters are also similarly changed.
Also, the ages for the main five are changed: Sonic is now 18, Tails is still eight, Knuckles is 17, Amy is 16, and Sticks is 14.
Sonic Colors: Ultimate
The game is far more polished, and all of the additional features from OTL are still added in this version.
Sonic Frontiers
Thanks to Johnson's ownership of Sega, there are already several key differences from the OTL version (not counting the English voice cast):
Sonic will use a new model rather than the downgraded one from Lost World and Forces that was shown in the game engine footage.
Tails, Knuckles, Amy, and Sticks will all be playable as well.
Morio Kishimoto is not involved in the game in any capacity, due to being released from the Sonic franchise after Johnson bought Sega in 2019 due to Tim's dissatisfaction with Kishimoto's work on the franchise (though he still works on other Sega games). Ian Flynn is still the game's writer, however.
The first glimpse of gameplay was also shown in December 2021.
The Chao Garden has been announced for a comeback.
Sega has also promoted the game heavily, including tie-ins with the Sonic the Hedgehog 2 film adaptation, as well as toys, apps and other merchandise.
Much better physics, which are closer to Sonic Generations.
No reused assets from Forces.
All rails are integrated more seamlessly rather than just floating.
The game will use the refreshed versions of the main characters' designs introduced in 2020.
All levels are completely original.
The series was picked up by WBC for its third season and ran until 2004, ending with a TV movie, Sonic Armageddon, in 2005.
Sonic the Hedgehog (2020)
The film is mostly the same, and the Sonic design debacle still happened. A minor difference is that Ben Schwartz (the voice of Sonic) and Tika Sumpter (who played Maddie) were added to the poster at Tim's request alongside James Marsden (Tom) and Jim Carrey (Dr. Robotnik).
Sonic the Hedgehog 2 (2022)
There are a few minor changes from OTL, all at Tim's request:
Tails gets more screentime in the film, with Tim pointing out to director Jeff Fowler that, despite the "2" in the logo being stylized after Tails, "he's more or less a third wheel compared to Sonic and Knuckles". Also, his and Sonic's brotherly bond gets more focus with additional scenes.
The wedding subplot in Hawaii is shortened significantly, with half of the waiting scenes cut and said subplot flowing much more organically; Randall also doesn't fall in love with Rachel for real, with the latter tying him to a chair next to Commander Walters. Tim felt that the wedding subplot as it was contributed little to the film other than introducing G.U.N. while slowing down its pacing. The guard's acting when Maddie tries the gadget is also much better, along with the effects used when he's lifted away. Rachel later appears in the ending, acting as an aunt-like figure to Sonic, Tails, and Knuckles, with Randall reappearing in the climax and post-credits scene.
The effects during the shots of Robotnik and Knuckles on the former's hovercraft at Siberia look better.
No fart jokes or flossing.
Some of the music cues are replaced with orchestral versions of themes from the games (for example, the logo animation is accompanied by a remix of the video game's title screen music, the snowboard scene has a hint of the Ice Cap Zone theme, and the Emerald Hill Zone remix is used in the scene where Sonic goes to Green Hills). The unused themes are instead in the soundtrack release.
The dance scene uses "Smooth Criminal" by Michael Jackson instead of "Uptown Funk", as Tim considered the former song "more fitting".
Lee Majdoub (Agent Stone) and Natasha Rothwell (Rachel) are billed on the poster, while Ben Schwartz is the first listed (Tim pointed out that "if he voices the lead and title character, he needs to be shown first").
Sonic Origins
The compilation is priced at $15 instead of $39.99, and no DRM is involved.
Sonic 3 & Knuckles uses the 2020 mobile port.
Several scrapped zones in Sonic 2 are reinstated, such as Wood Zone, Sand Shower Zone, and Cyber City Zone, as well as Egg Gauntlet Zone from the 2013 version; Desert Dazzle Zone and R2 (with a new name) are reinstated in Sonic CD.
Knuckles is playable in Sonic CD after both the Sonic and Tails campaigns have been completed. Also, Amy (whose gameplay is similar to the Advance games), Mighty, Ray (whose gameplay is similar to Sonic Mania Plus and Sonic Mania Forever) and Metal Sonic are playable as unlockables, with Shadow, Silver, Rouge, Blaze, Cream, Jet, Sally, Honey, and Sticks as DLC-exclusive characters.
Sonic Spinball, Knuckles' Chaotix, and Sonic 3D Blast (specifically, its Director's Cut version) are included, and are all remastered as well. Traveller's Tales worked on the 3D Blast remaster with director Jon Burton's supervision, and received a developer credit.
In Sonic 3 & Knuckles, players can choose between the Sonic 3 cues and the Sonic & Knuckles cues, as well as the cues used in the prototypes (though slightly more polished) and the Michael Jackson/Brad Buxer cues from the released game, instead of simply new versions of the prototype cues. Also, players can decide whether to play both games by themselves or together.
The museum coins unlock all the 8-bit games (using emulation), additional characters, interviews with past and present employees who have worked on the games, and spin-offs such as Sonic Eraser, Dr. Robotnik's Mean Bean Machine (both emulated, with Eraser translated into English; the Japanese text is an option), SegaSonic the Hedgehog (with new English voice acting and text; again, the Japanese voice acting and text remain an option), Sonic the Fighters/Sonic Championship (the 2012 version), and Sonic R (a newly remastered version by Traveller's Tales with improved controls and physics).

Also, while you can still spend coins to try again on special stages, you can only do it twice per stage.

Alongside Origins, remasters of

the first two

Sonic Adventure games, as well as

Sonic Shuffle

(with far more improved AI),

Sonic Heroes

,

Shadow the Hedgehog

(with a completely rewritten story to remove the infamous guns and profanity),

Sonic Unleashed

, and

the first two

Storybook Series games

, will be released, all bearing the Ultimate subtitle a la Sonic Colors Ultimate, and will be released later in 2022. Another compilation will also be released on the Switch (referred to as

Sonic: The Game Boy Advance Collection

) with all three Sonic Advance games, as well as Sonic Battle and Sonic Pinball Party, and Sonic Pocket Adventure as an unlockable (all emulated), as will another compilation titled

Sonic's DS and 3DS Classics

, containing remastered versions of both Sonic Rush games along with the DS version of Colors, the 3DS versions of Generations and Lost World, Sonic Chronicles, and the two Rivals games (all using specially-created emulators). Another compilation will also be released (

The Sonic Riders Trilogy

) containing all three Riders games, with the first two games getting enhancements from fan projects like DX and Tournament Edition for the first game, and Regravitified for Zero Gravity, with Free Riders given normal controls. All these compilations will be released throughout 2022.
The original versions of the games were not delisted from Steam.
The Mania dropdash code is used in all the games, not just 3&K.
None of the bugs from OTL exist, and no crunch was involved in its development. Also, Sega did not alter the game's state without notifying the developers.
The physical version was released alongside the digital one.
Sonic Prime
The series is being produced by a new branch of Marza Animation Planet in California; as a result, the established voice actors from the games will be used.
Voice cast
After Johnson acquired 4Kids Entertainment (now 4K Entertainment) in 2008, their contract with Sega was renewed, and as a result, most of the 4Kids voice actors are still voicing their characters in the Sonic series.
Starting in 2010 with Sonic Colors and Sonic Free Riders, Ryan Drummond returned to the role of Sonic due to joining 4Kids' newly acquired Studiopolis branch (now 4K Studiopolis) in 2009 after the company gave him a union contract, though Jason Griffith is still the voice of Shadow. This also means that Sonic Generations featured the planned "Dreamcast Sonic" (spanning 1998-2004); E-123 Omega is once again voiced by Jon St. John as well.
In addition, the cast reprised their roles in Sonic Boom (Sticks was still voiced by Nika Futterman, however).
Amy Palant was replaced as Tails by Colleen O'Shaughnessey starting in Sonic Colors (as an aside, ITTL O'Shaughnessey received billing in the February 2022 Sonic the Hedgehog 2 movie poster immediately at Tim's request, as he believes that voice actors are as important as live ones).
Kathleen Delaney was also still replaced as Rouge by Karen Strassman in 2010 as IOTL, as Tim felt that Delaney "got the 'seductive' part right, but sounded at least three times Rouge's age".
Likewise, Rebecca Honig's portrayal of Cream is also changed in that game, sounding much closer to Michelle Ruff's portrayal IOTL.
Orbot and Cubot are still voiced by Kirk Thornton and Wally Wingert (an officially-sanctioned Sonic guide released on June 1, 2020, entitled Sonic's Way Past Cool Encyclopedia, explained that Orbot's incarnation in Sonic Unleashed, voiced by Chris Collet, was actually a prototype called SA-55, though he was given the fan nickname "Ergo" by the other robots).
Song of the South
When Johnson acquired Disney in 2013, one of the first things Tim did was commission a full restoration of the movie for its 70th anniversary release in 2016, as he considered the ban on it "outright censorship"; the film is also on Disney+, and there is a disclaimer in the beginning, stating "This film includes negative depictions and/or mistreatment of people or cultures. These stereotypes were wrong then and are wrong now. Rather than remove this content, we want to acknowledge its harmful impact, learn from it and spark conversation to create a more inclusive future together". The Splash Mountain attraction in the Disney parks was never altered outside of long-awaited maintenance.
With the series airing on Adult Swim, as Johnson wanted G4 to focus solely on gaming (as an aside, Code Monkeys, the series it replaced, ran until 2016), Sheldon Johnson, Jr. encouraged creators Mel Brooks and Thomas Meehan to make many changes after rejecting the pilot's script on sight. As a result, the show fan for six seasons between March 1, 2009 (the airdate of the series finale IOTL) and November 15, 2015. There are many, many differences:
A completely different writing team.
The theme song is still the same, but the opening sequence is different, also showing the stunt doubles for the main cast. The ending theme is "We're the Spaceballs" by the Spinners, taken from the movie.
Much better character designs. For example, Dark Helmet is not a dwarf, though he's still shorter than most characters.
Rick Moranis reprises his role as Dark Helmet. Likewise, Bill Pullman reprises his role as Lone Starr, and George Wyner reprises his role as Sandurz.
Vespa sounds exactly like how she did in the movie.
Darlene does not exist.
The entire show parodies Star Wars and the sci-fi genre as a whole, and doesn't parody any other movies. It also expands upon the movie's premise through world-building.
No deus-ex-machinas.
Much more mature humor (no toilet humor or boob jokes, for example).
Lone Starr and Vespa are married.
The animation is far better, and is accomplished with CGI instead of Flash (this was done in reference to the 2008 Star Wars: The Clone Wars television series).
No rehashed jokes from the movie.
Planet Moron and starbucks are correctly referred to as Planet Spaceball and spacebucks, respectively (it is stated that the Spaceballs have permanently resided in the planet of the apes, making it the new Planet Spaceball).
The pilot is not a remake of the movie. Instead, it takes place immediately after the events of the original film.
Dot Matrix was voiced by Melissa Rivers after her mother Joan Rivers' death on September 4, 2014 (the change was explained by Dot having to get a new voice chip after the old one was fried by a lightning strike; said episode, titled "Dot's Shiny New Voice", also used Joan's unused archive audio).
The Hutt Crime Family plays a reocurring role, with Rino Romano (who voiced Lone Starr IOTL) as Pizza the Hutt's son Pizza Jr., Eva Amurri as Pizza Jr.'s wife Mozzarella, Mira Sorvino as Pizza Sr.'s widow Pasta, and Joe Pantoliano as Pizza Sr.'s brother Spaghetti O. They're shown to have a vendetta against Lone Starr and Barf for "conning" them out of the one million spacebucks they had promised Pizza.
Space Channel 5
After Johnson acquired Sega, Tim Johnson ordered for a third entry in the series to be made. Instead of a VR spinoff, the game is a full-fledged sequel called Space Channel 5: Part 3. Instead of Cherami Leigh, Apollo Smile reprises her role as Ulala simply because she didn't want to pass up the opportunity to work with Tim Johnson. Space Michael also appears, and is voiced using VoxMutatio.
In 2021, the Space Channel 5 Collection was released, containing remastered versions of the first two games, as well as the third. In a throwaway line in Part 3, Space Michael is revealed to be an aged Captain EO from the classic Disney Parks attraction, and the 2D version of the film is included as a bonus feature.
Star Wars franchise
Since Johnson's acquisition of 21st Century Fox, all Star Wars television series are now distributed by 20th Century Fox Television; all shows on Disney+ use the 20th Century Fox logo in the beginning as well.
List of films
No.
Film
Released
Director
Writer
Producer
Composer
Starring
Type of release
1
Star Wars (later retitled Star Wars: Episode IV – A New Hope)
May 25, 1977
George Lucas
George Lucas (executive producer)

Gary Kurtz

John Williams
Mark Hamill

Harrison Ford

Carrie Fisher

Peter Cushing

Alec Guinness

Theatrical
2
The Empire Strikes Back (later retitled Star Wars: Episode V – The Empire Strikes Back)
May 6, 1980 (Dominion Theatre)

May 21, 1980 (United States)

Irvin Kershner
Leigh Brackett

Lawrence Kasdan

George Lucas (story)

George Lucas (executive producer)

Gary Kurtz

John Williams
Mark Hamill

Harrison Ford

Carrie Fisher

Billy Dee Williams

Anthony Daniels

David Prowse

Kenny Baker

Peter Mayhew

Frank Oz

Theatrical
3
Return of the Jedi (later retitled Star Wars: Episode VI – Return of the Jedi)
May 25, 1983
Sheldon Johnson, Jr.
Sheldon Johnson, Jr.

George Lucas (story)

George Lucas (executive producer)

Howard Kazanjian

John Williams
Mark Hamill

Harrison Ford

Carrie Fisher

Billy Dee Williams

Anthony Daniels

David Prowse

Kenny Baker

Peter Mayhew

Frank Oz

Theatrical
4
Star Wars: Episode I – The Phantom Menace
May 19, 1999
George Lucas
Rick McCallum
John Williams
Liam Neeson

Ewan McGregor

Natalie Portman

Jake Lloyd (1999 version)

Finn Wolfhard (2017 version)

Ian McDiarmid

Anthony Daniels

Kenny Baker

Pernilla August

Frank Oz

Theatrical
5
Star Wars: Episode II – Attack of the Clones
May 16, 2002
George Lucas
George Lucas

Jonathan Hales

Rick McCallum
John Williams


Ewan McGregor

Natalie Portman

Hayden Christensen

Ian McDiarmid

Samuel L. Jackson

Christopher Lee

Anthony Daniels

Kenny Baker

Frank Oz

Theatrical
6
Star Wars: Episode III – Revenge of the Sith
May 15, 2005 (Cannes)

May 19, 2005 (United States)

George Lucas
Rick McCallum
John Williams
Ewan McGregor

Natalie Portman

Hayden Christensen

Ian McDiarmid

Samuel L. Jackson

Christopher Lee

Anthony Daniels

Kenny Baker

Frank Oz

Theatrical
7
Star Wars: Alternity
December 12, 2005 (San Jose Theatre)

December 16, 2005 (worldwide)

Sheldon Johnson, Jr.
Rick McCallum
John Williams
Part One:

Rino Romano

Jennifer Hale

Raphael Sbarge

John Cygan

Rafael Ferrer

Sara Kestelman

Ed Asner

Part Two:

Tim Johnson

Chloe Johnson

Belle Armstrong

Hayden Christensen

Samuel L. Jackson

Frank Oz

Ian McDiarmid

Keanu Reeves

Christopher Lee

Ray Park

Jimmy Smits

Gary Oldman

Theatrical
8
Star Wars: The Clone Wars
August 10, 2008 (Grauman's Egyptian Theatre)

August 15, 2008 (United States)

Dave Filoni


Henry Gilroy

Steven Melching

Scott Murphy

Catherine Winder
Kevin Kiner
Matt Lanter (2008 version)

Hayden Christensen (2017 version)

Ashley Eckstein (2008 and 2017 versions)

Rosario Dawson (2020 version)

James Arnold Taylor (2008 version)

Ewan McGregor (2017 version)

Tom Kane (2008 version)

Frank Oz (2017 version)

Dee Bradley Baker (2008 version)

Temuera Morrison (2017 version)

Ian Abercrombie (2008 version)

Ian McDiarmid (2017 version)

Catherine Taber (2008 version)

Natalie Portman (2017 version)

Christopher Lee

Samuel L. Jackson

Anthony Daniels

Theatrical
9
Star Wars: The Force Awakens (also known as Star Wars: Episode VII – The Force Awakens)


December 14, 2015 (Los Angeles)

December 18, 2015 (United States)

Tim Johnson
Tim Johnson

George Lucas

Jon Favreau

Lawrence Kasdan

George Lucas, Jon Favreau, Tommy Harper, and Jason McGatlin (executive producers)

Dave Filoni Chloe Johnson

John Williams
Daisy Ridley

John Boyega

Oscar Issac

Christian Bale

Mark Hamill

Harrison Ford

Carrie Fisher

Billy Dee Williams

Adam Driver

Lupita Nyong'o

Andy Serkis

Gwendoline Christie

Domhnall Gleason

Jimmy Vee

Anthony Daniels

Peter Mayhew

Theatrical
10
Rogue One: A Star Wars Story


December 10, 2016 (Pantages Theatre)

December 16, 2016 (United States)

Gareth Edwards


Chris Weitz

Tony Gilroy

John Knoll (story)

Gary Whitta (story)

Dave Filoni

Allison Shearmur

Simon Emanuel

Michael Giacchino


Felicity Jones

Diego Luna

Ben Mendelsohn

Donnie Yen

Mads Mikkelsen

Alan Tudyk

Riz Ahmed

Jiang Wen

Forest Whitaker

Theatrical
11
Star Wars: The Last Jedi (also known as Star Wars: Episode VIII – The Last Jedi)
May 20, 2017 (Shrine Auditorium)

May 26, 2017 (United States)

Tim Johnson
Tim Johnson

George Lucas

Jon Favreau

George Lucas and Jon Favreau (executive producers)

Dave Filoni

Chloe Johnson

John Williams
Daisy Ridley

John Boyega

Oscar Issac

Christian Bale

Mark Hamill

Harrison Ford

Carrie Fisher

Billy Dee Williams

Samuel L. Jackson

Adam Driver

Gwendoline Christie

Tom Hardy

Al Pacino

Burt Reynolds

LeVar Burton

Laura Dern

Domhnall Gleason

Andy Serkis

Lupita Nyong'o

Joonas Suotamo

Jimmy Vee

Anthony Daniels

Theatrical
12
Fett: A Star Wars Story
May 10, 2018 (Los Angeles)

May 25, 2018 (United States)

Steven Spielberg
Tim Johnson

Jonathan Kasdan

Lawrence Kasdan

Lawrence Kasdan, Jason McGatlin, and Steven Spielberg (executive producers)

Dave Filoni

John Williams (Star Wars themes)

John Powell

Temuera Morrison

Simon Pegg

Nick Tate

Jackie Earle Haley

Josh Duhamel

Craig Roberts

Tim Curry

Florence Pugh

Keira Knightley

Stacee Meyers

Theatrical
13
Star Wars: Duel of the Fates (also known as Star Wars: Episode IX – Duel of the Fates)
December 16, 2019 (Los Angeles)

December 20, 2019 (United States)

Tim Johnson
Tim Johnson

George Lucas

Jon Favreau

Derek Collony

Colin Trevorrow

George Lucas, Callum Greene, Tommy Gormley, and Jason McGatlun (executive producers)

Dave Filoni

Jon Favreau

Chloe Johnson

Michelle Rejwan

John Williams
Daisy Ridley

John Boyega

Oscar Issac

Christian Bale

Mark Hamill

Harrison Ford

Carrie Fisher

Billy Dee Williams

Hayden Christensen

Kelly Marie Tran

Gwendoline Christie

Tom Hardy

Al Pacino

Burt Reynolds

LeVar Burton

Adam Driver

Benicio Del Toro

Max von Sydow

Sara Kestelman

John de Lancie

Birgitte Hjort Sørensen

Gaten Matarazzo

Domhnall Gleeson

Richard E. Grant

Naomi Ackie

Hugo Weaving

Keri Russell

Joonas Suotamo

Lupita Nyong'o

Ben Schwartz

Jimmy Vee

Anthony Daniels

Temuera Morrison

Theatrical
14
Wretched Hive: A Star Wars Story
December 18, 2020
James Cameron
Tim Johnson, James Cameron and Josh Friedman
James Cameron (executive producer)

Dave Filoni

Alan Silvestri
Streaming
15
Maul: A Star Wars Story
July 19, 2022
Tony Gilroy
Dave Filoni
Michael Giacchino
16
Star Wars: Rogue Squadron
December 22, 2023
Patty Jenkins
17
Yoda Stories film
May 13, 2024
Colin Trevorrow
18
Untitled Star Wars film
December 19, 2025
19
Jabba the Hutt Stories film
October 12, 2026
Stephen Daldry
20
Untitled Star Wars film
December 17, 2027
21
Mace Windu Stories film
May 16, 2028
Phil Lord and Christopher Miller
22
Ackmena Stories film
May 21, 2030
TBA
Star Wars: A Droid Story
TBA
TBA
Untitled Star Wars film
TBA
Taika Waititi
Taika Waititi

Krysty Wilson-Cairns

TBA
Untitled Star Wars film
TBA
Michael Waldron
Dave Filoni

Kevin Feige
List of TV movies
Film
Aired
Director
Writer
Producer
Composer
Starring
The Star Wars Holiday Special
November 17, 1978
Steve Binder

David Acomba (uncredited)

Pat Proft

Leonard Ripps

Bruce Vilanch

Rod Warren

Mitzie Welch

Gary Smith and Dwight Hemion (executive producers)

Joe Layton

Jeff Starsh

Ken Welch

Mitzie Welch


John Williams

(Star Wars theme)

Ian Fraser

(score)

Ken Welch

Mitzie Welch

(songs)

Mark Hamill

Harrison Ford

Carrie Fisher

Anthony Daniels

Peter Mayhew

James Earl Jones

Beatrice Arthur

Art Carney

Diahann Carroll

Jefferson Starship

Harvey Korman

Caravan of Courage: An Ewok Adventure
November 25, 1984
John Korty
Bob Carrau

George Lucas (story)

George Lucas (executive producer)

Thomas G. Smith

Patricia Rose Duignan

Peter Bernstein
Eric Walker

Warwick Davis

Fionnula Flanagan

Guy Boyd

Aubree Miller

Burl Ives (narrator)

Ewoks: The Battle for Endor
November 24, 1985
Ken and Jim Wheats
Ken and Jim Wheats

George Lucas (story)

George Lucas (executive producer)

Thomas G. Smith

Ian Bryce

Peter Bernstein
Wilford Brimley

Warwick Davis

Aubree Miller

Paul Gleason

Carel Struycken

Niki Botelho

Eric Walker

Siân Phillips
List of TV series
| Series | Aired from | Seasons | No. of episodes | Creator/developer | Produced by | Composer | Starring |
| --- | --- | --- | --- | --- | --- | --- | --- |
| | | | | | | | |
Return of the Jedi
As Sheldon Johnson, Jr. co-wrote (with Lawrence Kasdan) and directed Return of the Jedi in his writing and directing debut, there are some key differences:
The crawl is very different and reads "The Rebellion is doomed. In a defiant last stand, its leader MON MOTHMA is planning an attack on the Imperial capital of CORUSCANT. Sensing ultimate victory, Darth Vader and his cruel EMPEROR have begun construction on two new armored battle stations even more powerful than the first dreaded Death Star. Luke Skywalker has returned to his homeworld to rescue his friend Han Solo from the vile gangster JABBA THE HUTT, unaware of the sinister plots laid out against him...."
The opening shot shows the shuttle coming from the Executor.
There are two Death Stars (the first, less complete version is used as a trap for the rebels and is rammed into intentionally by Piett, who gets increasingly disillusioned with the Empire as the film progresses, and the second one is destroyed by Lando as in the original film); both also use more than one angle.
Force communication, which involves two people communicating through the Force, is introduced. Luke and Vader do this a few times.
The centered/clumped shots have different framing.
Moff Jerjerrod has a better characterization. He is Palpatine's personal representative, and schemes with him to turn Luke and betray Vader. When Vader finds out, he breaks Jerjerrod's neck.
The film introduces super troopers, an elite class of Imperial troops. This was a concept for The Empire Strikes Back, though it uses a different design than the original concept (which used the design that would later be used for Boba Fett). Shock troopers were also introduced, being stormtroopers armed with Plex missile launchers.
Yoda reveals that Obi-Wan would have told Luke the truth that Vader was indeed his father if he'd let him, but that Luke wasn't ready for "the burden" yet.
Yoda's death is right before the scene where Luke goes to Tatooine, where he talks to Obi-Wan's Force Ghost in his old hut. Obi-Wan mentions that Anakin was the Chosen One, who would bring balance to the Force and destroy the Sith, but that was not to be. Palpatine also mentions that Anakin would've destroyed the Dark Side if he had the chance. The concept of the Chosen One prophecy is further mentioned in the prequels.
Obi-Wan Kenobi's account of Luke's parental history is expanded upon; Obi-Wan states that Owen Lars was his brother, and that Luke and Leia's mother (later revealed to be Padmé Amidala in the prequels) was one of those killed when the Death Star destroyed Alderaan, where she was in hiding (thus, Padmé's death in the original version of ROTS was caused by poor communication between Johnson and Lucas). Instead of saying his story in A New Hope (where he claimed that Vader betrayed and murdered Anakin) was true from a certain point of view, he instead says that he lied to Luke for his safety.
C-3PO's "captain obvious" lines don't exist.
In Jabba's palace, Luke meets a woman (played by Demi Moore) who immediately attempts to seduce Luke, who rebuffs (the woman is later revealed to be Mara Jade in Expanded Universe works).
Jabba brags about having killed some Jedi in the past in the subtitles.
One of Jabba's henchmen is Heater (played by Declan Mulholland), his personal decoy who uses the design of the original Jabba in A New Hope; Heater is killed in the attack on Jabba's barge when Han punches him square in the face and sends him falling into the sarlacc, which has a bit of trouble swallowing him due to his girth.
The Jabba's palace "belching creature" shot is grander and doesn't have a belching creature.
The gonk droid torture sequence doesn't exist.
The puppetry for Sy Snootles and the Max Rebo Band is better.
When Han is unfrozen, his restraints from The Empire Strikes Back are seen falling off.
Dune Sea shots look more like the Dune Sea.
The shot of Mark Hamill missing his kick was altered through compositing to make it look like he didn't.
Rather than a still-blind Han accidentally disarming Boba Fett and knocking him into the sarlacc, Boba was disarmed and tossed into the sarlacc by Chewie; projects such as Fett: A Star Wars Story and The Book of Boba Fett reveal that he escaped the sarlacc alive and what happened to Boba after his escape.
The sandstorm scene is used in lieu of ship-to-ship conversation.
The rebel briefing set is larger with Dodonna and Rieekan, Wookiees and female pilots.
There is a second battle at the Imperial capital of Coruscant, led by the Green Squadron. This is where the shield generator for the Death Star III is located.
The B-Wing helmet design is completely different.
Female pilots are present at the battle, with the existing pilot having a female voice and a larger role, and the two other female pilots cut in the OTL film are in this version.
The Emperor's throne room is on Coruscant.
The matte for the core shaft is better.
The rebel docking bay uses a scale model in lieu of a matte.
Evidence of life on the forest moon (idols, carvings, etc.) can be seen throughout Endor.
The Tarzan yell doesn't exist in the film.
The space battle is much more epic, including Rebel pilots kamikazing Y-wings into Imperial ships. More A-wings and B-wings are also in the battle.
The Ewoks' attack on Imperial troops involves gore.
Tydyrium's shuttle class is different (namely, the cargo shuttle that later appeared in Rogue One).
A waterfall is present behind the area behind the Imperial landing platform for scenery; in canon, it's later explained that the waterfall provided Vader with an uncomfortable reminder of Naboo.
3PO's flying chair scene is scarier.
Leia is shocked at the revelation of being Luke's sister, and doesn't say that somehow, she always knew.
Evidence of Ewoks worshipping a 3PO-like god can be seen in the background.
Darth Vader says, "Your mother....once thought as you do" to Luke.
The Force lightning effects are better.
Vader's unmasking goes just like the 1996 radio drama, with Anakin telling Luke, "I'm proud that you've grown into the man I wanted to be..." as his last words before dying.
The planetary celebrations come before the Ewok celebration, using a combination of matte paintings, go-motion, models, and live extras (with Coruscant, Bespin, and Tatooine being represented). They were updated with CGI in 1997 and Naboo was added in the 2004 and 2011 releases, but the change was reverted in 2017 with the release of the Ultimate Edition.
Only a small portion of the Ewok celebration is in the film which then leads to the funeral pyre scene, with Luke giving Leia a lightsaber that he built. This is where the Force ghosts appear and the film ends with Luke, Leia and the Force ghosts watching the pyre.
Anakin is portrayed by David Prowse rather than Sebastian Shaw, both unmasked and as a Force ghost (his head was still controversially replaced by that of Hayden Christensen in the 2004 Special Edition, the move also being undone in the 2017 Ultimate Edition). Sebastian Shaw instead portrays a Rebel general named Chire Wesloe who served in the Clone Wars.
Gallery